First Coat Application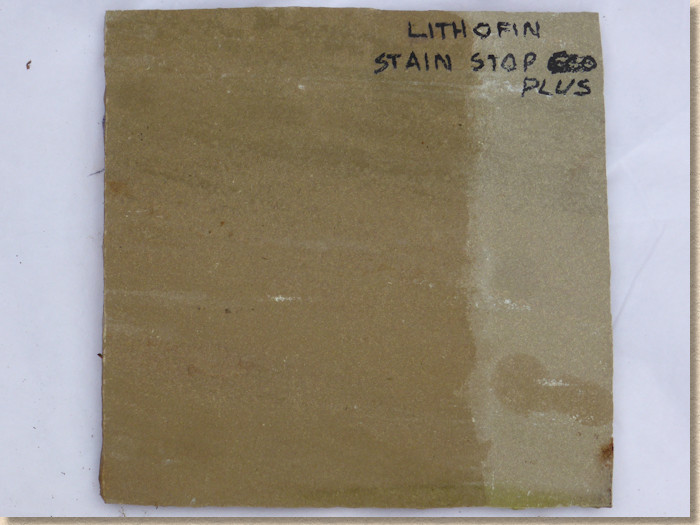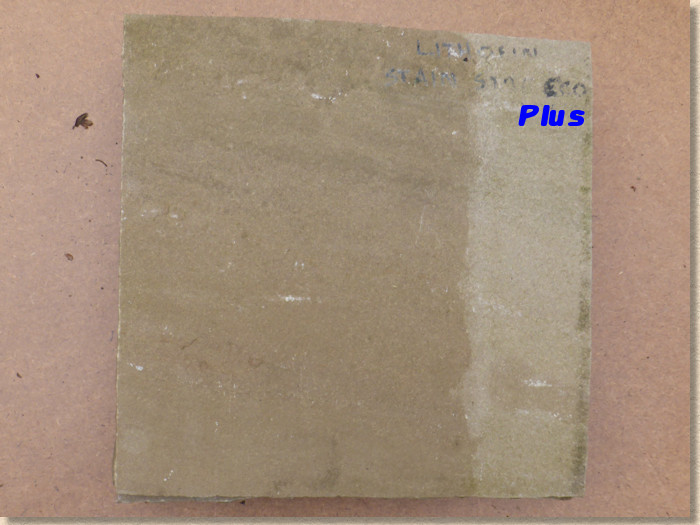 Summary:
1st coat: Thin, clear liquid, quite splashy, very rapidly absorbed. Low odour
2nd coat: +2:00hrs. Rapid absorption again.
This looks very good. A definite visual improvement, with good enhancement or intensification, call it what you will, of the stone, and it's remained clean throughout the test period.
Fair enough, there's barely any algae or other greenery on the untreated section, but there's none at all, as far as can be seen with the naked eye, on the treated section so that has to be counted as a good result.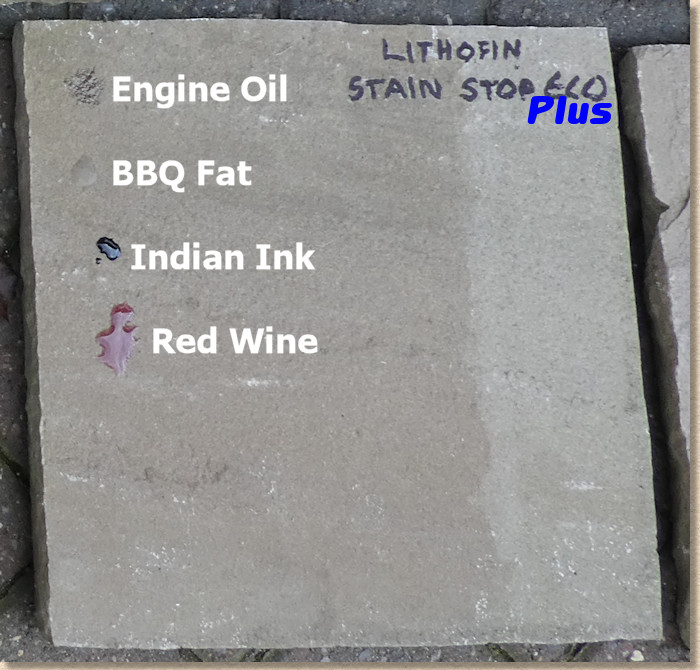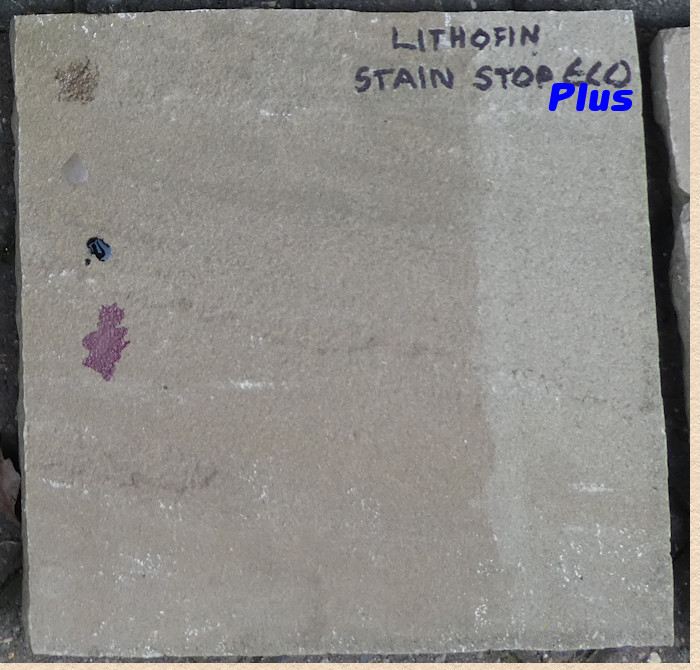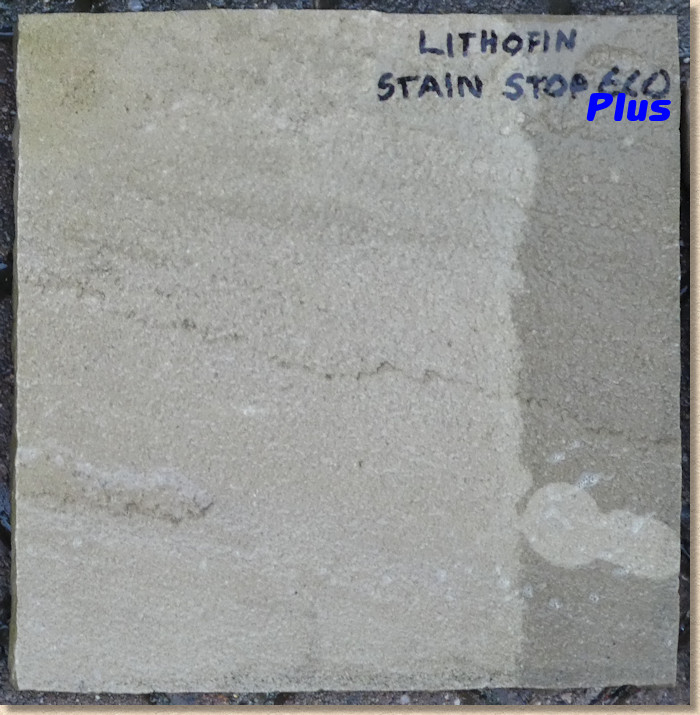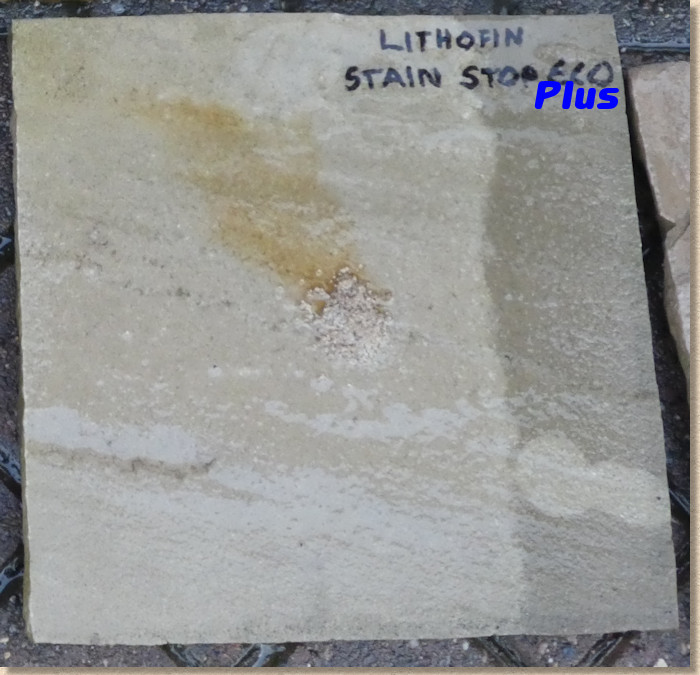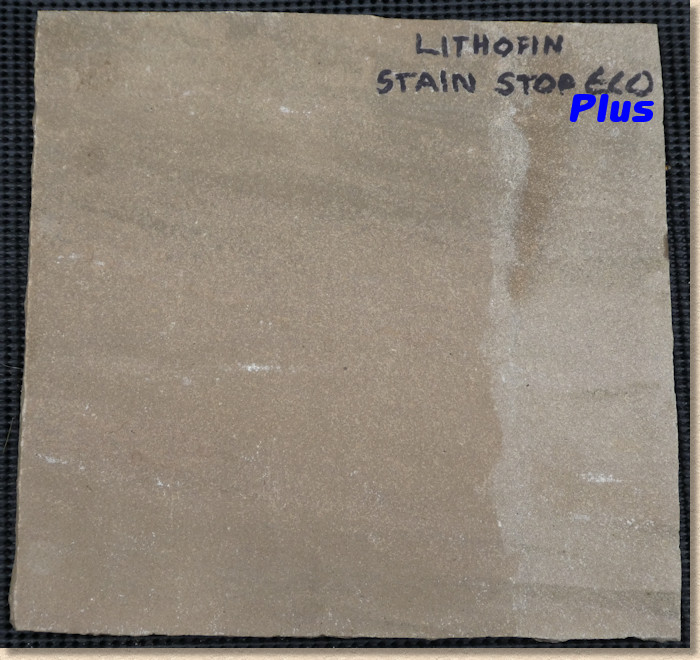 Comments:
And another good result! Virtually stain-free - we couldn't ask for any more than that!
Admittedly, if you look with a trained, super-critical eye, you might just spot the faintest of BBQ fat residues and, is that the merest hint of red wine? Maybe so, but you'd have to be ultra-picky to moan about this. It has done what it said on the tin: it has stopped the stains (largely), and, more importantly, it has done so while making the stone look damned good.
Surely, this has to be considered one of the best performers, particularly if you prefer the 'barely-there' look of a subtle sealant. And so much better than its Eco sibling.
Note: Any apparent variation in colour of the flagstone is due solely to changes in the condition of the natural daylight at the time the photograph was taken.
Other than cropping to exclude extraneous background and adding a drop shadow to the cropped image, there has been NO post-processing of the original photographs.
Supplier:
Lithofin StainStop Plus is available from: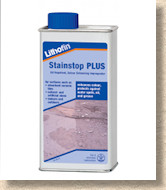 Advanced HD | Advanced Stone Seal | Dry Treat Intensifia | Dry Treat Metacreme Dry Treat Stain Proof | Dry Treat Stain Proof v2 | Easy Seal Col Enh | Easy Seal Ultimate Funcosil OFS | Hanafin Finisha | K-Seal | Larsen | Lithofin Col Int | Lithofin Stain Stop Eco Lithofin Stain Stop Plus | LTP Col Enh | LTP Nat Fin | LTP Matt | Pavetuf | Resiblock Indian Romex Col Enh | Vulcaseal 277 | Vulcaseal 286 | Weiss FT Plus | Weiss Stain Protect