EcoBuild 2016
It was that EcoBuild last week, and, once again I'm ready to trot out the usual tiresome moaning about travelling hundreds of miles to wander around cavernous halls in a seemingly futile search for something, anything worth looking at, but, after all these years, even I'm fed-up of hearing me whinge. After all, I choose to go, don't I, so I've no-one to blame but meself!
Actually, I could have a sulk about the trains, due to the additional 2½ hours needed to get through the East Midlands due to a 50mm deep "flood" and a summarily cancelled service for the return journey. That's not the fault of EcoBuild, admittedly, but it doesn't do a lot to improve my general mood when I eventually hobble my way out to the wastelands of East London.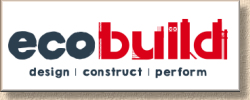 Bit of a change this year. The whole shebang has been crow-barred into just one side of the gaping cavern, which, surely, must cut down on the traipsing required to get around all those worth seeing. Is this because there's a reduced number of exhibitors? Has the north-side cavern grown since 2015? Have the over-the-top giant stands been given a smaller area?
I suspect the former, but even with everything crammed into just one hall, the hard-landscaping fraternity are still scattered willy-nilly, like sultanas in a Spotted Dick, ensuring a devoted paving nerd is still required to trudge up and down, side-to-side in search of that elusive sweetness.
Having said that, I'm willing to wager that Messrs Addagrip and SureSet were wishing the scattering had been a little more thorough, positioned, as they were, directly opposite one another. Healthy competition is a good thing but, even so, you don't want to be right on top of your keenest rival, watching them watching you, and watching which of your customers are exhibiting signs of disloyalty. In a hall which covers 44,546 m² (thanks, Wikipedia! ) you'd think the organisers would manage to find a bit more than two metres to separate these two excellent but competing suppliers, wouldn't you?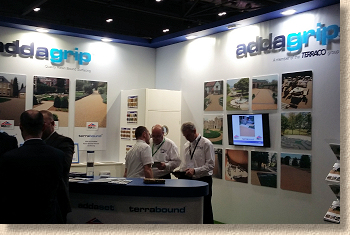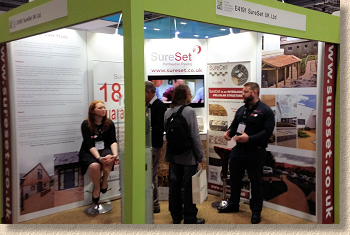 Nothing earth-shakingly new from either. ISO-awarded SureSet continue to be one of the most progressive and customer friendly suppliers of resin bound surfacing, while Addagrip are basking in the glow of having received BBA certification for their external surfacing range including the exciting new(ish) Terrabase products.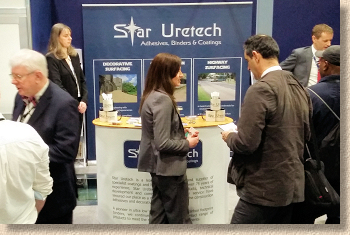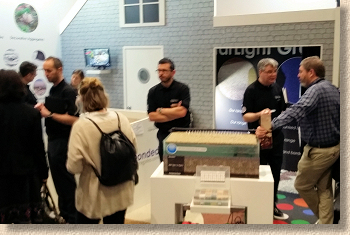 Still, it could have been worse. At least the befuddled organisers managed to keep fellow resin specialists and first-time exhibitors, Star Uretech , at a healthy remove, and in a location that was smack-bang alongside major aggregate supplier to the resin trade, Derbyshire Aggregates , who never cease to amaze by finding ever more delicious aggs to delight us all.
Plenty of the usual drainage wares on show, but nothing that really catches the eye. I didn't recognise a single face on the Aco stand, and I don't need linear channels or Q-Max explaining to me yet again by someone who doesn't understand what it is the website does.
Same applies to Wavin : same old, same old, and plenty of storm crates. So with severely curtailed time available, the focus has to be on new and/or interesting products, catching up with old friends, and seeing as much as possible in just a couple or three hours.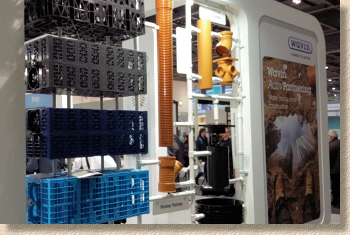 Cell/grid systems of every colour, size and shape imaginable are still being touted everywhere, each claiming to be the best but convincing no one. These systems fly or fail on the strength of their technical support. Too many of the specimens on show here hail from manufacturers with no real experience in groundworks or surfacing. They are just businesses with a plastic moulding machine. Next week, they could be churning out plant pots or pop bottles, whatever will keep their machinery turning and the cash flowing. As with so much else in the hard-landscaping industry, when it comes to cell paver systems it pays to buy from a dedicated specialist.
None of the resin jointing mortar crowd were in attendance, and only one cement mortar supplier, Instarmac , with their Ultrascape range, which sort of underlines the inescapable conclusion that this show really isn't for hardscaping, even though there is a token presence from a couple of well-known names in the paving supply trade.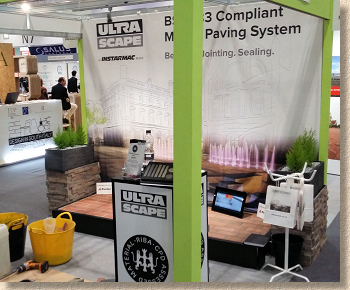 Wienerberger , the clay paver supplier, had a small stand with minimal samples on show, but still managing to attract a steady flow on interest. Marshalls had a much more appealing display, four or five times as big, and focussing exclusively on just one aspect of their all-encompassing business, natural stone.
A long discussion with them only confirmed what I've long suspected: for companies such as Marshalls, there's a sense that they ought to be at what is a significant national exhibition, but there's no real idea as to what they should be showing. In previous years, they've tried to show the whole gamut, and it's never really worked because they do so much.
The same applies to the likes of Cemex, LaFarge/Tarmac, both of whom concentrated on very specific parts of their screed or masonry division, and Aggregate Industries who didn't even bother turning up this year.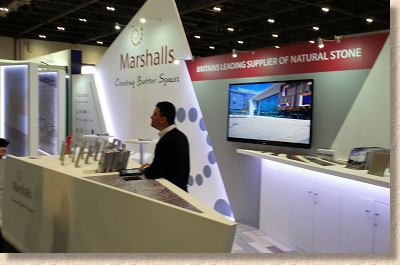 Marshalls' thinking seems to be that, maybe by narrowing down the spotlight beam, by showcasing one specialism, natural stone, they can generate more specific interest and, hopefully, valuable leads. The stand they produced certainly had plenty to see, from the arresting StoneSpar linear paving to bespoke stonemasonry and case studies on some simply stunning jobs.
I hope this approach does well for them. If, as is quite possible, even such a finely crafted exhibit doesn't bring home the bacon in terms of leads and sales, then the company will have to re-re-think their approach. If the full-on approach had limited success, and the single specialism does no better, you have to question whether this is an event that's worthy of the not inconsiderable time and expenditure they invest into it. And without companies with the stature of Marshalls (or AI, Cemex, etc.) we visitors from the hard-landscaping sectors would have to question whether the whole event is worth our time and expenditure. EcoBuild with no " big names " has little else to offer.
A sprinkling of interesting exhibitors from what we used to refer to as The Low Countries. Schellevis have been plugging away at the British market for three or four years now, trying to tempt us with their intriguing coloured concrete pavings with the aerated texture. From what I'm told, they are starting to pull in bigger orders and, hopefully, we should see some highly imaginative and impressive schemes in the very near future.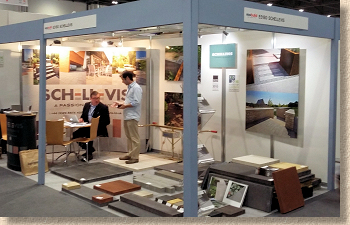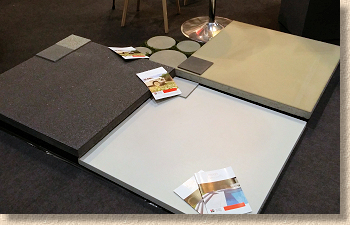 And a face from the dim and distant past re-emerges with Ebema Stone & Style , a top-notch Belgian concrete paving manufacturer, once again dipping their toe into the chilly British waters, this time focussing on their 'Mega-Tegels', giant 1000x1000x50mm slabs which demand attention not just because of the audacious scale, but the undeniable quality. They've also an eye-catching line in what has to be thought of as decorative permeable paving, Aviena Circles, in particular, offering a visually pleasing mix of solid surfacing with open spaces for grass or gravel.
Ten years or so ago, I thought Ebema were probably just a tad too far ahead of the British taste in paving, but since then, we've had greedy, venal bankers screw up the world economy and a maturing of that infamous conservative British palate, so maybe the time is now right for them. I do hope so – beyond the Mega-Tegels, they have some truly world-beating products that deserve a wider audience.
And also from Belgium, a novel paving system using granite setts with an underside notch, specifically cut to allow each sett to be precision placed onto a plastic strip, creating a consistent joint width and perfect alignment.
It goes by the name of EcoStone , although I've no idea what's eco about it: granite and plastic aren't top of the list for eco-friendly products. The gist of it seems to be that the underlying plastic strips form an anchor for the flexibly-laid (unbound) setts and so prevents or minimises course creep and block rotation.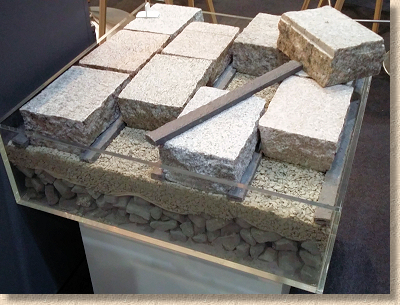 It's certainly interesting but just how much of a market there is for it in Britain remains uncertain. We are, rightly or wrongly, moving more and more to relying almost exclusively on bound sett paving and completely eschewing the unbound alternative due to perceived shortcoming, shortcomings which almost completely stems from the complete absence of proper training for unbound sett pavement construction, and the vested interests of the bedding and jointing mortar suppliers to flog their wares as an alternative to centuries-old skills.
Reading the literature, it's immediately apparent that the EcoStone system has been developed by a pavement engineer, and one with a thorough understanding of the mechanics of unbound pavements. It's a fascinating read, albeit heavy on the hows and the whys, but as a marketing tool, it has almost nothing going for it. Engineers don't buy/specify paving: that's down to landscape architects and they need lots of pretty pictures with hyperbolic language.
There was a handful of other exhibitors of some interest. Lithofin with their sealants and cleaners; Wallbarn with their pedestals; Wraxalls with dredged aggregates, but limited time thanks to the comedy train system in this country meant no real opportunity to stop and chat and learn more.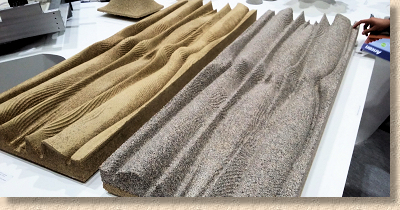 And for the umpteenth year in a row, EcoBuild remains as irritating as ever. So much missed opportunity. Great exhibitors not able to capitalise on the loose format and haphazard arrangement of the show, smaller exhibitors feeling let down by poor organisation and lack of focus, and all sorts of spurious eco-nonsense. I have a rule that I will only attend shows such as this when there are n exhibitors worth a visit. Each year, EcoBuild seems to attract n+1 such exhibitors, just enough to keep me going, even though it's highly unlikely I will learn anything or have my passion for paving re-affirmed.
As so many exhibitors and visitors alike have said to me, we desperately need a well-organised and dedicated show for our trade, to show new ideas, to celebrate what's best, and to inspire the next generation of hardscape installers, manufacturers and designers. None of this is ever likely to happen in the gaping maw that is EcoBuild at ExCel.