NHSS30 Seminar
NHSS 30, or National Highways Sector Scheme 30: Modular Paving , to give it its full title, has been lumbering about in the background for a few years now, and is lurching towards wider implementation, but awareness of it amongst paving contractors is patchy, at best, and for the majority of contractors, it's not even on their radar.
For many contractors, particularly those working exclusively in the private sector (so that's predominantly patios and driveways) this lack of familiarity probably doesn't matter. The clue is in the title: it's a Highways scheme, and will be applicable to practically any modular paving work done under a Specification for Highways Work (SHW) contract. However, as the alleged impetus behind it is to improve the chances of getting good quality installation, there's a strong chance it will 'trickle down' to those projects which are normally outside the remit of highways and roadworks, and there is interest being shown by housebuilders, local authorities working on neighbourhood or civic schemes, commercial developers, and the like. So, maybe it's worth being aware of it, at least.
To that end, a seminar was held at the thankfully air-conditioned offices of Southwark Council in London last Friday, June 23rd, with speakers from the NHSS30 working group, including its chair, Dr. Ian Walsh, Mark Mackintosh Watson from Interpave (Brett), Colin Nessfield from Interlay (BPCC), Wayne Grills, Head Honcho at BALI , and Paul Phillip of PTS International.
The key idea behind the scheme is that the Paving Contracting Business undertaking the work will have to be accredited by an external and approved accreditation service. The accreditation is what might be thought of as a tailored version of ISO9001:2015. This looks at quality control and administration, management systems to ensure consistency, and quality in the preparation and day-to-day management of a contract.
So: in most cases this accreditation does not directly apply to the poor sod laying the paving, but to the business for which said poor sod works (unless, of course, it's their own business).
However, what does directly affect the poor sods laying the paving is that they will be required to have accreditation for their skills, which means the dizzy heights of NVQ2 in the paving trade – more on this later. Working towards NVQ2 or having that certification in place will grant entitlement to a CSCS card, and just to make sure you are thoroughly confused, the CSCS card for the paving trade will now be organised on behalf of CITB via BALI as part of the LISS carry on – that's the Landscape Industries Skills Scheme . Are there any letters left in the Scrabble bag?
Now, just what colour of CSCS card will be available is still not clear, even though I directly asked both the top man at BALI and a senior adviser at CITB. Those still working towards NVQ2 will get the red Trainee card, but will those in possession of NVQ2 be given a Tradesman's blue card or the lower rated gren card used for labourers?
This is where the confusion sets in. There was more than a suggestion that skilled paving installers will be insulted by the granting of a measly green Labourer's card. The LISS site seems to suggest that a Blue Skilled Worker card will be granted, but then, that page also says that Black (Manager) and Gold (Supervisor) are available once you have the appropriate NVQ 3 or NVQ 4 ..... neither of which actually exists!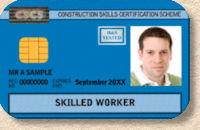 And then, to make things even more complicated, anyone wanting to move on to such a senior role will, in fact have to complete a BALI/CITB course that has buggerall to do with paving or hard-landscaping as there are no paving qualifications above NVQ2! If, for example, a NVQ2-qulified paving installer was then to complete, say, a NVQ3 in arboriculture, that could get them CSCS recognition as a supervisor for paving work! Mad??? You'd have to be to make any sense of this!
NHSS30 is not a standard. It doesn't define working practices or set codes of practice for installation. It simply insists that work is installed to the existing standards, which means, predominantly BS7533: Parts 3, 4, 6, 7, 9 and 11 for the installers, and Parts 1, 2, 8, 10, 12 and 13 for designers.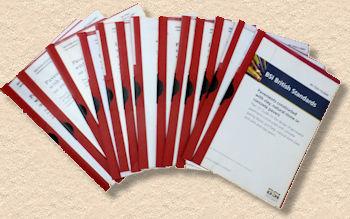 During the course of the two-and-a-half hour seminar, what struck me more than anything else was that all the effort has gone into creating a scheme that works for administrators, and nothing whatsoever has been done to ensure there is better training for those that actually lay the paving. It's still the same old woefully inadequate NVQ2 which represents the pinnacle of training for our trade. There is nothing, abso-bloody-lutely nothing at all beyond that, yet the scheme organisers stand in front of the seminar and talk about creating a " structured career path " for people coming in to the paving trade. That's not a career path: it's a sodding cul-de-sac!
My questions following the presentations from the various speakers, all of whom spoke with eloquence and intelligence, may have dominated, but I would like to point out to the incredibly rude interrupting woman who was, she said, fed up of listening to me talk about the installers, that I talk so much only because there was no-one else in the room with the experience or knowledge to give that perspective, and, after all, it is *their* livelihoods that will be directly affected by these proposals, not hers. Madam, you were welcome to have your Daily Mail inspired rant about the potential lack of English speakers amongst installers, but did your sub-surface racism actually help the discussion or promote better working methods? You should also be aware that English is not the only recognised language in Britain, not even in England!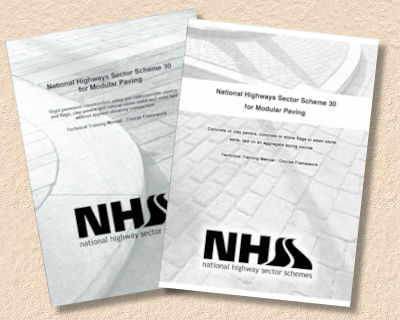 In summary, anyone working on the tools on highways contracts involving the installation of modular paving will need to have, or be working towards, one of the three current flavours of NVQ2 Modular Paving. This is more-or-less what we have at the moment: most highways projects rely on installers of that level. On top of that, NHSS30 is a lot of accreditation and paperwork for the business; box-ticking, method statements, external accreditation, but not so much as a single trowelful of better training for those actually carrying out the physical work.
There are two training documents ( rigid and flexible construction methods) that have been published, but, to be blunt, they are little more than a re-statement of the existing parts of BS753 that refer directly to installation. Better than nowt, I know, but, once again, how does re-stating what we already have make for better paving?
There is no hint of a NVQ3 – plenty of reasons why we can't have a NVQ3, even reasons why we don't actually need a NVQ3, but still no commitment to ensure the current wafer-thin NVQ2 program (and I say this as the author of two of them!) is fleshed out and given greater oversight to ensure the lads and lasses completing the qualification actually do have the alleged skills. Those wielding a maul or mallet will be expected to produce better quality work (the promoters say this will come about as a direct result of this scheme) but without any additional training. To me, it's what we used to call "wishful thinking".
All the compliance checks, the accreditation, the assessment, the certification is aimed at the administration. That is not, de facto, a bad thing, but no-one has explained how better form-filling creates better pavements.
Some of the best paving installers I've ever met or worked with have no formal qualification. They don't have NVQ2 or SNVQ; they didn't get the opportunity that some of us older guys had to complete a 3- or 4-year apprenticeship. Their work speaks for itself, but, under this scheme, they would not be allowed to install paving on a highways scheme, yet someone who has completed a pretty basic NVQ2 portfolio and blagged their way through the most cursory of assessments by someone of debatable qualification, will be fully entitled to do so.
If you want better pavements, you need to provide better training and better assessment of would-be installers. If you want to attract the best candidates into the paving trade, then you need to show the school leavers and the academically disinclined that there really is a "structured career path", a path that goes beyond the shockingly rudimentary NVQ2, and offers them a worthy, rewarding and life-long earning opportunity.
NHSS30 is full of good, honourable and ultimately desirable intentions but it will not make for better paving – just better paperwork, and more of it.