Civils 2005 - a review
So: having successfully found the funding to cover a couple of days in London by raiding the kids' piggy banks, and having managed to find the way to this Olympia place, what was there that might be of interest to us in the paving and drainage trades? Although paving and drainage are essential parts of the civils industry, it tends to be the "specification" products and contractors that identify with civil engineering while most of the patio and driveway products/contractors feel more at home in the 'landscaping' category. Accordingly, there was never going to be any chance of seeing, say, wet-cast patio flags or rope-top edgings. However, it would be reasonable to expect commercial paving products, pedestrian and car park drainage items, and the occasional bit of kit intended to make our lives easier.
An initial 'reccy' of the cavernous National Hall revealed just one paving manufacturer promoting paving, a handful of drainage manufacturers, and one paving kit and materials handling supplier. Lots and lots of 'service providers', such as insurers, mapping companies, project managers and others who never get their mitts dirty, and a good selection of geo-tech companies, ranging from surveyors through soil stabilisation to ground anchors and more. There was also a healthy offering of survey kit - theodolites, earth stations, laser levels, etc. - and a good turnout from some of the big international names in the civils design and management sector, including Atkins (of course!), the legendary Murphy group, Faber Maunsell, Mouchel, amongst others. But where were the products? LaFarge, Cemex (what used to be RMC), Tarmac and Charcon all had a subdued presence, but no sign of industry behemoth, Marshalls, no Hepworth, no Polypipe, no McAlpines, no Terram .... in fact, it was quite interesting to note just who wasn't there. If this is to be a national event with any credibility, it has to be supported by those companies that are happy enough taking millions of quid out of the industry each year.
Formpave
SUDS is the buzzword for much of the groundworks trade at the moment, and permeable paving is an integral part of this new approach to draining our towns and cities. Several years ago, Formpave committed themselves to what was then an unfashionable idea, but they could read the runes better than many others, and now that SUDS is the zeitgeist, they have established themselves an advantageous lead over their competitors and simultaneously enhanced their reputation with their generous support and funding for some of the cutting-edge reserach being undertaken at several universities.
Probst
Envirokerb
Aco
Aco are probably best known for their drainage systems, particularly the channel drains which have become known in the trade as 'Aco Drains' even when they're not made by Aco. Consequently, a large part of their impressive, centrally located stand was given over to the drainage products, which can be loosely grouped into three classes: channel drains, combined kerb-drains, and slot drains. News from the channels drains is that there's a move to units featuring integral gratings, that is, the grating and the channel are one, composite unit. This helps deal with the problem of missing gratings, or inappropriate gratings being fitted, but it does mean that maintenance access is restricted and can only be achieved via dedicated access units that are placed every 20 metres or so. However, on the plus side, access via just two points (one in - one out) does mean that the supermarket car park doesn't need to be closed off during cleaning - the work carries on without disturbing the shoppers and other users, which should please the retailers. Training manager, Joe Bordas, is working hard on a handy 'pocket guide' that will help simplify selection of the most appropriate drainage product for specific applications, and I was treated to a sneak preview - look out for that at your local Aco stockist in the New Year.
Gatic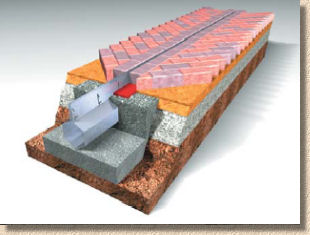 Pipex
Eccles UK Foundries
Instarmac
Nufins
Not content with providing high strength bedding and jointing products, along with impressive sealants, Nufins also offer a resin bond surfacing system, StoneBond. Despite the name, this is a resin bound system (ie, it's trowel applied) targetted at civil and commercial projects.
Stirling Lloyd
Charcon
Grace Construction Products
Hoofmark
UGS
Parker
Overall, it was probably worth a two-day trek to London, but with so many firms from the big city of Warrington or other northern and midland locations, it did make me wonder, yet again, just why where we conned into traipsing all the way down there? The 2006 civils event is already booked in for the same venue (November 28-30th 2006) and it seems that the South-east massive have decided to ignore the fact that there are more civil engineers, civil engineering contractors, and civil engineering universities outside the goldfish bowl of London than there are stuck inside that gridlocked, dirty, overpriced hellhole. If this is to be a "national" event, let's make it easy for the WHOLE nation to attend, and not just those in one corner.