Introduction
Slate has been used as a building stone for centuries. Its laminar nature makes it easy to cleave and work, rendering it a popular choice for roofing and walling as well as paving. However, stone is heavy, and slate is no exception, so, hauling paving or walling stone around the country didn't make much sense in the days before motor vehicles and a nationwide transport system, and consequently, it was only the high "added value" thin-cut slates for roofing that were worth transporting any significant distance. So, despite all it advantages, slate's use a paving material has been more or less limited to its immediate area, notably the quarrying districts of North-west Wales, the English Lake District, and the far South-west peninsula. In Scotland and Ireland, where slate is scarce, whinstone was, and is, a popular deputy.
---
Slate from Wales
The quarries of Snowdonia are renowned for the superb quality slate that is hewn from the shadows of Yr Wydffa, and whole communities have worked the local slates of Blaenau, Llanberis and Penrhyn for countless generations. The entire built environment is dominated by this highly characteristic rock, with the heavier, poorly-worked lump slate used for walling, and the beautifully cleaved 6-9mm (¼"-⅜") thick slate used for roofing, while riven flagstones would be used for pavements, or dressed to form kerbs and edgings - even the headstones in the local graveyards would by formed from lovingly-honed slate.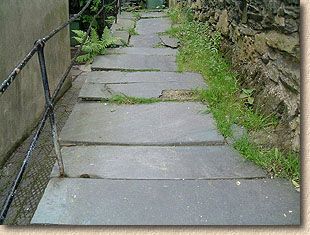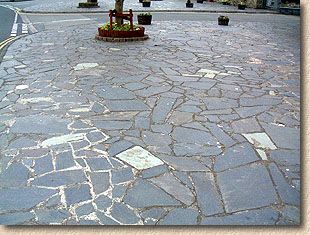 Welsh slate is known not only for its fine-grained texture but also for its distinctive colouring, predominantly dark blues, blue-greys and the unmistakable Penrhyn Purple, variously known as 'Plum' or 'Heather'. This choice of colour can be combined with a range of formats, such as sawn, riven or 'random' (as used for the labour-intensive " crazy paving ") to offer clients and designers a thought-provoking selection.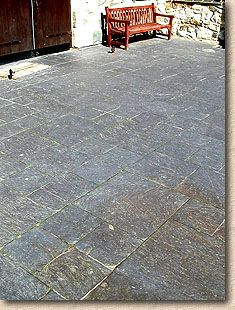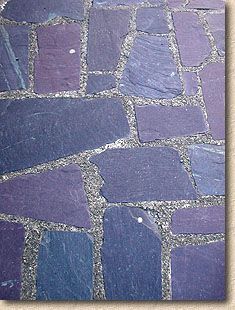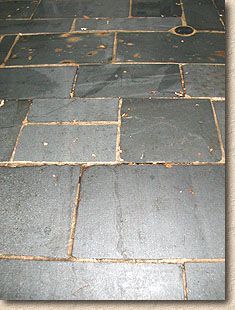 ---
---
Slate waste
Decades of quarrying in North-west Wales have resulted in huge tips of slate waste, (shards, scalpings, dust and unworkable stone) that has been cast aside once the dressed slate has been prepared. One estimate given to me is is that there are approximately 3 billion tonnes (3,000,000,000) of slate waste littering the countryside in and around the Snowdonia National Park alone.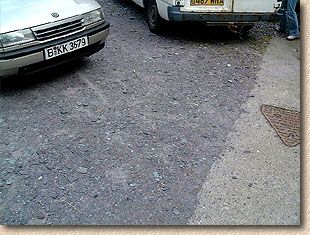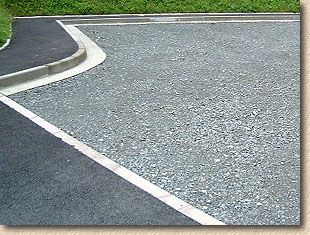 Although there is some use for this material as a low-cost fill, a surface dressing or even as a cheap 'alternative' sub-base material, supply still far exceeds local demand. The relatively recent introduction of the progressive ' Primary Aggregates ' Tax has seen interest in this so-called waste material bloom and some of the larger construction and civil engineering companies are actively involved in transporting vast quantities of this 'waste' by rail into central England for use as a selected fill material in road and rail construction projects, but still, the huge 'tips' remain.
Simultaneously, the huge surge of interest in gardening and landscaping over the past few years, has opened a new market for slate waste as it has become the decorative surface dressing of choice with many garden designers. Amazingly, what sells as a cheap fill for around £5-10 per tonne in Bangor and Caernarfon, suddenly costs £6 per 25kg bag by the time it's packaged and loaded onto the shelves of your local Garden Centre of DIY Store.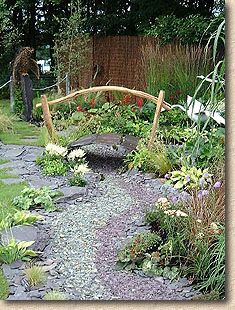 ---
Contemporary Use
The resurgence of interest in slate as a modern paving has seen new products come onto the market. The key features of colour and texture remain, but now we have a much wider choice of formats. Randomly-sized riven paving for a cottage garden patio remains popular, and rightly so, but regular sizes are preferred for more modern styling, and by mixing colours, chequerboards or more involved layouts can be created for use as patios or even for conservatory floors.
These images show a selection of the slate pavings available from Global Stone - Colchester 01206 766032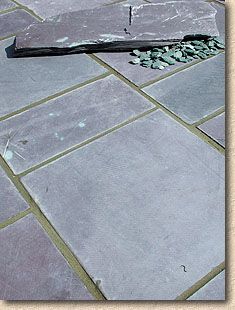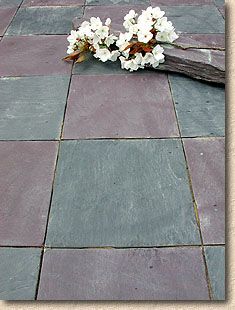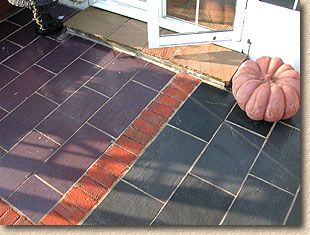 ---
Other Uses
Slate is highly versatile which allows it to be used in an almost limitless number of ways. These are just a few ideas I've spotted on my travels over recent years...
Cut into simple rectangles with a 2:1 plan size, the resulting slate tiles can be laid to a simple but effective basketweave pattern, as shown here. For a more up-to-date interpretation, the tiles could be laid in a herringbone pattern, possibly alternating contrasting colours on consecutive courses, or using tiles with a different plan size ratio - 3:1 makes an intriguing herringbone layout.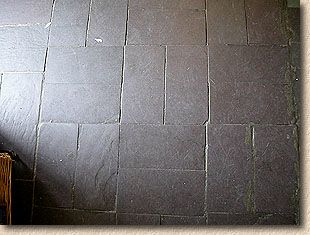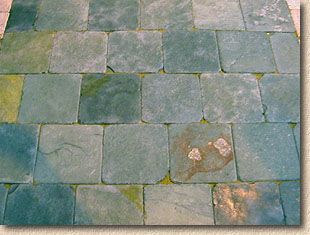 For those looking for a more aged appearance, tumbled slate pavers are also sold by some suppliers. These are 'perfect' pavers, prepared in the usual way, but then put into a huge tumbling drum, similar to an empty concrete mixer, wherein the pavers are turned over and over and over, bashing against each other, and against the sides of the drum, knocking off the edges and corners of the blocks, leaving them with a 'distressed' look that is said to age them.
Obviously, all this extra work increases the price per square metre, but the finished effect is rather charming.
Of course, odd-shaped pieces of slate can be used as stepping stones in gardens or informal areas. By laying a relatively flat surface uppermost allows the mower to travel straight over the top without damaging the blades.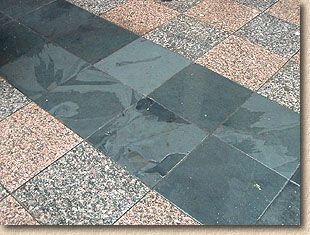 Combining slate with other materials emphasises the qualities and attractiveness of both. In this image, square slate blocks have been used to form a break band in a section of granite paving. The dark, neutral tones of the slate accentuate the warmer colours of the feldspars and quartzes in the granite.
---
---
Slate on Edge
This effect is actually quite wasteful, in that most of the slate lies buried and unseen, but it is effective and is a good way of using old, unwanted or broken roofing slates.
The slates are reduced to 'strips', anything from 30-100mm in width, and then laid on a bed of mortar. The top exposed edges are then tapped down to level, using a piece of timber to ensure they all end up at the same level, and the joints are 'brushed-in' with a dry mortar mix.
It's time-consuming and only really suitable for gardens and other decorative areas, but it makes a very distinctive border, edging or even a mowing strip .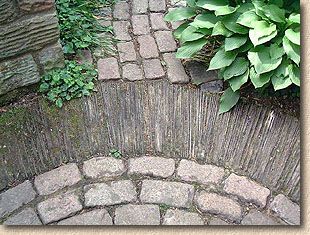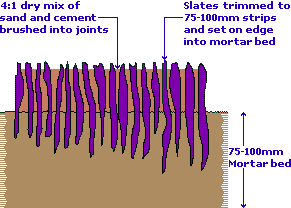 ---
Other Slates and alternatives
Although Welsh slate has been featured on this page, there are slates from other parts of the British Isles, notably the Green Slates of the Lake District, sometimes known as Westmorland Slate, and the unmistakable rusty-brown slates from Delabole in Cornwall, along with plain Greys from elsewhere in the West Country and those from Donegal and Killaloe in Ireland. All of these are eminently suitable as paving materials and offer a more local feel to projects in those areas.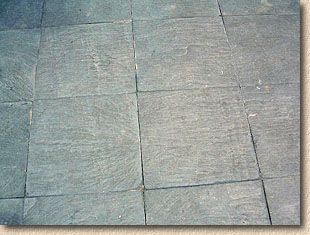 As noted on the page dealing with Indian Sandstone paving, stone from all over the world is now finding its way to these islands, and slate is no exception. Most of the slate being sold for paving use is sourced from China and the quality varies enormously, so a degree of caution is required when buying. Some of the slate products sold as suitable for patio or pavement construction are actually internal flooring grade tiles, totally unsuitable for the soggy British/Irish climate and likely to delaminate with the first serious frost. So make sure any imported slate is guaranteed to be suitable for external use.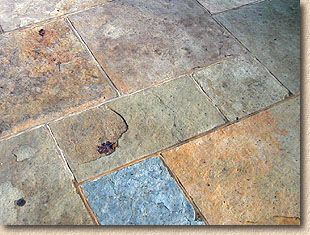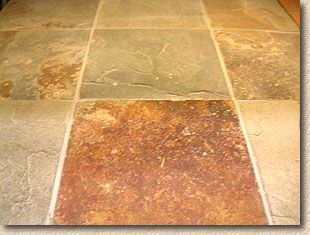 Some of the slates being sold are highly decorative, such as the Chinese Peacock Slate shown here, but bear in mind that the metallic lustre of such a slate may disappear beneath the day-to-day crud that accumulates on garden patios, and, to keep it looking at its best, regular cleaning, or even sealing with a suitable sealant may be required. Personally, I'd restrict use of such highly decorative material to feature areas, rather than 'everyday' patios and pavements.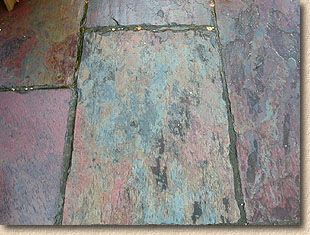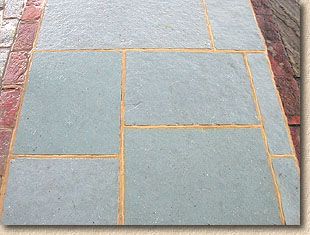 Whinstone is a popular alternative in Scotland and North-eastern England. It shares similar characteristics to slate and is becoming easier to obtain further south. Most of the Whinstone paving taken down to South-eastern England has a bluey-grey or almost turquoise colouring, which is not to everyone's taste, but makes a bold statement in a modern setting.
A note to contractors - it's worth noting that Whinstone is significantly harder to cut than is slate and the use of a power saw is highly recommended.
---
Laying Slate Paving
By and large, slate paving is laid in the same way as any other stone paving, a process that is described more fully on the Laying Flags page. The only additional recommendation is the use of a Bond Bridge to improve adhesion of the slate to the bedding. As slate is relatively impervious, it can be tricky to achieve thorough bonding without SBR or a bond bridge of some description.
However, because some slate pavings are relatively thin (any paving less than 30mm thick is considered to be a 'tile' rather than a flag/slab) many contractors find it easier to lay slate on a full mortar bed. This ensures the slate is fully supported and the mortar, once set, becomes the load-bearing layer, rather than relying on the sometimes suspect inherent strength of the slate.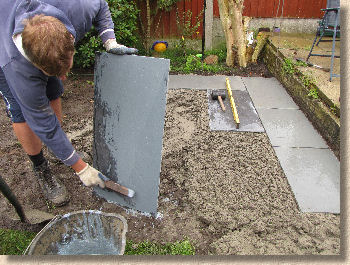 Overall, I would select an appropriate laying method depending on the thickness of the slate being laid...
Type of Unit
Thickness
Method
Tiles
30mm or less
Lay on 35-50mm of a very stiff Class IV mortar over a prepared base or sub-base
Flags
30-65mm
Lay on 35-50mm of a 10:1 moist mix bedding mix of grit sand and cement, as described on the Concretes page
Blocks
65mm or more
Lay on 35-50mm of moist mix bedding mix or, for flexible construction, use 25-40mm of clean grit sand
Kerb and Edgings
Varies
Lay on 75-100mm of a C7.5 or equivalent concrete suitable for kerbing
Table 1 - Selecting an appropriate laying method
Some consideration should also be given to the jointing. Cement or resin mortar pointed joints are suitable in most situations where rigid bedding is used (ie, the slate is laid on mortar or a cement-bound bedding mix). Close jointing should be avoided unless a distressed look is desired, and, in such cases, a 2-5mm sand joint , as used with standard block paving, is a good choice, although polymeric sands can be used if preferred.
---
---