New Guide and New Products from Tobermore
Another week; another major Irish manufacturer has goodies for us to review. This time, it's that good friend of the Pavingexpert website, Tobermore Concrete Products from Co. L'Derry.
Tobermore has evolved into one of the best run and most highly respected manufacturers not just in Ireland, but anywhere in the world, and that evolution has been based on a simple strategy: quality products at sensible prices with unparalleled service and technical support for the Contractor. Keep the contractors happy and they want to keep laying your blocks; look after them and they'll look after you.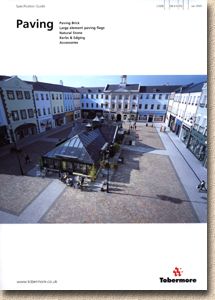 As with many other larger manufacturers, Tobermore market their products on two fronts. Their Origins range is sharply focused on residential drives, paths and patios, while the commercial sector, known in the trade as the Specification Market sees a wider range of products, in beefier sizes, and the option of more utilitarian styling, plus the sort of items not much in demand for patios, such as road kerbs and tactile pavings.
The publication of the 2005 Specification Guide runs to 112 A4-sized full-colour pages, including the covers, and reveals a number of very interesting new products in the block paving and natural stone ranges. The Guide is sub-divided into six sections, starting with a Portfolio followed by pages devoted to Block Paving, Paving Flags, Natural Stone, Kerbs and Edgings and finishing off with Accessories.
The Portfolio starts with run-through the various Tobermore services, the CPD seminars, the design offerings, CAD details and photo gallery, just to mention a few, and then looks at a few of the sectors where Tobermore paving has been used to create a better environment: Urban renewal, new housing, retail, commercial, education, and all illustrated with the aid of well-chosen photos that show a good range of paving used in a wide selection of sites throughout Ireland. The portfolio is a great way of showing how paving contributes to the overall environment, complementing the buildings and emphasising the styling, colouring and textures of the overall hardscape.
The real meat of the Guide starts with the block paving section, which opens with a look at why block paving remains the best all-round choice for commercial applications, in terms of whole-life cost, serviceability, and sheer design potential. Tobermore offer an impressively wide range of block paving products, so rather than rattle on about the familiar favourites, I'll concentrate on the newbies.
The ever-popular Tegula system has been enhanced by adding a third size to the 60mm blocks. The availability of the 138x173mm block is bound to improved patterning, enabling greater variation in the usual stretcher coursework but also allowing more complex herringbones to be developed. As an extra bonus, the 60mm format is also available pre-packaged for machine-lay contracts.
is also labelled as a new product, although it's been part of the Origin range for some time. How gorgeous is this block? I know it won't work on every project, but the subtle surface texturing and elongated 4:1 (almost) profile make it a stunner for winding paths and other projects where something a little more distinctive is needed. We all have our favourite products from various manufacturers and I make no secret of my affection for this little block that I really believe would be a wow if made more widely available in Britain. It's not just the texture and the profile, but the colour blend – it just works so well and looks so naturalistic, at home in almost any setting.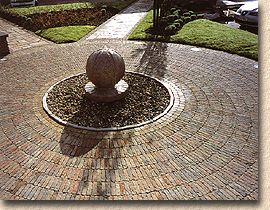 is new, and there's nothing like it in Ireland or Britain. It's a funny little block, with no definite dimensions but is generally rounded rectangles. When you look at the individual blocks, it's difficult to perceive just how they can look when laid. The sheer variety of shapes and sizes makes for an ultra-naturalistic look, and they can be laid as a totally random layout or coerced into free-and-easy courses. The overall effect is reminiscent of cobbles (duckstones) although the surface is much, much kinder to feet, wheels and hooves.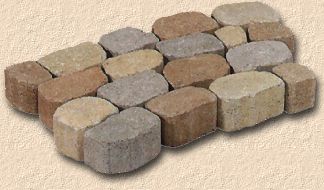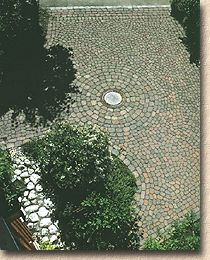 The system is available in the 60mm depth and in three colour blends, the well-regarded Heather (red-multi) and Bracken (Buff-multi) as well as Slate, a more naturalistic grey-ish multi colour blend that works exceptionally well in Ireland.
I really need to see more of this product. I have a feeling it could do really well for patios, but there is great potential for it on those projects requiring a simple, modern paving that complements older, more traditional buildings without looking out of place. Previously, everyone has suggested one of the tumbled products, such as Tegula, but I think Arena could be a very attractive, more informal, alternative.
The remainder of the block paving section covers all the other Tobermore Blocks in ample detail. There's an extended consideration of the HydroPave permeable system, which is going to become more and more relevant as SUDS becomes more firmly established in the construction industry, and what is, probably, the best technical advice section of any manufacturers catalogue I've ever seen.
The only criticism I would make is that pack quantities aren't given, making it a little awkward for contractors to calculate how many packs will be needed to allow for normal wastage and that cack-handed new lad who spoils more blocks than he cuts!
Moving on to the Flags section, there's no new products, but it's fair to say that Tobermore have a candidate in every category of flag – BS Standards in four colours (assuming 'natural' counts as a colour), decorative, textured, tactile and even a riven wet-cast offering, the Old Court flags. Again, the technical advice is superlative and much more detailed than anything seen previously.
And again, no indication of pack quantities: I know this isn't an issue for Tobermore, as they accept orders based on total area required, but many contractors like to know what to expect in each pack so they can pick and choose a particular combination of packs to give them what they feel is best mix with minimal overstock.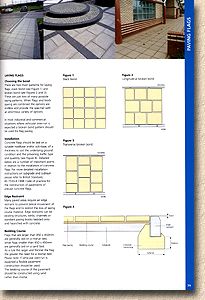 Technical advice for flags paving
Natural Stone products have been the big product development area for Tobermore over the last couple of years and rather than attempt to be comprehensive, they've latched on to a pretty decent range of granite products and then supplemented it with a sandstone alternative in the flags. The whole range has been named Pietra, regardless of rock type.
Granite has a strong presence on the Irish paving market, as it's a traditional material, particularly in the main cities. Although many of the native quarries have ceased working, imports from China and elsewhere have managed to inveigle themselves into the market and it's only the more obsessive street masons and mason paviors such as meself that would be able to tell.
The setts come in 5 colours – Natural (Silver-Grey), Gold (browny-buff), Buff (light buff), Rosso (pink) and Nero (charcoal) – and all are cropped or hand-finished in texture. They're all available as 100x100x50mm or while the Natural (Silver Grey) is available as a more traditional cube 100x100x100mm as well as a long sett (200x100x100mm) and a smaller cube 80x80x80mm.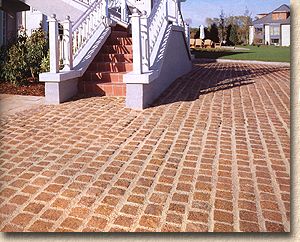 There's quite a wide range of granite flags – nine colour options, and two textures (riven and flame textured) but only the Platinum (coarse-grained silver grey) is available as riven. At the moment, sizes are rather limited to one size per colour, but as modern granite flags tend to be used in regular patterns rather than random layouts, this is not a major issue. It would be nice to see a rectangular format available to complement the existing 400x400mm squares, and perhaps a 300x300mm square to work with the 600x300mm rectangles.
Two options with the kerbs: a BS Standard 125x250x915m format in fine-picked or rough-punched finish, and a smaller "Kerbstone" that is 190x160x100mm and more suited to smaller driveways or path edgings. The colour is the familiar silver-grey granite that always looks best, in my opinion.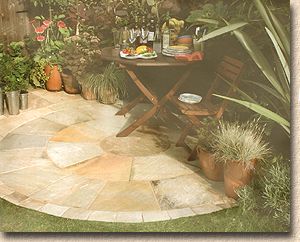 The sandstone flags are a select range of the ubiquitous Indian imports, and there's nothing new to say about these as every contractor worth his or her salt is more than familiar with the great value-for-money these flags offer. Tobermore provide 4 of the more popular colours – a grey (they call it natural), a browny buff, the greeny one normally called "Raj", and a light buff named Sahara. What Tobermore do offer that isn't available from everyone else is a circle-with-squaring-off kit, and the opportunity to buy off-the-shelf packs of mixed sizes that are ideal for smaller patios. The larger packs totals just over 14 square metres while the smaller pack contains a shade over 7 square metres.
Yet again, the technical information and laying advice is superlative. Nuff said!
The final two sections, looking at kerbs and edgings, and "accessories" (which is essentially decorative aggregates) are fairly standard. There's some useful photos illustrating potential uses for the various kerbs, edgings and step riser units, but nothing radically new – after all a kerb is a kerb is a kerb, innit!
Overall, this Specifiers' Guide is a wonderful publication that deserves a wider audience. It's light on driveways and patios, but the information and detail given is not overly technical and would not cause a migraine in your average homeowner. The brochure as a whole is not so big that one feels lost, nor so small it feels lightweight and incomplete. The photographs are of excellent quality, exquisitely reproduced and you can tell they've been chosen to illustrate the potential rather than "show off". The only negatives are the already mentioned lack of pack quantity information and the strange fact that the weblinks quoted in the Guide all return 404s!
Every now and again I get to see a photo that wows me. This cover shot from the Tobermore 2005 Specifiers' Guide is the best image I've seen this year. Fairy Nuff; you can't make out much detail in the paving, but it shows a whole project from an unusual angle, giving a good impression of what can be achieved with just a few simple paving types, but it is the sort of image that really grabs architects and designers by the tender bits, making them sit up, pay attention, and scan their current project list to see if there's any that could use this sort of idea. Top butty!
Even if you're a contractor based in an area of the country not currently served by Tobermore, I strongly recommend you get your mitts on a copy of this Guide because it will fill you with ideas and inspiration, and occasionally make you guilty of the sin of envy!
Use this web-link to get your own copy...... Tobermore Specifiers' Guide Request