External Works in 5 weeks
External Works , the biggest UK-based trade exhibition of direct relevance to the paving and hard-landscaping industry will be throwing open its doors in just five weeks time, Tuesday April 17th, at Birmingham's NEC. After an inauspicious start in that London back in 2001, the event re-located to the much more central NEC and has subsequently gone from strength to strength. Held biannually, the 2003 event was a surprise hit with both visitors and exhibitors, while the 2005 shindig was, for me, the best event of that year. Looking at what's in store for 2007, it promises to be the one show not to miss if you make a living in the commercial sector of the hard-landscape industry.

There are some big names at this year's show – Charcon, Formpave, CED, Forest Pennant Paving amongst others, and many of the major suppliers in the burgeoning pavement jointing mortar industry, including Easipont, Instarmac, SteinTec and relative newcomer, Acosim UK , who have an ingenious cement-based jointing system for commercial projects that was one of the best new products I saw last year.
In an exclusive interview, Grant Wilson, MD of Acosim UK told pavingexpert.com, "Acosim UK will be exhibiting at External Works 2007. The Acosim Mortar System has been continuously developed over the last 20 years by master paviors in Switzerland. The benefits of the simplicity, productivity and quality of the end result are obvious, having been developed by paviors for paviors. The quality of finish from day one, coupled with the ability of the products to withstand salt, freezing, pressure washing, heavy traffic and abusive cleaning regimes has allowed public realm clients to benefit from long term cost savings. External Works is an ideal exhibition to show off the benefits of the Acosim Mortar System. We will be at stand C33 and be delighted to answer any questions."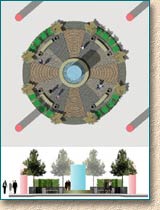 At the 2005 show, a central "Square" was created using many of the products on display throughout the exhibition and it proved to be enormously popular, as a meeting point, a place to sit and chat, and a place to see the products in a more realistic setting. For 2007, the idea has been updated, enhanced and will be … wait for it … a circle! Designed by leading landscape architects, Lovejoy, and measuring 14m in diameter, it's already creating a buzz in the industry.
And if that's not enough, Milton Keynes council are bringing along a recreation of their celebrated Bus Station Skate-Park – will we see Michael Heap from CED don his safety gear and take to his wheels?
Ronacrete and SureSet , both regular supporters of the Pavingexpert website, will be there, too, along with some less familiar names. At the time of writing, the exhibitor list is still growing and I'm awaiting an update from the organisers. I'm also awaiting a schedule for the Showcase Theatre: these 10-minute seminars have become an important feature of many shows and exhibitions over recent years, and a strong line up helps pull in the crowds. As soon as a listing is available, it'll be published here.
Entry to External Works is free if you register in advance. Even better, the entry badge allows you in to the adjoining sister shows of Traffex (Traffic Management) and Parkex (Parking Technology). You can register online and reserve your entry badge today.
Press Release dated 15th March 2007
EWx, the exhibition for all those involved in the development of the public realm, has announced the speaker programme for the event in 2007. Senior representatives from an impressive range of organisations including the Local Government Association, CABE, Play England and Groundwork will discuss a variety of issues relating to the public realm throughout the 3 day show.
John Best, Chief Executive, Milton Keynes Council, will address the issue of rapid growth and the demand which this places and will continue to place on the public realm. Dr Edward Hobson, Head of Research and Futures at CABE, will discuss Manual for Streets, guidance on street design which is due to be published by the Department for Transport and Communities and Local Government at the end of March. Edward will examine whether the guidance will deliver greater value for the urban public realm.
On 18th April, Lord Sandy Bruce Lockhart, Chair of the Local Government Association, will give a keynote address. Leading Danish landscape architect Helle Nebelong will discuss how cities fulfil their full potential when their design is inclusive and allows accessibility to people of all cultures, abilities and needs.
Groundwork UK and the Landscape Design Trust will run a session to highlight the role of green space in promoting wellbeing in housing areas. On the final afternoon of the show, Play England will lead 2 workshops covering Value of Play, Risk of Play and Play Strategy. These will be interactive sessions including breakout sessions for small groups.
EWx Event Director Lucy McPhail commented : "The importance of a quality public realm is hugely topical and it is widely recognised that well designed public spaces can have a major impact on a commmunity's economic, social and physical wellbeing. We are delighted at the calibre of the speakers at this year's event and believe that the seminar programme will appeal to practitioners of all disciplines".
EWx, the UK's largest event for planners, suppliers, designers and users of the public realm, will this year play host to more than 100 exhibitors. Both the exhibition and the extensive seminar programme are free to attend.