Products, Plant and Materials Library
We maintain a comprehensive library of British, Irish and European manufacturers and their products covering all aspects of the hard-landscaping and groundworks industries. We are on the mailing lists of most major manufacturers, which ensures we are kept fully up-to-date on new products and developments, sometimes months in advance of the nationwide launch.
Popular items, such as concrete block paving types, are held in a database, with all relevant technical information, patterns, stockists and typical prices updated every month. Literature for the more obscure products is stored as a coventional reference library, divided into around 40 different categories.
If you're looking for a particular shape or colour of paving, we may be able to find a match from our library, and we make no charge for thumbing through our files to find the most suitable products for your needs.

Please note that our Library does not supply brochures, catalogues or other literature published by the numerous paving manufacturers and Builders' Merchants; if that is what you require, then use the links page to contact the manufacturers directly.
Our Product Library is intended to help locate special items, hard-to-find pavings or suggest suitable products for unusual situations rather than provide a list of all the paving types that are readily available throughout Britain and Ireland.
What's This Paving?
There is also a service to help identify unknown or uncertain paving.
In some cases this service is free of any charge but for more difficult identifications a small charge is made.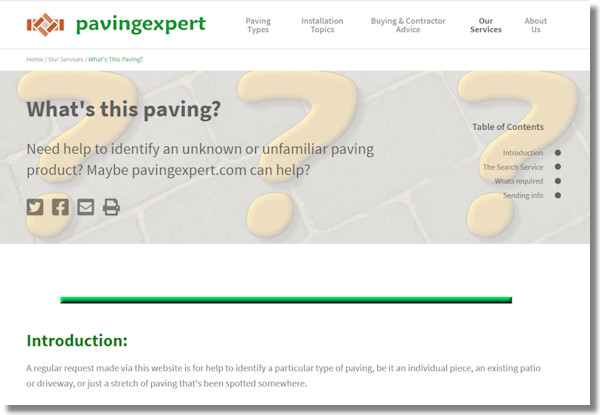 Full details are given on the What's This Paving page
Manufacturers and Stockists
Contacts details for dozens of manufacturers and stockists are listed in the Links section of this site. Please check there if you are trying to track down a particular company, rather than a specific product.
Manufacturers, stockists, suppliers and other companies trading in the paving, drainage or landscaping business are welcome to add details of their products and services to our library. See the Add a Link page for details on obtaining a listing and/or link on this site or refer to the Services page for details of special offers available to manufacturers and stockists.
If your company has new product information or a new catalogue, we'd be delighted to receive a copy. Click here for a pop-up window with our contact details.
Drawings Library
We also have an extensive library of construction drawings for all types of paving, drainage, earthworks and hard landscaping elements. These are available in most graphics file types, such as PDF, GIF, JPG and BMP, and as usable CAD drawings in various formats.
We make a modest charge for specific detail drawings and special requests.
Use the form below to find out if we can help.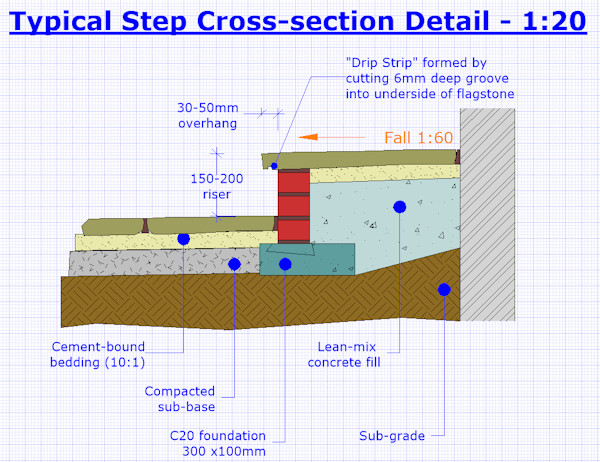 Product Library Categories
Concrete Block Pavers -

all major British and Irish manufacturers

Clay Brick Pavers -

a range of almost 1,000 colour mixes

Concrete Patio flags/slabs -

the good, the bad and the ugly

Drainage -

vitrified clay, uPVC, linear

Drainage -

manholes, ironwork, septic systems, land drainage

Reinforced Grass Paving -

temporary roads, appliance access paving

Playgrounds -

safety paving, play equipment, accessories

Building Chemicals -

additives, dyes, adhesives, epoxy resins

Soil Engineering -

geo-membranes, retaining wall systems, gabions

Highway Paving -

small element, tactile, kerbs, flags/slabs, block paving, bitmac, HRA

Highway Maintenance -

road repairs, traffic calming, street marking

Stone Paving -

york stone, slate, granites, cobbles, setts, cubes

Aggregates -

DTp1, selected fills, cements, sands, topsoil, quarries

Security -

bollards, clamps, gates and barriers for car parks, fences

Plant -

excavators, hand tools, power tools, shoring systems
Drawing Library Categories
Paving cross-sections -

block paving, patio paving, tarmac, driveway, public footpath, public highway

Paving patterns -

herringbones, basketweaves, bonds, random, interlocking, weaves

Drainage details -

gullies, inspection chambers, manholes, branch junctions, rodding eyes

Structures -

pergolas, fences, barbecues, raised brick planters, decorative walls

Landscape -

trees, shrubs, hedges, ponds, ha-has, rockeries, embankments, terraces
Please note that a charge is made for original construction drawings
Library Enquiry FormYour Name: Your e-mail address: Please re-enter e-mail: I am the:ClientContractorOther Interested PartySearching for: Other information: How did you find this site?source....GoogleMSN SearchAskYahoo!Other Search Engine-Clicked a link on another siteRecommended by a friend-Saw your post in uk.rec.gardeningSaw your post in uk.diySaw your post on USENET-Stumbled in accidentallyI am not a spammer Please allow 3 working days for your query to be answered. If you don't receive a reply within that time, it's most likely because the email address you supplied is invalid - please try again and check that your email address is correct. Alternatively, post a message in the Forum Problem?? If the form above is not co-operating (I've been told it's summat to do with certain types of personal firewalls) then use this email link as a last resort.