Marshalls Water Management Solutions
Never one to miss an opportunity, Marshalls, best known for its paving products, have re-energised their involvement in the burgeoning SUDS market by initiating a new micro-site (or 'portal' as they brand it) for water management and SUDS in general on their main website.
I know I can be archly cynical at times, but isn't the grandly titled "water management" what we used to refer to as plain and simple "drainage"? Does this mean I have to re-label a huge set of pages on the website?
In essence, this new micro-site takes the pre-existing information on products such as the Birco linear channels , the hugely popular Beany Block combined kerb-drain products, and the wealth of information on permeable paving , and lumps them together in this new 'water management' section, where they are supplemented by information on SUDS in general, the whys and wherefores, with links to the legislation. There's also video contribution from the eminent Professor Chris Jeffries, head of the Urban Water Technology Centre at Abertay & Dundee University, in which he outlines recent experiments carried out with Marshalls permeable paving.
The micro-site is claimed to be...
"dedicated to answering your queries and offering advice, opinions and product solutions"
...and this seems to be addressed, at least in part, via the currently fashionable social networking diversions such as 'Linked-In' and an online poll with the mandatory stating-the-bleeding-obvious question. There's a rake of other useful links to case studies, news stories, and CPD seminars.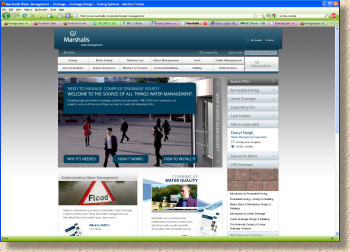 So: there's nothing radically new in terms of content, but that's not important at this stage. The whole concept of a micro-site/portal dedicated to drainage, water management of whatever you want to call it, is a fantastic example of how the web can deliver knowledge in ways that just aren't possible via the traditional media. Even in this simplistic early format, it is truly multi-media; text, sound, video, images, discussion and opinion, all delivered to your screen with minimal effort. This is exactly how the web should be used.