Acheson-Glover get weaving at Linen Green
Northern Ireland based paving manufacturer, Acheson & Glover Group has weaved its magic into the landscaping of the new Linen Green designer outlet village, close to the Company's Headquarters in Dungannon, County Tyrone.

They developed a new block paving, TerraPave® Strada, a narrow pavior measuring 200x60mm in a 60mm depth, and produced in two colour blends with a rumbled finish, which complements the colours and textures of the traditional Belfast red brick masonry seen throughout the Linen Green site.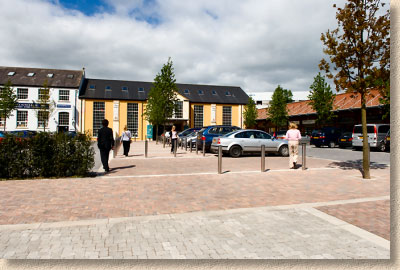 Owned by Dungannon's Jermon Developments, the Linen Green is located in the historic village of Moygashel which was once a thriving centre of the Irish linen industry. Now fully refurbished and enlarged to provide 10,000m² of retail space, the Linen Green development has successfully grown in size but still retains a streetscape which reflects the original features of Moygashel village.
For its landscape architects, the Belfast-based Park Hood Partnership, this was one of the project's key challenges. The firm's concept for the Green's urban design reflects the incorporation of the contemporary with the traditional, just as the older features of the restored mill are mirrored in its new setting.
As Linen Green was to become a "shopping experience", the levels within the site were raised to provide a more balanced arrival area. In combination with this, the choice of paving was at the heart of creating a site with a "Sense of Place", a site where pedestrians had priority, where car parking was rationalised and where vehicular movement was easily understood with a minimum of signage.
The paving design was considered as part of a modular system to allow the site to be expanded if necessary in a coherent and consistent way. Different paving types were carefully selected to highlight specific landscape functions, pedestrian, vehicular, parking, etc. Attention to detail in paving demarcation also sets the scheme apart and reflects the client's commitment to design excellence throughout the project.
Acheson & Glover's TerraPave® Country Cobble also features extensively throughout the scheme. Widely used throughout Ireland, the product re-creates the aged appearance of natural stone setts associated with traditional construction while at the same time offering the versatility of a modern paving element.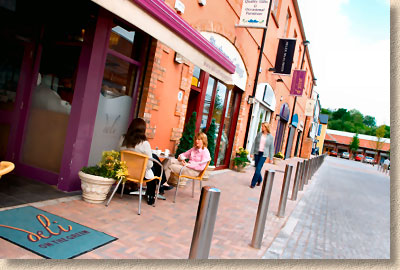 Natural granite setts, also supplied by Acheson & Glover, were used to complement the historic use of the stone on the original site. Laid in a European Fan pattern, the granite setts adorn the entrance at the main gates and continue along the main spine roads to the car parking zones. The setts have also been used to create drainage channels along the roadside.
Johnny Park, a director of landscape architects, Park Hood, is very enthusiastic about the finished result. "We were also delighted to work with Acheson and Glover and were particularly impressed with the company's technical capabilities which enabled them to quickly develop a new product to meet our specific requirements for the project."