Introduction:
Vast quantities of rock are quarried for road-building stone, for cement production and for surfacing materials ranging from York Stone Flags to Pattern Imprinted Concretes and asphalts, river channels and estuaries are dredged for sands and gravels, clays are extracted for hoggin and for pipe and brick production.
However, the industry has, like the rest of the world, had to face up to its environmental responsibilities, and so there is now a conscious effort to recycle and re-use aggregates and other materials if at all possible. Old concrete is crushed, graded and sold as selected fill; bituminous roads are planed down, heated up, re-mixed and relaid in one operation and the demand for reclaimed stone flags, setts and cobbles seems greater than ever. We probably won't ever see an end to quarrying, after all, humankind has been hacking and hewing away at the hills for thousands of years, but we can make best use of the resources we have, and ensure that we minimise the impact our modern society imposes on our natural environment.
This page provides basic information on the aggregates most commonly used in the paving industry.
---
Ash - Cinders
Nowadays, Pulverised Fly Ash (PFA) is a by-product of the modern power stations. The coal is crushed to a miniscule size, usually less than 1mm before being injected into the furnace and burnt . The resulting waste ash is used as a fill material and PFAs with a high silicon content can be used in specialist concretes as a partial replacement for cement.
---
Asphalt
---
Ballast
---
Bitumen/Bituminous Macadam
In its raw form, bitumen, or pitch as it is sometimes refererred to, was once the preferred joint sealant for sett paving, although this role has diminished as the area of sett work undertaken each year has reduced and as high-strength mortars have become more readily available.
---
Cement
---
Clay
---
Coarse Aggregate
The full definition for a coarse aggregate is set out in BS EN 12620:2013 Aggregates for concrete.
A typical coarse aggregate might be specified as....
G c 85/20
---
Concrete
For smaller quantities, concrete may be mixed on site in small mechanical mixers that can churn out 0.25-1.0 m³ at a time, or for very small quantities, it may be mixed by hand.
---
DTp1
---
Glass (recycled)
---
Gravel
Gravel has many uses in the construction industry, including pipe-bedding , coarse aggregate for concrete and as a resin- or bitumen-bound surface dressing (tar-and-chip).
---
Grit
---
Hardcore
Increasingly, crushed concrete is being used as a good quality hardcore that is even capable of acheiving the hallowed status of DTp1 . However, there is an awful lot of utter crap out there. Little better than skip-fill. Truly poor quality crushed demolition waste with all sorts of undesitrables included, such as bits of timber, weeds and degraded bitmac (see road planings below)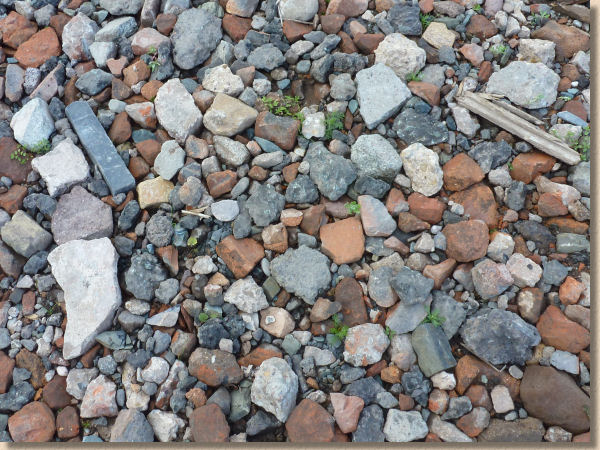 ---
Hoggin
---
MOT 1
---
Planings and Asphalt Arisings
However, asphalt arisings, which do NOT include tar or bitumen based materials (so that means most planings) are regarded as a suitable sub-base material, designated as Type 4 in the Specification for Highway Works (Clause 807), and so should be considered separately from the (literally) run-of-the-mill planings from typical highways.
---
Sand
For general on-site construction purposes of the paving persuasion, there are two main working categories of sand, namely building sand (aka soft sand) which is primarily used in the preparation of mortars, and grit sand (aka sharp sand), which is used as a bedding material for paving. Naturally there are intermediate sands and applications thereof, such as jointing sand, but these are the two most regularly encountered categories.
BS EN 12620:2013 - Fun with sand
Essentially, sands now have "Categorisation" ( G ) which gives brief description of Type ( C oarse, C oarse for A sphalt, N aturally G raded or F ine) along with some numbers which are not quite as meaningless as they may first seem.
In all cases, the 'big' sieve has a 4mm mesh. Only the Coarse aggregates have a second number (small sieve) which has a 1mm mesh, but be aware that there are further grading requirements relating to the fines contents which involve a 0.5mm sieve (or 0,5mm as those danged Eurocrats would have us state).
And just when you think it sort of makes sense, they introduce a separate category, f, which is a fines value for the percentage of material passing through a 0.063mm (Oops! 0,063mm) sieve. Confused? Good – that means the Eurocrats get to keep their jobs.
So, for most paving purposes where a laying course material is required, such as block paving, the relevant British Standard (un-buggered by Eurocrats just for the moment) stipulates....
G f 85 0/4 (MP) fine aggregate
....which is decoded as follows….
G – The grading
f - is for a fine aggregate
85 – where at least 85% of the aggregate will pass through the 4mm sieve
0 – and the smallest grain size is 0mm (not really, just very, very small)
4 – while the largest grain size is 4mm
MP – and the fineness is M for Medium meaning somewhere between 30-70 Percent of the aggregate will pass through a 0.5mm sieve.
For laying course sand beneath block paving, there are further requirements on the fines content over and above the MP designation. These are explored below .
Brain aching yet? Think yourselves lucky we don't need Micro-Devals or Los Angeles Coefficients!
To check that you've been paying attention, here's the 'official' title for Jointing sand. Decode this....
G f 85 0/1 (FP)
....the big difference in this example is the (FP) bit which states the fineness. In this case, FP means F ine and in P ercentage figures, that means 55-100% of the aggregate will drop through the 0.5mm sieve.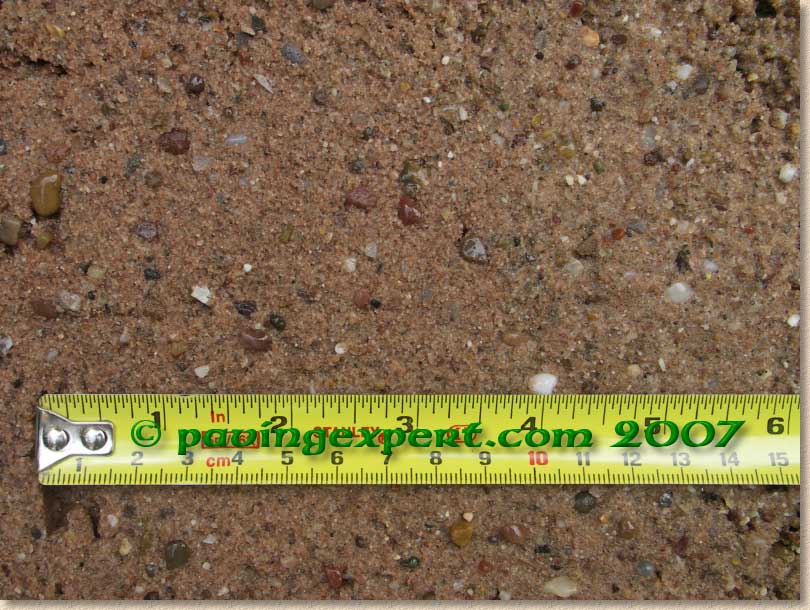 Fines content for laying course material
As warned about above, there is an upper limit on the fines content of laying course material and this limit varies according to the categorisation of the pavement. Essentially, the heavier the trafficking of the pavement, the lower the fines content.
Block pavements are assigned to one of these four zones (aka "categories") [was five zones pre 2009 update] based on their typical usage, and extensive research over a number of years has shown that the sands with a lower proportion of the finer particles are more reliable as bedding sands for heavy applications (zone 1 or zone 2), and that natural sands with rounded grains are less prone to settlement and fluidity than the angular, crushed-rock sands.
Further notes regarding sands
Rounded grains pack together tightly, giving a stable bedding layer, whereas angular grains have been found to have their 'rough edges' broken off under loading, thereby increasing the proportion of very fine particles in the sand which can be carried by percolating water, giving rise to a 'lubricating' effect which, in turn leads to separation of the sand into layers of differing grain size, possibly causing problems in heavily trafficked projects.
However, don't be daunted by all this soil mechanics micro-detail: for private driveways, patios and other low-traffic projects, a standard grit sand as sold by the local Builders' Merchants will more than likely be perfectly adequate as a bedding material. It is only for adoptable roads and high-traffic/heavy-loading applications that such in-depth consideration of the bedding layer sand is required.
Finally, two specialist sands; jointing sand, as mentioned above, is used to fill the joints of block paving and is specially selected to have a very low clay content and have grain sizes that will generate a high degree of friction, thereby giving stability and resistance to loading in a block pavement. It's also known as Kiln Dried Sand.
Silver sand is a sand with a very low iron content, and is much favoured in the manufacture of high-quality optical glass. Its silver (sort of) colour is a result of it being almost pure silica (SiO 2 ) and there being virtually no contamination with other minerals. It has limited uses in the construction industry, but is increasingly used as a component of the bedding mortar when laying pale or light coloured flagstones as its purity reduces the risk of discolouration.
---
Scalpings
---
Shale
---
Shingle
---
Slag
---
Slate
There are two main uses of slate for paving purposes, and both are as surface coverings, rather than as sub-bases or fill materials.
The most common use of slate is as modular paving, as flagstones , either rectangular or irregular in shape, and generally 20-40mm thick. These are laid in much the same manner as pre-cast concrete or yorkstone flags are laid, on a cementitious bed with mortared joints. They are invariably much more expensive than pcc flags/slabs, and, depending on the type of slate, can be even pricier than yorkstone. The primary reason for choosing slate flagstones as a paving is for their colour, usually a blue, purple or green, and/or for their texture.
Over the past few years, a new craze for slate has swept the nation and is a real triumph of marketing. Slate mulches are, in fact, slate waste, the offcuts, the trimmings, the unusable dross left over from the roofing slate industries of North Wales and other parts of the country. 15 years ago, the quarries could hardly give the stuff away. And so it sat there, in huge mounds of waste, slowly weathering and supporting absolutely no plant life in its barren state, for year after year until the trendy garden designers latched upon it. Since then, demand has rocketed and it sells for as much as 10 quid for a 40Kg bag - that's 250 quid per tonne, for what is, to all intents and purposes, quarry waste!
---
Stone
These rocks are subjected to a number of tests, such as crushing strength and polishing value, to determine their usefulness as a road-building material.
Some will be fill or sub-base materials , others will be aggregates for concrete or macadam and asphalt , and a special few will be suitable for surfacing as setts , cubes , flags or kerbs .
---
Topsoil
---
Comparative densities of various aggregates
---