New "Duke" at Westminster
Westminster Stone , regarded by many as one of the best wet-cast flag manufacturers in the country, have announced that John Clifford is taking over from his Father, Paul, as managing director of the company, as from January 1st, 2005.

Westminster Stone's manufacturing and storage facility on the Welsh border just outside Wrexham was devastated in a massive fire 18 months ago, and the time since has been hard work as the family-run business has battled to fulfill orders, replace machinery, and simultaneously deal with the insurance claim that enabled them to keep trading.
"It's been a challenge," "but we have a superbly loyal and hard-working team at Westminster Stone, and like all the best families, we really pulled together when the chips were down. No-one has worked harder than John to ensure Westminster Stone are still here, and I feel now is the right time to pass on the baton. We've replenished our stocks ready for the 2005 season, we've some fantastically exciting developments planned for the coming year, and John is the right person to take us forward."
Paul's not planning to retire just yet: he's brimming over with ideas and will be concentrating on expanding the product range as well as developing new opportunities for their existing paving and hard-landscaping items. He's even learning to speak German so that he can better explore the continental market!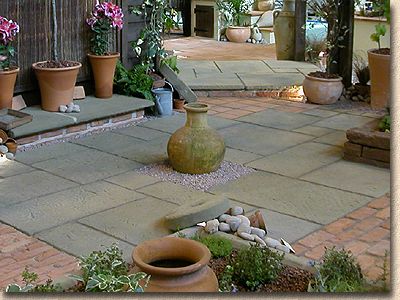 "My wife, Jo, and I started this business many years ago and have poured a lot of ourselves into it. It's nice to think we've succeeded so far by making some of the best patio flags and slabs, but we believe that it's the personal, friendly level of service that our customers really appreciate, and that won't change, no matter which Clifford is running the business."
The all-new 2005 Westminster Stone catalogue will be published in the next few weeks, and promises to offer keen designers, homeowners and the more discerning contractor some exciting new options. Check back soon with Pavingexpert for our exclusive review.