Stone & Style to Feature at GLEE
Stone & Style have announced that their innovative range of paving, launched earlier this year, will be exhibited on Stand Q59 at the GLEE Show at the Birmingham NEC from September 19th-23rd inclusive.
The Stone & Style range currently features two exciting products - Rockstone®, an unique exposed aggregate paver and Mediterranean Rustic, a very special tumbled paver.
The Rockstone® range of exposed aggregate block pavers have a distinctive rugged texture, and an unparalleled richness of colour that comes from the careful use of selected natural aggregates on the top surface of each block. Rockstone offers the dimensional accuracy of traditional concrete block pavings with the guaranteed colour-fastness of clay pavers. Ideal for patios and gardens, Rockstone is also sure to be a winner for driveways, streetworks, commercial developments and prestige projects looking for something that's just a little bit special.
All the blocks in the standard Rockstone range are 60mm thick and are available in 10 colour blends and 9 different sizes, plus a circle kit. For commercial applications, an 80mm thick block is readily available.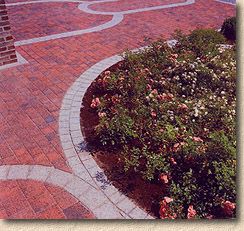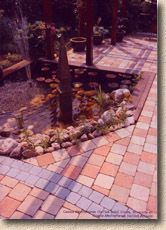 To complement the Rockstone range, the company have also introduced the "Mediterranean" range of rumbled block pavings. Unlike other rumbled blocks on the British market, Stone & Style Mediterranean are manufactured using a white cement so that the colour ranges are brighter, stronger and evoke the image of sun-kissed days and balmy evenings on the terraces and patios of Europe's southern shores.
Mediterranean Rustic is also 60mm thick, and comes in a palette of 6 sunny colours and 3 different sizes, plus a circle kit.
Stone & Style Pavers are stocked by a network of approved distributors. For details of your nearest stockist, or if you'd like to receive a complimentary samples pack, please contact them via their website .
They also offer a full technical advisory service to our customers, and can help with the plannning and design of hard-landscaped areas using Rockstone, Mediterranean Rustic or other products from their extensive inventory which includes road kerbs, edgings, steps, palisades, tactile crossings, permeable paving systems, grass-paving blocks and much, much more.
A World of Stone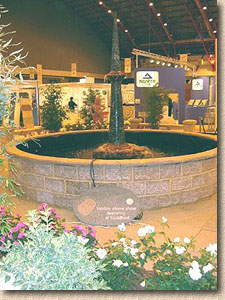 The London Stone Show staged at Earl's Court from April 28-30th featured an impressive 'Show Garden' from Guildford's Pinks Hill Landscape Merchants Ltd. with the centrepiece of this "Double Dancing Pillar" of green marble, with the top and lower sections rotating in different directions while water cascades from the summit to the pool below.
The display featured the many uses of natural stone in the hard-landscaping industry, including, riven stone flags from Asia, along with walling in several different types of stone, balustrade pillars and garden statuary carved from Indian red sandstone. As well as illustrating just how many ways stone can be used in the trade, the feature also served to show that we are now seeing more types of stone from more countries than ever before, and that the stone trade is now, truly, a global marketplace.
And to further impress the worldwide nature of the trade, Global Stone , from Colchester, were displaying an impressive array of stone paving products from almost every corner of the planet. They had Travertine pavers in a seemingly limitless palette of colours, textures, shapes and sizes, plus riven sandstone flags from India, granite setts in a clever mat format, a superb selection of pebbles, cobbles and gravels and unusual decorative features for the garden.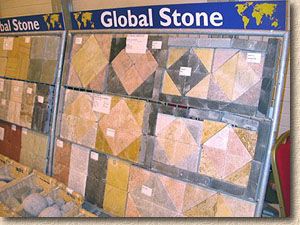 Overall, 160+ companies were exhibiting at the show, with stone for flooring, for cladding, decorative items for the home such as shower trays and hand basins, as well as machinery, cutting equipment, sealants and, of course, the paving. It was good to see a reasonable turnout of British stone companies, such as Johnsons Wellfield , Woodkirk , Calder and Charcon but several of the better-known British stone specialists, and they know who they are, were noticeable by their absence.
The Stone Show 2004 is scheduled for 24-26th February and will be held in the larger hall at Earl's Court 2. I've already marked the date into my diary.

New Hamptons from Top Pave
Top Pave launched their new catalogue at the beginning of March and prominent among their new products is the range of wood-effect castings they sell under the name of 'Hampton'. It formed the centrepiece of their display at the Homebuilding and Renovation Show at the NEC in mid-March, where the photograph opposite was taken.
The range includes the sleeper-styled flagstone, the 3x3 'log-on-end' patio flag and the interlocking log raised planter units. With many of the other major wet-cast manufacturers producing imitation sleepers and decking, it seems that replica wood-effect paving is the new 'in thing' for 2003.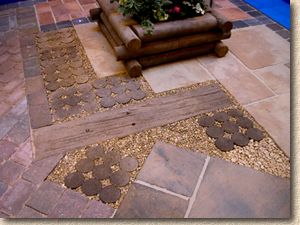 Bradstone's new log edging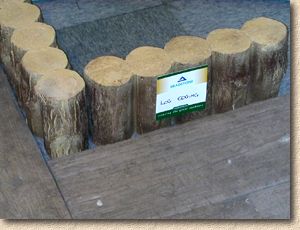 Spotted at The Diy & Garden Show at Earls Court in January 2003, these new decorative edgings from Bradstone replicate sawn logs and will probably appeal most to those creating natural-looking garden paths.
The edgings are 190mm high and come in units each 500mm in length. They could be concrete-bedded , but most gardeners will probably be happy to bed them directly on earth.
Re-organisation at Brett

With effect from January 1st 2003, the Brett group of companies is merging three of their operations into one. The previously separate entities of Brett Paving, Brett Specialised Aggregates and Atlas Stone will now be known as Brett Landscaping. The business will be based at Brett's existing facility at Cliffe in Kent.
Brett claim that, "the new business provides specifiers, builders' merchants and garden centres with a single source for a vast selection of professional, creative and versatile landscaping products."
All change for radius kerbs...
Marshalls , one of the biggest manufacturers of pre-cast concrete kerbs in the UK, have announced an important change to their radius kerbs that will be implemented on January 1st 2003. From that date, all kerbs in their radius range will switch to the BS 7263: Part 3: 2001 standard.
The changes are said to be "relatively minor from a technical standpoint", but they do affect anyone using radius kerbs, which means the lads out on site laying them, the stockists supplying them, and designers/architects drawing up schemes that involve kerb arcs.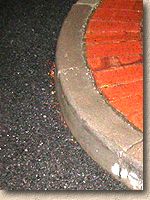 The key points are:
The old spec kerbs will be withdrawn completely
The new spec kerbs will all be 780mm in length
The range of radii available will change
The new spec units will be fully compatible with old spec units
The changes are considered in more detail on the Road Kerbs page of this site, or you can telephone/fax Marshalls on 0870 241 2463
New for 2003
Bradstone launched 3 new patio flags at the GLEE exhibition held at the Birmingham NEC on September 15-16-17 2002.
First up from Bradstone is a reproduction limestone flag that will be sold under the name ' Gironde '. This is a creamy coloured wet-cast flag, aimed to recreate the light colours and texture of time-worn limestone paving. It will be available in 6 modular sizes plus a 'feature kit'.
While Gironde will obviously attract much attention from the garden patio buyers, as has the " Celtic Limestone " from Bowland and Atlas Stone 's " French Limestone ", all these products may be too bright and too easily discoloured by our soggy climate to be real winners.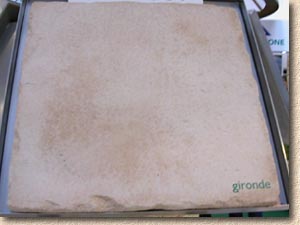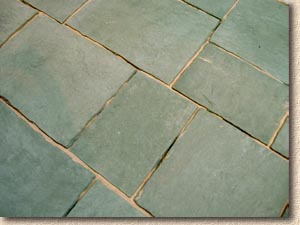 However, Bradstone 's next offering is, in our opinion, a guaranteed winner. Their new ' Slate Paving ' replicates old French slate flagstones and its depth of colour and stunningly authentic texture, taken directly from original flagstones, is ideally suited to a British or Irish garden.
Although only available in a somewhat stingy 3 sizes, basic random layouts are possible, and, if it does take off, then hopefully Bradstone will introduce further sizes for 2004.
The final newcomer to Bradstone's range of patio paving (not including the tile inserts and new edgings) is a pressed and shot-textured flag. We've seen many of these over the years, and they remain as popular as ever with patio builders and designers, but this is the first time Green has appeared as a colour option.
Although green-coloured pressed flags have been available in the past, the dye was notoriously unstable and they were never popular. However, with the general public always looking for something new, and the massive improvements in dye technology over the past decade, these textured 450x450x35mm flags may just see this colour make a long-overdue return to the patio and garden paving market.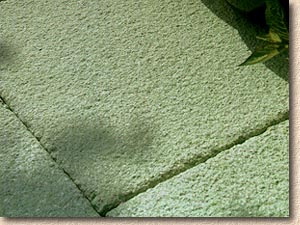 Lighting the Way
Also new at GLEE were these intriguing illuminated flags from Hertfordshire wet-cast manufacturer, Slabmakers . Named as the VIP Range (Versatile Illuminated Paving) they feature embedded LED lights, which can be lit at dusk to mark the edge of a pavement. The standard unit is a 450x450mm riven textured flag, available in 4 colours, but Sales Manager Antonio Massa is keen to develop new ideas, and has already come up with a 100mm wide edging unit that is bound to attract attention.
The units are simply daisy-chained together, with no limit to how many units can be linked, and are fed by a low voltage transformer. They are tamper-proof, non-corroding, maintenance-free, cheap to run, easy to install and very attractively priced.
As well as marking edges of paths and patios, they would be a great safety addition for steps, poolsides, parking bays and almost any other application you can think of where a visual marker would be a benefit.
Visit the Slabmakers website for more info.