New format for Ecoblock
Cooper Clarke unveiled a new version of their popular EcoBlock cell matrix paver at last month's Institute of Groundsmanship's ( IOG ) Sports, Amenities and Landscaping exhibition - SALTEX - at Windsor, and according to Marketing Manager, Louise Minshull, it was very well received and that they were pleased with the overall response to the Cooper Clarke stand and the products they displayed.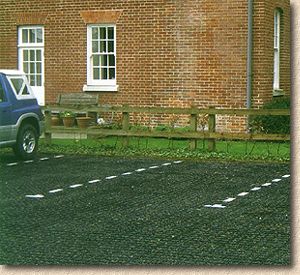 Pavingexpert asked Louise why Cooper Clarke have decided to add a shallower system to their range of cellular pavers, and she told us,
"Basically our original grass protection system, Ecoblock, is an 80mm deep block - a depth that Cooper Clarke and the Sports Turf Research Institute believe is the required depth for good grass growth and thus coverage. However, this depth was unnecessary in gravel applications and meant that more gravel was required to fill the cells. Therefore, we have launched a 50mm block that is to be used primarily for gravel applications. This new block can also be used for grass application, but we feel the best results for grass are still delivered by our 80mm block."
Cell Matrix Systems and Grass Protection products attract a lot of attention on this website. Some householders and DIYers get the impression that they can have a traffickable surface that is almost indistinguishable from the average lawn, yet capable of supporting the weight of the family cars. Although this would be an ideal solution for many, the reality is somewhat different.
When filled with grass, Ecoblock, and other similar products, are intended to protect the growing plants from occasional overrun by vehicles: regular traffic, even just one or two cars per day using the driveway, make it impossible for any grass to survive. However, if you're looking to stabilise a gravel surface, making it easier to traverse and easier to maintain, then Ecoblock could be the ideal solution.
Read more about Cell Matrices , Grass Protection Systems and Gravel Surfacing elsewhere on this website.
The Ecoblock 50 and Ecoblock 80 systems offer a number of benefits not available with some of the other, similar products on the market. A unique interlocking arrangement helps prevent slippage of the units when placed, while the interconnected cells ensure excellent lateral drainage and enable the grass roots to spread with greater freedom, providing a tougher, more resilient mat of vegetation. The units are manufactured from a UV stable 100% recycled HDPE, so they're eco-friendly and eminently suitable for use as a porous pavement system as part of the SUDS initiative.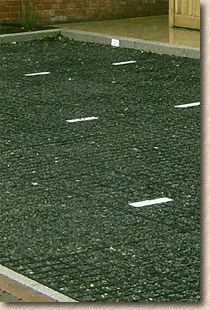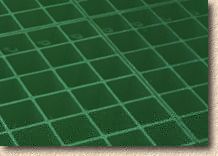 More information available from the CooperClarke website , or download the PDF files listed below...
Ecoblock Brochure

Unless you already have it on your computer, you will need the Acrobat Reader to open these documents. It can be downloaded, free of charge, from the Adobe site which can be accessed via this link....
And to round off this summary of recent developments, Louise revealed some new additions to Cooper Clarke's unrivalled stock of paving and hard-landscaping items.
"We are now stockists of Pavestone natural stone paving at three of our branches; Swinton, near Manchester; Tamworth in Staffordshire, and Godalming in Surrey. This is in addition to the Marshalls and Bradstone/Charcon products that we already had in our portfolio."