New Catalogue from Westminster
Westminster Stone , one of Britain's best wet-cast manufacturers and good friends to the Pavingexpert website, have released their brand, spanking new catalogue, as revealed in The Brew Cabin last month. The new catalogue was rushed out just in time for last week's RHS Show at Tatton, where Westminster Stone had sponsored a bronze medal winning 'back-to-back' garden designed and built by Sharon Loving of Garden Additions in Ribchester.

The new catalogue celebrates the twentieth anniversary of Westminster Stone, and has been a labour of love for managing director, John Clifford, over the last 12 months. Planning started in late summer of 2004, with photo shoots needing to be scheduled and layouts approved. In January of this year, Pavingexpert.com was asked to provide "independent and impartial laying advice" for the brochure, allowing John and his team to concentrate on manufacturing, management and promotion.
So: has all that hard work been worth the wait? Trying as hard as possible to remain impartial, the gnarly Pavingexpert thumb is very definitely in the upward position. Bearing in mind that Westminster Stone are not one of the larger manufacturing companies, and don't have the luxury of the six-figure budgets available to the big boys, they've managed to produce a very attractive catalogue that will appeal to contractors, designers, the DIY crowd, and the garden enthusiast alike. They've manage to do this by packing all 48 of the A4-sized pages with superb photographs, clear labelling, and well-illustrated technical information.
This is the biggest and most impressive catalogue Westminster Stone have produced to date, and represents a huge step forward. It looks and feels professional: the photos are reproduced on quality, heavyweight paper but aren't overly glossy, a look that can often mar an otherwise good image. There's a varied selection of image sizes, from thumbnail to full-page, and each one is well-staged and cleverly shot.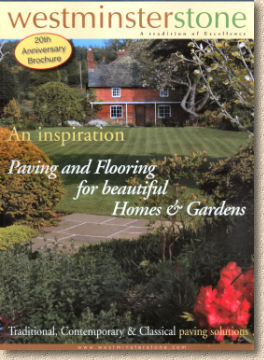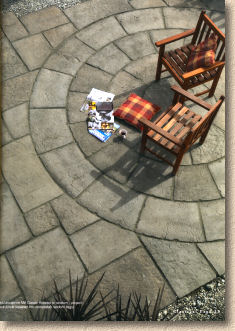 The catalogue is divided into five themed sections, each featuring a particular style of design that is then illustrated with dozens of colour photos of the various Westminster Stone products that can be used. There's an abundance of ideas and the photos, several of which are full-page size, are as good, if not better, than any others seen in a manufacturer's catalogue this year. Traditional, Renaissance, Contemporary, Classic and Period design themes are explored, and rather than waste valuable space with a surfeit of meaningless marketing waffle, the photos are allowed to speak for themselves with minimal distraction from the labelling.
Catalogues and brochure don't always convey the quality of the products on show. It's all too easy to have superb paving that just don't 'sell itself' in a photo, but from the outset, these images do full justice to the paving, giving a great sense of colour and texture and character, without creating any sense of staging, clever lighting or touching-up. Props are kept to a minimum and there's a welcome absence of "bright young things" grinning at you with their ultra-white teeth while sipping white wine from designer glasses in their impossibly perfect lifestyle.
The two-page spread featuring a case study of an installation to a new hotel development is a great idea. It shows the Westminster Stone flags, edgings, and copings used on a prestigious 'heritage' styled project that owes much of its charm to the sensitive use of well-chosen hard-landscaping materials that actually complement the overall feel and styling. Never blousy, yet never understated: it's a delicious balance of the right product in the right place - the use of the Old Lancashire Mill Flags as internal window sills is inspired!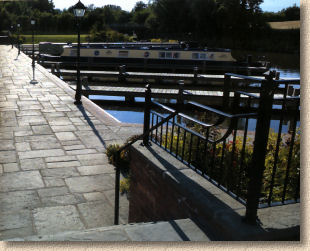 Moving on to the technical information, the complex layout of previous Westminster Stone brochures has been significantly simplified, and while the new information is far easier to follow than was the case in previous incarnations, there is still a sense of trying to pack too much into too small a space. While Manufacturers, Distributors and Contractors are unlikely to be fazed by the layout and depth of info, there's a sense that it may be a little overwhelming for the casual DIYer or gardener. Information on possible layouts, flags sizes, weights and pack contents is best understood when given ample space to make its point. Cramming all that essential data into the equivalent of a schoolboy's crib sheet makes it appear more complicated and involved than is actually the case. It would have been nice to see the basic rectangular flags and the associated "Project Packs" given their own page so that the extensive range of sizes and design possibilities could be appreciated in a glance, rather than being lost amongst the info on Copings, Pier Caps and Planter Squaring-Off Kits.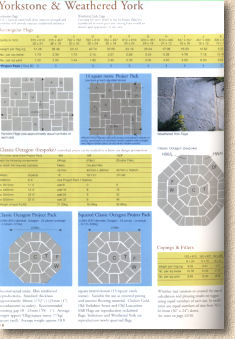 However, the tech info section is lavishly illustrated with simple diagrams and full-colour photos of many of the products, but even so, it's very easy to overlook the real gems in the Westminster Stone collection. Bull-nosed flags for step treads are a real god-send; the adaptor pieces that enable a circle kit to be seamlessly incorporated within a random layout is a stroke of genius; the Old Castle Square-off kit is the best-looking square-off kit currently on the market, and makes you want to use a circle within a design just so you get the opportunity to use this stunning bit of paving; but the detail for all these items is tucked away amongst other information instead of being given space of its own. 12 pages are given over to the Technical Information - 16 pages would have felt more comfortable, while there's enough there to fill 20 pages without the feeling of it being stretched too thinly.
Finally, the Laying Advice is, as you should expect, first class, although I must apologise that I wasn't able to provide photos/drawings to illustrate the text due to limitations of space and time - maybe in the next edition, all being well.
Overall, this is a catalogue that no discerning contractor or designer should be without. It oozes quality, overflows with good ideas, and is bursting with what are amongst the very, very best wet-cast products available anywhere in the world. I urge you to get hold of a copy as soon as possible - your life will be improved as a consequence!
There's a bit of a printing problem with this first edition - some pages have a blue cast to them - but John tells me that the printers are hard at work creating a corrected edition as you're reading this, and the practically perfect version should be available any day now.... call 01978 710685 to order your copy or email via the website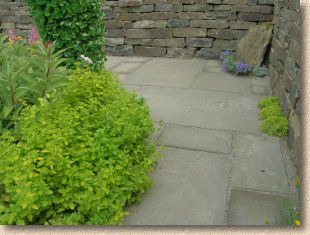 A couple of images from the RHS Tatton Show. This is the Garden Additions "Back-to-back" show garden, as designed by Sharon Loving. The garden, entitled "Cloch Falla" (Gaelic for 'Stone Walls'), was sponsored by Westminster Stone and their paving has been used to perfectly complement the natural stone walling and the rich planting.
Sharon reckons the paving is so good that the dry stone waller brought in to build the wall didn't realise they were reproductions until the very end of the day, when he was tidying up!
For more information on garden design, you can contact Sharon on Ribchester (near Preston) 01772 782089