Interbuild 08
Is it just me or has the existence of Interbuild over recent years deteriorated to the point of irrelevance? A colleague had phoned me on Tuesday evening to tell me he didn't think it was worth him travelling all the way to Birmingham's NEC but would I let him know what I thought following my visit on Wednesday. My simple text message that afternoon, as I headed back to the car park read, "That's five hours of my life I'll never get back!"
Perhaps the limited range of products that would appeal to me clouds my opinion; perhaps those trades beyond hard-landscaping find it a useful and rewarding experience. I'm sure many of the young lads ogling the numerous never-knowingly-overdressed dollybirds that are employed as modern-day sirens, enticing testosterone-befuddled trainee tradesmen onto the rocks that are strewn with power tools and never-to-be-repeated-until-tomorrow exclusive offers. It's a good job I'm on beta blockers or I might have been heading home with a totally unnecessary cross-cut saw!
I'd only gone because I can get to the NEC in less than two hours and there were a couple of exhibitors that I had promised to meet. Scanning through the exhibitor list on Tuesday evening, there was little chance of my highlighter pen running dry as each name of interest was underlined…. two on that page, one on there, nothing, one, two, so that's six: if I get there for 10 in the morning, I can be home in time for Countdown!
Admittedly, as is the way with events such as this, there were a number of 'late entries' that hadn't made it into the pre-show listing, so there were more than six exhibitors of interest, but even so, it was not exactly a packed day, and despite the inevitable fun and games on the M6 between Sandbach and Knutsford services, I was still able to catch Carol, Des and the delectable Susie Dent on Channel 4+1.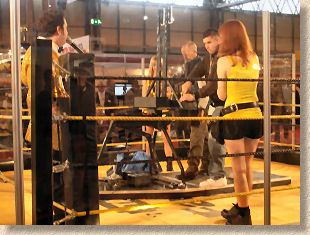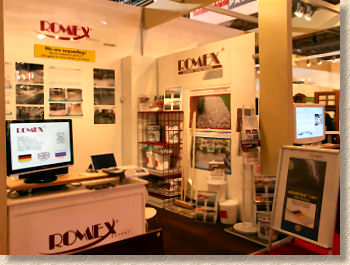 One of the exhibitors I had deliberately gone to meet was Romex , purveyors of resinous pavement jointing products that are much discussed elsewhere on this site. However, although their estimable jointing mortars were on show, it was their floor screed products that had caused me to attend. Romex are looking to bring this new product range to Britain and Ireland next year and so had wanted to talk over the whys and wherefores of the floor construction industry on this side of the North Sea.
I'm still reading-up on the product range but it appears to be targeted at industrial floors of all kinds, so will be of interest to civils and groundworks contractors that take on this type of specialised construction. Perhaps there'll be a feature on the website at some future date?
Hall 5 was the location for most of the products that might interest readers of this website, but unlike certain other sectors of the construction industry, such as aluminium and timber, the hard-landscaping exhibitors had not been aggregated into one area, so it require a tedious traipse up and down the aisles to find the hidden nuggets of relevance. Acheson-Glover were the only national concrete paving manufacturer to put in an appearance, and their display was bolstered by the presence of a large selection of their ancillary products such as retaining walls, masonry blocks and pre-cast cladding systems. Two new paving products were shown; the Riverstone range of face-mix blocks with a distinctive colouring and gently embossed surface; and Plaza, a washed aggregate block/flag range that will be available in three colour blends - Toulouse (Dark Slate Grey), Sarlat (silver grey tones) and Bayeau (buff hues). The 80mm thick version is available in 400x400, 200x400, 200x200 and 100x200 whereas the 60mm thick version is only available in 100x300 and 150x150 formats.
The Riverstone has very distinctive colouring, and is quite unlike anything else on the market in Britain or Ireland. It is offered in three colour options, each named after celebrated Irish rivers and the paving is claimed to be inspired by water-worn rock from these locations. Slaney (Co. Wexford) is the most colourful, with strong browns, tans, reds and greys, while Glenarm (Co. Antrim) is slightly more subtle with muted browns, buffs and greys. Blackwater (Co. Cork and/or Co.Armagh/Tyrone) features the neutral grey tones that are an essential hue if you want to sell paving in Ireland. It's 60mm thick, in the 200x150, 150x150 and 100x150 modules that will be familiar to regular A-G customers. Should retail at around 14-17 quid (18-22 Euro) per square metre.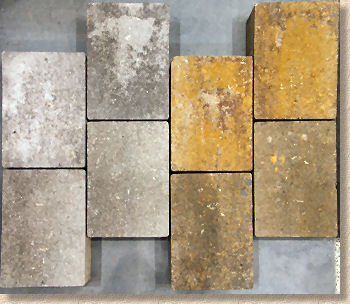 While it's eye-catching when new, I'm less sure how this product will stand up to the unavoidable weathering. The understated texture will remain, but will those colours maintain their clarity or will they soften with age? I suspect the latter, but will that be to the liking of clients that will undoubtedly make their purchasing decision based on the looks of newly-manufactured blocks?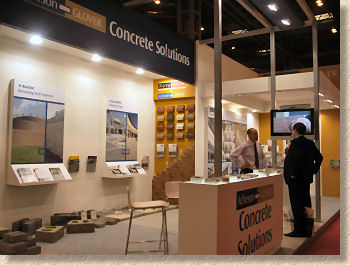 The washed aggregate block has been tried by a number of manufacturers in Britain and Ireland, and while A-G's offering is definitely attractive, like so many others of its ilk it's not in the same league as Ebema's Rockstone range, which, for my money, is still the best in the world for this type of block. The key to creating a superb washed aggregate block is to choose an attractive blend of hard-wearing aggregates of just the right size, and then to wash off just enough of the matrix to reveal the aggregate without compromising its structural integrity. The best blocks have almost no matrix visible at the surface, and so all of the colour and texture comes from natural stone, rather than from artificially tinted concrete. This is close, but not quite there.
A-G's Commercial Manager - GB, Steve Bell, told me they had 20-odd colours available, but only three on show here, and in three sizes: 400x400, 200x200 and 200x100. It is hoped it will sell at around 23 quid (30 Euro) per square metre. I'd like to see the other colour blends, as it is the range of hues and tones that can make or break these products. A truly strong black (not grey or charcoal, but black) is essential, as it provides the crisp, sharp contrast needed to bring out the best of the other colour options.
The only other concrete paving of any significance was that shown by Gryphonn Concrete on the stand they shared with sister company Coleford Brick and Tile . In a month when Hanson saw fit to close the legendary Accrington Nori works (the brick that built Lancashire), Coleford deserve our support for keeping alive a tradition of manufacturing clay paving that stretches back over 400 years. If you're looking for a truly charming paving that won't fade or go out of fashion by next February, take a look at their mouth-watering Cobble Pavers which have more character than a whole ship-load of imported Chinese Granite.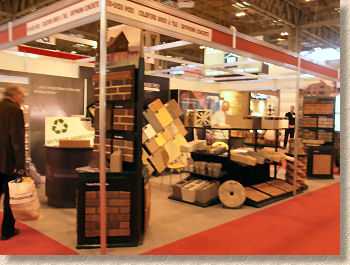 Gryphonn Concrete are the leading manufacturer of concrete paving in South Wales, making an impressively wide range of wet cast decorative and pressed BS flagstones, including a full range of realistically priced tactiles. Their display here intrigued me because of the juxtaposition of blister and corduroy tactile units with pressed single-colour patio flags and wet cast decorative paving. It's not the sort of sample rack you see every day!
And apart from a fairly standard selection of imported sandstone, limestone and granite from Co. Down based Cunningham Stone , who were plainly more at ease talking about worktops and walling rather than paving, was just about the sum of displays from modular paving suppliers. There were two other exhibitors showing modular paving, but neither seemed keen to talk.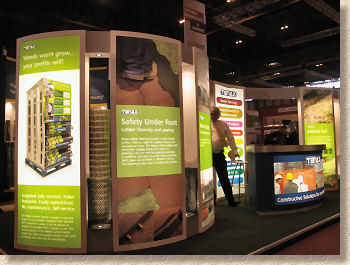 Tenax are better known for geo-textiles and cellular matrix systems for gravel stabilisation, but while nosing around their stand, I noticed a big poster promoting a range of interlocking paving. I asked one of the sales bods for more information, as the poster told you nothing, whereupon my admission badge was scanned and I was summarily sent on me merry way! It was quite obvious your man knew sweet FA about the products and was eager to return to the witty banter being enjoyed by his colleague.
I mentioned the preposterous G-Block notion in the review of last month's Glee extravaganza. For those needing a reminder, it's a small-size block paver manufactured from recycled rubber that they are hoping to sell at a frankly ridiculous 45 quid per square metre. I think it's fair to say I was bluntly dismissive of its potential in my Glee review and my opinion really hasn't changed since. I caught the eye of the bloke I spoke to at Glee for all of three seconds. There was an initial second where he realised mine was a face he recognised, a further second while his brain rattled through his internal database to put a name to the face, and then a final second of a look that declaimed, "jog on, pal, you're not wanted here". I hobbled onwards.
A much warmer welcome was found at the Addagrip stand, manned on the day of my visit by my fellow émigrés from Ireland. Addagrip specialise in resin-based surfacing, of both the bonded and the bound varieties, and while resin technology is ever improving, its not the sort of thing you can spot at a distance, so the eye scans the display samples for new aggregate or colour blends. Pat Weldon runs the Addagrip installation franchise based in the English Midlands but works throughout both Britain and Ireland. We had a good owld chat about the impact of the comedy front garden paving legislation and a brief discussion of Addagrip EDL, the new internal flooring product, a very psychedelic surface that offers more scope for nightclubs, trendy boutiques, chic restaurants and the like than, say, acid-stained concrete.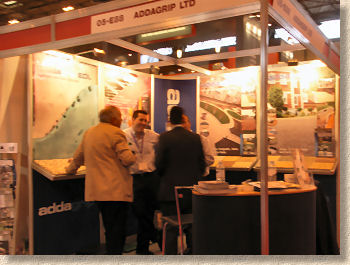 CED are regulars at many of the exhibitions that manage to con me into attending, but the two areas of display here were very understated compared to their normal showings. Tucked in amongst the regular stands, a small, booth-like display focused solely on the Nidaplast gravel-stabilisation cell matrices. Meanwhile, over by the entrance of the so-called "Eco-House", a larger area of Nidaplast stabilised gravel was enhanced with a few specimen boulders.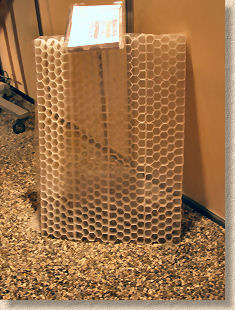 The message is obvious: designers and specifiers are looking for hard-landscaping solutions that meet the requirements of the new legislation and/or offer eco bonus points at a low cost. Nidaplast, and other similar systems, offer what must be just about the simplest and cheapest option. Nidaplast's big selling point is its translucency which is alleged to render it less noticeable than its coloured competitors and the pre-attached permeable geo-textile on its underside. At around 12 quid per square metre, it's more expensive than, say, CBPP , but then the installation and preparation costs are significantly less, and it could hardly be any simpler to fit.
This new interest in all things environmental has given a bit of a spurt in sales for Green Roofs, and one of the spin-offs for our trade is the need to provide access paving to these installations that is both lightweight and easily drained. For many projects, the use of screwjack pedestals or support pads to carry the paving units above the substrate (which is usually a roof deck) is the simplest solution, and so two of the bigger supplier of these little plastic 'stands', Buzon and Wallbarn had their wares on display. Neither were particularly photo-friendly, hence the use of stock images from the suppliers themselves....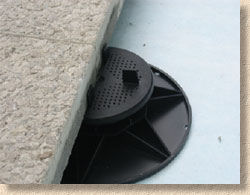 That's about it for products: I did warn you there wasn't much. In amongst all the designer branded power tools and stylish workwear, a small number of hard-landscaping tools could be found. What they all have in common is that they are simple ideas being promoted by small businesses. While there's no doubt that all of them work, their usefulness to contractors and DIYers can only really be judged by the potential user. Tools are incredibly personal and we all chose bits of kit that suit our particular style of working. Some will think that one item is a real boon while another would refuse to be seen dead with the very same tool.
The first I spotted was the " PointMaster ". It can't claim to be a new idea – the same principal is submitted to the website at least twice a year by some eager 'inventor' seeking reassurance that they are millimetres away from a Dyson-like fortune.
It's a wide-nozzle manually-operated 'cartridge-and-plunger' mortar injection gadget that is said to be suitable for both vertical masonry (brickwork and stone) and paving. The demonstration was reasonably convincing, but I know from experience that there are two essential requirements for these gizmos to be effective. First is a truly flowing mortar, which relies on good plasticisers and a higher slump than would normally be used with a pointing mortar. This is simply a matter of trial and error. The second requirement is much harder to acquire: it's "the knack". Some of us have it; some of us don't. I've seen lads that are whizzing along gunning ion the mortar within two minutes of first seeing the gizmo, while others, myself included, just can't seem to get a smooth, steady flow that just fills the joint without leaving empty gaps interspersed with huge dollops of surcharged flag-staining mortar.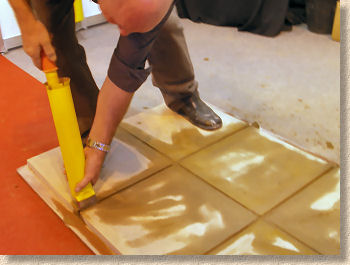 So: it will work for some, and I can see the mortar-phobic DIYers being quite taken with it, but at 20 quid a pop, how many contractors will be tempted?
The manual handling of paving is about to become a hot topic. Hot on the heels of the HSE's review of how we cut concrete paving, the next target is to be how we handle ALL paving. The initial 'stakeholder' get-together was to have been held in a couple of week's time, but has been pushed back until after New Year thanks to a strike by some elements of the civil service on the day we had planned to meet. As ever, I'll endeavour to keep the site updated with progress as and when…
So: any tools that simplify the handling of paving, and/or remove or reduce risk while handling paving, are deserving of a closer look. Many professional paving contractors will be familiar with the supremely useful gadgets from the likes of Probst and Optimas , but how many have heard of Evolift ?
Evolift manufacture a range of simple non-mechanical lifting aids for flags and fencing components such as base panels and posts. They look very sturdy and straightforward, with almost nothing to break or go wrong. The telescoping flag lifter looks a little over-complicated compared to other products but I didn't get a chance to see how effective it might be.
At one time, and not that long ago, Interbuild was the one show that was essential viewing for anyone connected to the construction industry. I don't think that holds true any longer. The 'Civils' sector was hived off a few years back and that annual debacle takes place next month at Earl's Court II in that London, and the greedy organisers have seen fit to turn what's left into a yearly event rather than the bi-annual bash that had been successful for so long.
Many of the exhibitors to whom I spoke were underwhelmed with both attendance levels and the 'quality' of those attending. Not enough feet on the floor, and what feet there were all too often belonged to small builders/developers or keen DIYers rather than larger developers. The trade is suffering, and it was eminently apparent at this event.
As an event for the wider construction industry, Interbuild is all but certain to survive, but its appeal to the hard-landscaping sector has all but disappeared. Coming so soon after a disappointing Glee, one wonders where the future lies for a worthwhile hard-landscaping show. External Works, now re-named as " StreetDesign " is a bi-annual poorly attended sideshow to Traffex while next month's Civils show is more-or-less guaranteed to disenchant, and I'm already being hectored to renege on my now-annual vow to eschew this event once and for all, but what else is there?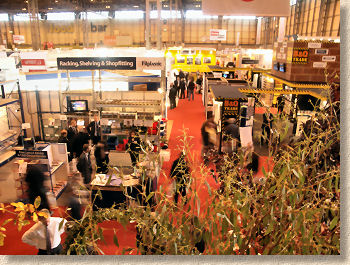 Thankfully, we have CityScape coming in March. This has been the best event for our trade of the year. It puts all the relevant exhibitors in close proximity, with an appealing central display-cum-chillout feature, and it attracts plenty of the right type of visitor. It's just a pity it's in that bloody London instead of somewhere easier to reach, such as Warrington.