Tobermore launch natural stone range
One of Ireland's leading paving manufacturers, Tobermore Concrete Products, has announced a whole new range of top notch natural stone pavings.
Glenn Robinson, Business Development Manager at Tobermore reports that the new stone products,
The Pietra range has been carefully selected from quarries around the world, to ensure the highest possible quality and value, but also to offer exciting new colours and textures to the paving palette offered to designers and specifiers by Tobermore.
The Pietra Granite Flags are available in four colours and would be a perfect choice for traditional schemes, as well as for more contemporary designs. The Platinum Granite flagstones feature a fettled edge detail, while the Silver, Charcoal and Ocean granites are flame-textured with a sawn edge.
This texturing process uses a high-temperature flame to "scorch" the top surface of the flags, which results in the crystalline nature of the stone being emphasised and leaves behind a natural-looking, anti-slip surface that's ideal for outdoor use.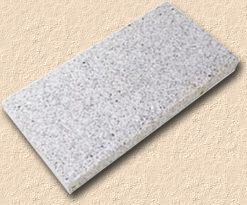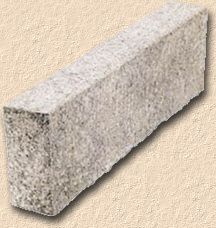 To complement the granite flags, there is a hand-dressed granite kerb, measuring 915x250x125mm, which means it can be used as a road kerb, or as an edging to a driveway. Alternatively, it can be used to construct steps or act as a retainer in the garden.
There's also a range of shallow setts, ideal for driveway or patio construction, as they are only 50mm deep, rather than the more usual 100mm depth of traditional granite cubes. This reduction in thickness does not compromise the setts when they are used for light-duty applications, but it does mean you get more paving per tonne of granite, and there's less excavation and preparation required.
The setts are available in 5 colours, so there's bound to be one to suit your project, or you could mix the colours to create patterns or designs. Setts can also be mixed with other stone paving, such as the flagstones mentioned above, to add detail and design motifs.
The Natural Silver-Grey granite sett is also available as the more usual 100x100x100mm cube for heavier applications.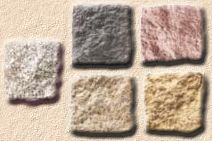 And to complete the range for this year, Tobermore have included a selection of sandstone flags. The flags feature a natural riven finish with hand-fettled edges, and come in a choice of two colours and 4 different sizes, 900x600, 600x600, 600x300 and 300x300mm, which allows them to used in courses or for random layouts as suits the scheme.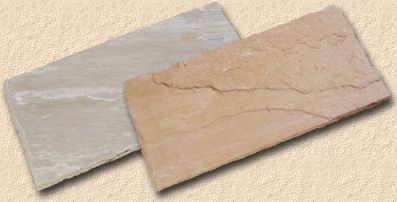 The stone products, and all the other items from Tobermore paving, are available throughout Ireland via their Sales offices in Tobermore, Bangor, Dublin and Galway and through their network of distributors. As ever, there's a lot more info available on the Tobermore Pietra mini-site.