SED 2004 – Milton Keynes
I haven't visited SED for a few years, due to one thing or another, but boy! did we strike lucky with the weather today!
Like lots of other casual visitors, I only finally make up my mind to definitely attend at the last minute and then only after checking the weather forecast. Lots of working contractors and plant hire bods are the same -taking a day out of a busy week is not easy at the best of times, but in late spring, when the hard-landscaping industry is traditionally rushed off its feet and working every hour of daylight, finding the opportunity is a bit of a miracle!

On Monday I thought I'd check out the SED website and see if I could get myself and Mrs Taz pre-registered. It came as a bit of a shock to be told, before the event had even kicked off on Tuesday morning, that I was too late to pre-register. You'll have to register on the day, said the website.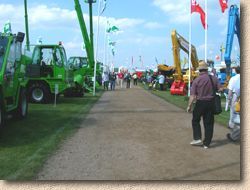 So, I was a bit annoyed when we got there at 11.30 this morning to be placed in a queue that gradually snaked its way into the 'Registration Area'. After 15 minutes in the Queue with a capital Q, some young lad was sent out with registration forms and a handful of biros, and we were encouraged to attempt to fill in all our vital statistics while gradually shuffling forward into the Grand Marquee, whereupon we were sub-divided into a further series of queues before handing over our illegibly scrawled registration cards to be data-inputted and have our visitor's badge printed out.
25 minutes in a queue is not my idea of time well spent. Most of the lads around me seemed to be of a similar opinion, and three of them had similar experiences with the uncooperative website. Surely the website pre-reg facility could have been kept going for the duration of the event, networked to the on-site computer system, and simply email a reg number to potential attendees, who could then use that number to collect their badge on the day, and save everyone a load of grief.
Eventually we made it through 20 Questions, and headed straight for the concrete demonstration area. Nick King from Stencil-Tech had a bustling stand there and it was besieged with subbies and contractors eager to learn more about the stencilling technique. Nick dragged Mrs Taz and meself outside, away from all the hustle and bustle, to have a look at a handful of texture mats he's developed over the last few months. These are aimed at the imprinting (PIC) trade, rather than stencilling, but they seemed like top-notch kit: pit-free polyurethane mats with excellent surface detailing. Nick's really pleased with them and hopes to start hiring them out or selling them in the very near future. He's also got himself involved in the Decorative Concrete Training Program that is being developed by the industry in association with the CITB. Hopefully, we'll have more news about that next week.
Next up was a demonstration of concrete placing, vibrating and striking technology in a joint production by Wacker, Belle Group and Stencil-Tech. The plan was that a 5x5m slab would be poured early afternoon, the Wacker lads would vibrate, Belle would screed and tamp it, and the Stencil-Tech would stencil it.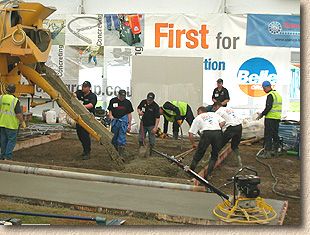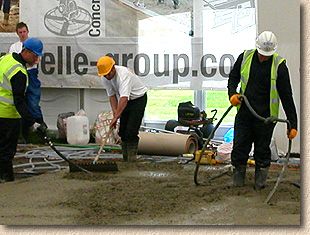 After pouring the concrete, the Wacker Crew set about it using a few different models of vibrating pokers, while the gathered masses were given some of the finer points about vibration frequency, the benefits of using vibration, and the risk of white-finger that comes with overdoing it.
10 minutes later, the concrete was well and truly vibrated to the point where there wasn't an air bubble left, and then the Belle-Group Posse came on with their impressive roller striker, followed by a quick demo featuring the beam screed and a highly-portable lightweight screeder. Unfortunately for them, the glorious weather and the fact that the concrete was a bit on the stiff side (around 40mm slump, rather than the usual 60-70mm) meant that the lightweight screeder struggled somewhat, but I think we all got the general idea. Belle finished off their spot by floating the slab with a long-shafted "Big Blue" float, which has an adjustable head that enables the float blade to be angled to the perfect position whether pushing or pulling.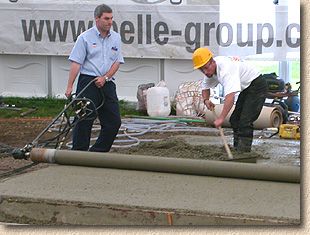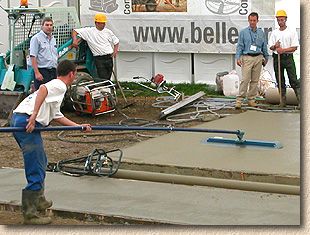 And then, finally, the slab was handed over to the Stencil-Tech Gang who proceeded to work their magic in turning a plain, ordinary slab of concrete into a fine-looking sett-effect driveway, with channel border and a matching pair of handsome quarter-circle corner motifs.
While we were waiting for the concrete to cure sufficiently for the stencil treatment, we wandered up to see Marshalls who, in conjunction with Probst Handling Equipment and Tolly Paving , were all working together on a block paving machine-lay demo.
An area had been established with a screeded laying course of 6mm grit, the sort of material that would normally be used when laying permeable blocks. Terry Pointer, who was leading the process for Tolly Paving, explained that they had used grit, rather than sand, as it gave fewer hassles for a demonstration and was less prone to acting up if the weather took a turn for the worse. Using a brand new Robotec Laying Machine supplied by Probst Handling (Martin Probst himself turned up halfway through the gig). Terry's lads made short work of laying a sizable area of Marshalls 200x100x80mm CBPs in a 45° herringbone. Terry told us that, on a 480x100m (48,000m²) job they're doing at Felixstowe docks, the machine lays a 1.2m² panel of blocks every 43 seconds, giving a productivity rate of around 100m² per hour….and he has two machines on the go at a time! He asked me to mention that he's really not interested in any driveway or patio jobs just now!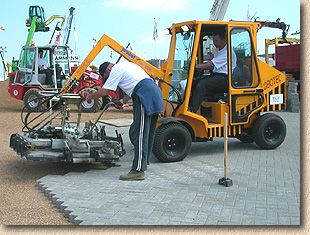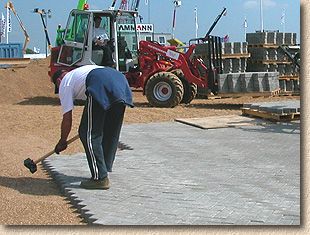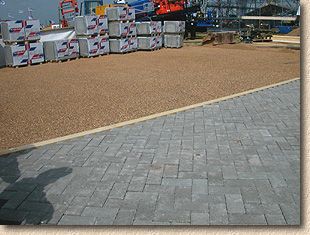 Marshalls were providing the usual high standard of back-up, with some of the toppermost Marshallettes in attendance, looking after a very swanky video presentation and answering all the punter's questions. They had a display of their relatively new fibre-reinforced paving (see NEWS), but the emphasis really was on machine laying, which is destined for big things in the years ahead. Gareth Jones, Product Manager for Marshalls told me that, just at the moment, only their Sandy plant (in Bedfordshire) has the essential piece of kit that arranges the blocks in 'pre-arranged layers', so that they can simply be lifted from the pallet and laid directly onto the laying course, with no need to 'swap' blocks' to create full interlock, as has been the case with some previous attempts at machine laying. However, plans are afoot to extend the facility to other plants, and even with just the Sandy plant properly tooled up, Marshalls can supply blocks ready for machine-laying anywhere in Britain.
Neil Jones from Probst had been instrumental in supplying the laying machine and the special lifting head, so after leaving Tolly and the Marshallettes to lift all the just-laid paving in readiness for the next demo in 30 minutes, we toddled off to have a look at some of his new bits of kit, including a trailer-mounted kerb-layer which we hope to feature next week. Neil also had a selection of other flag and kerb lifting and laying devices, along with a nice display of block splitters, block carts and associated kit.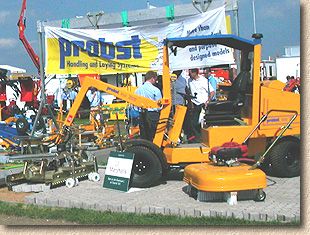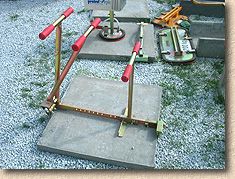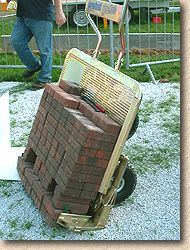 Keith Redmond from Haven Engineering was over from their HQ in Naas, Co. Kildare. He's responsible for Probst Kit in Ireland and he reckons they can't get enough of it in the Republic, as machine-aided laying is just beginning to be taken really seriously there, and the demand is growing weekly.
As luck would have it, right next door to the Probst display was the Red Rhino area, where Yed Cod Nick Cleaver was overwhelmed with interest in his range of mobile crushers, which have been the subject of one of the Brew Cabin's longest ever discussion threads over recent months. The Micro-Crusher is hardly bigger than a couple of stacked wheelbarrows, but it can chomp solid concrete down to sub-base ready crushed aggregate in a matter of minutes. These fantastic pieces of kit have stimulated a lot of discussion amongst driveway contractors lately, as they can be hired for the cost of a couple of skips, and they eliminate a lot of the costly cart-away that is inevitable on jobs where old concrete has to be replaced with summat more attractive, such as block paving or bitmac. They also save on the cost of bringing in fresh sub-base material.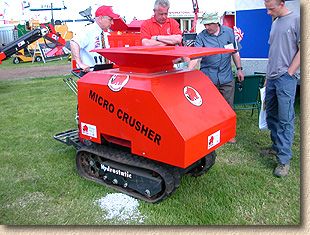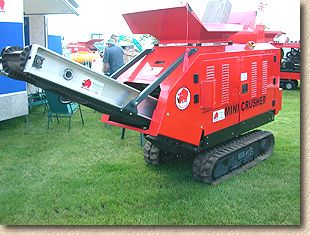 Nick has an impressive range of smaller crushers. The Mini-Crusher, which is capable of being carried on a standard 'Ifor Willams' type trailer, has been a real hit at SED and he's sold three machines in the past couple of days. He's also licensed production deals throughout Europe, the Middle East and Africa, so even far-flung corners of the world will shortly be able to benefit from what is a cracking bit of classic British ingenuity and quality engineering.
As with so many other products mentioned here, I'm hoping to have more in-depth detail in the next week or so, and then I can do a more comprehensive review of these little marvels.
Just time to check back with Nick and the Stencil-tech boys: the slab is done and looks really smart. What a pity they have to break it all out and get ready for tomorrow's demo!
Obviously, there was a lot more to see and do, including a lot of trucks, dumpers and diggers, but I tried to concentrate on the stuff of direct relevance to this website, and hopefully, a few more of you will be inspired to visit the shown next year!