While the sample pieces of stone were being prepared, there was a suggestion from my glamoropus assistant that the first piece daubed with Dry Treat Stain Proof had been contaminated with another product, which had, she suspected, dripped onto the still wet surface of the Dry Treat Stain Proof. Accordingly, a second sample piece was prepared.
All of the sealant samples had a stage photograph taken when the sealant was first applied. The photo taken when this second sample of Dry Treat Stain Proof was prepared became corrupted during storage on a hard drive and is not salvageable.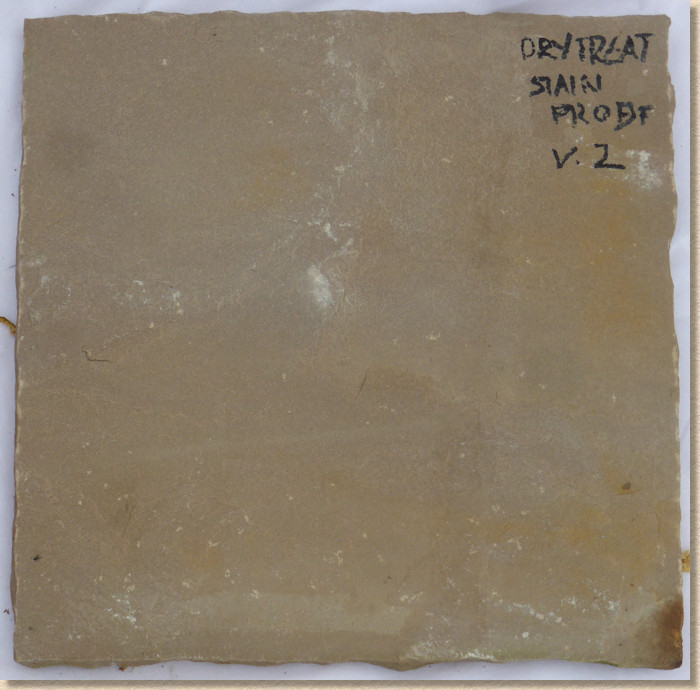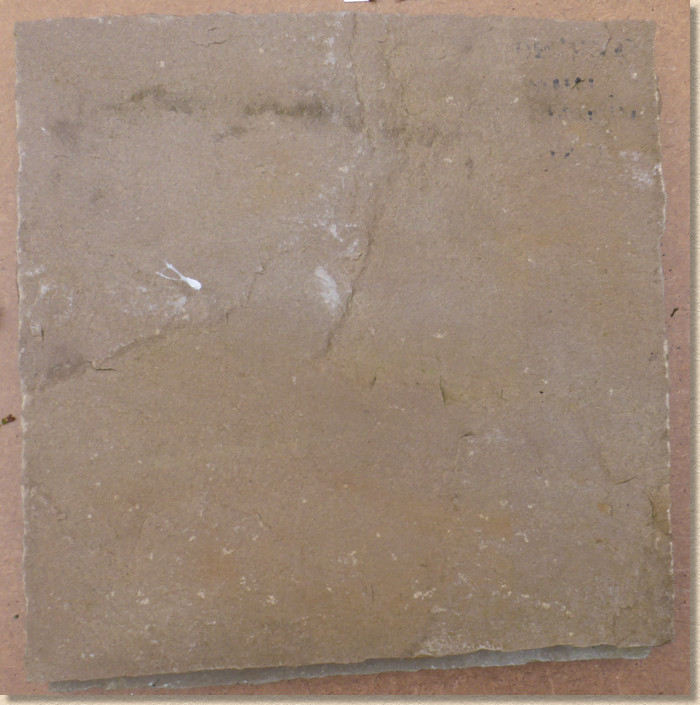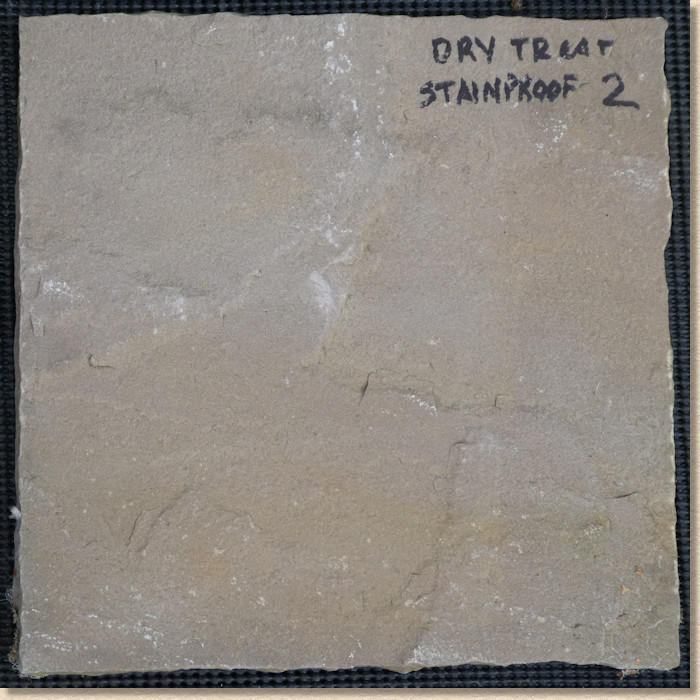 Summary:
1st coat: As previously. Very rapid dry, less than 3 minutes
2nd coat: +2 mins, and dried quickly
As with the previous attempt with this product, there is no visual trace of it after 14 months, and although it may be that the sample looks cleaner than it otherwise might, it's hard to be sure, but let's give it the benefit of the doubt.
No discernible effect on appearance so this has to prove itself with stain proofing....but does it?
Stain Trials: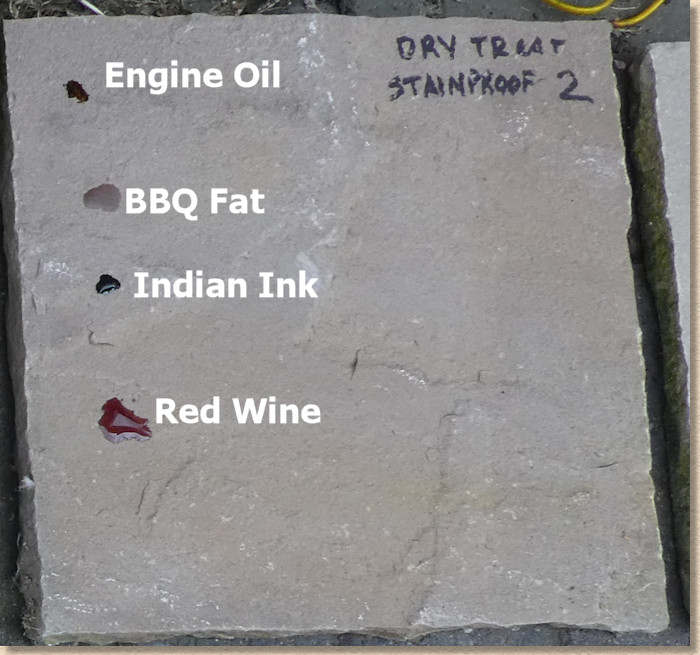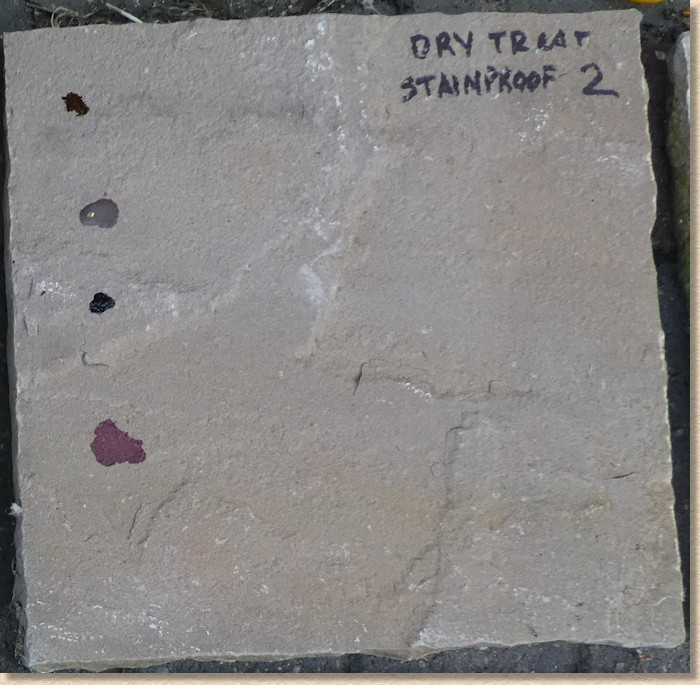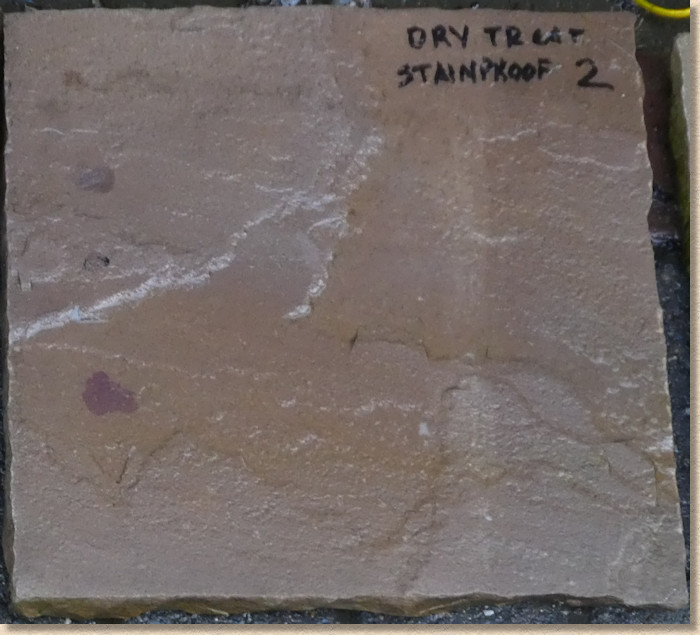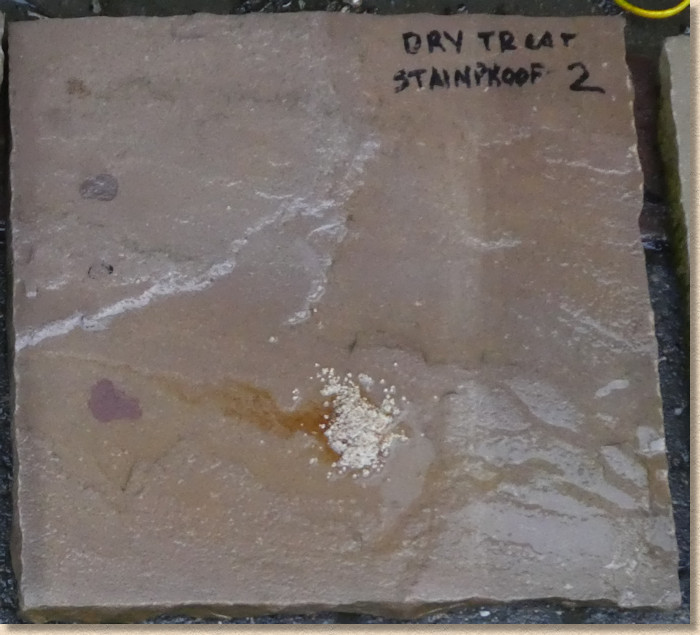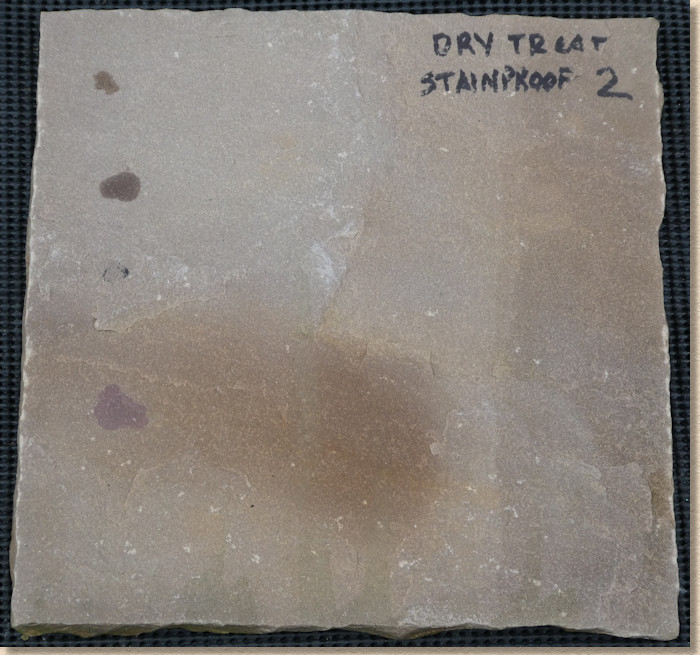 Comments:
Oh 'eck! This is NOT good!
Following the accidental contamination of the previous sample treated with StainProof, exceptional care was taken with this sample and, if anything, the staining is even worse!
The best that can be said is that the Indian ink has not left much of a stain, but the greases (Oil and Fat) have really left a mark, and the mosskiller has significantly discoloured the stone.
Stain Proof? Not on this evidence, I'm afraid!
Note: Any apparent variation in colour of the flagstone is due solely to changes in the condition of the natural daylight at the time the photograph was taken.
Other than cropping to exclude extraneous background and adding a drop shadow to the cropped image, there has been NO post-processing of the original photographs.
Supplier:
Dry Treat Stain Proof is available from:
Advanced HD | Advanced Stone Seal | Dry Treat Intensifia | Dry Treat Metacreme Dry Treat Stain Proof | Dry Treat Stain Proof v2 | Easy Seal Col Enh | Easy Seal Ultimate Funcosil OFS | Hanafin Finisha | K-Seal | Larsen | Lithofin Col Int | Lithofin Stain Stop Eco Lithofin Stain Stop Plus | LTP Col Enh | LTP Nat Fin | LTP Matt | Pavetuf | Resiblock Indian Romex Col Enh | Vulcaseal 277 | Vulcaseal 286 | Weiss FT Plus | Weiss Stain Protect