EcoBuild 2013
I can never quite make up my mind about EcoBuild .Is it the most relevant event in the 21st century construction industry or has it simply assumed that position in the face of no competition worth mentioning? It's not exactly awash with hard-landscaping purveyors, but there always seems to be just about enough to warrant the slog down from Warrington to the cavernous ExCeL in that London's docklands.
It's not a journey to be undertaken lightly, involving as it does a 5:30am start and the certainty that it will be at least 15 hours before making it back home, which includes roughly 6 hours of traipsing around a glorified aircraft hangar searching for the smattering of gems strewn amongst the sawdust of stands showing solar panels, green roofs, rainwater harvesting, green roofs, fancy glass staircases, green roofs, underfloor heating and green roofs.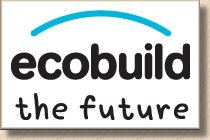 I know I've said it before but it bears repeating: why can't all the hard-landscaping companies be grouped together as used to be the case with CityScape when the event was held at Earl's Court? To have Brett, Natural Paving and LaFarge Tarmac on one side of the great intervening chasm while Ronacrete, SureSet and Marshalls are on t'other makes little sense to my poor brain, and none at all to my hot and bothered feet!
There is some token gesture at grouping: there's a small area dedicated to precast products, which for some reason includes bricks, and there's a similar small area in the opposite hall which declares itself to be the Stone Village, but somehow includes Marshalls' bollardry. Do precast and natural stone really dislike each other so much?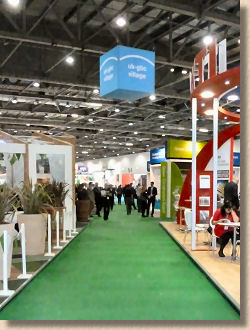 One of the stranger aspects of hard-landscaping at EcoBuild is that not many of the exhibitors make much of an effort to show their wares to any great extent. For many of the exhibitors, presence is adequate, no need to run-up costs by lugging a load of heavy paving along. It would seem that many exhibitors have an agenda for EcoBuild, an agenda that is usually tailored to the very specific EcoBuild audience, which is primarily suits containing architects, designers and engineers, along with a generous sprinkling of students in urban streetwear who feel obliged to participate in the age-old ritual of blagging as many completely irrelevant and useless freebies as possible.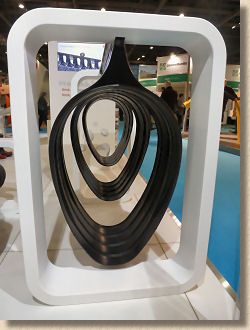 To scoot around who was there in a rough chronological order, Aco were first to be encountered, and their spokesperson gleefully admitted that they were 'product light' this year, giving over more space for schmoozing and selling. What few 'products' were on show were chosen for their 'showability', such as the clever mini-mock-up of the Q-Max in three sizes. The new heelsafe slot drain grating is proving popular with the supermarkets, and its understated black powder-coating certainly looks a lot classier than the usually tinny galvanised finish more normally associated with linear channels.
Brett had a handful (and I mean a handful!) of their Texitone paving, but were using their compact space to demonstrate the amazing PermCalc software and to schmooze and sell.
PermCalc is a very clever piece of software that, for now, is web-based, still in development and essentially 'invitation only', which means you need to register to use it. In essence, it reduces the structural and hydraulic design of permeable pavements to a series of clicks and menus. However, do not underestimate the power that is hidden behind the plain white user interface. This joyous little package can perform 'what-ifs' to your heart's content and the output includes a full breakdown of components and costs. It can cope with almost any CBPP project in mainland Britain; it can accommodate sites with slopes, sites with some permeable and some conventional; it can handle any roof run-off; it can deal with extreme conditions of location, climate or geology. It's a little marvel, and should help make the case for greater use of CBPP on all commercial, retail and civil projects.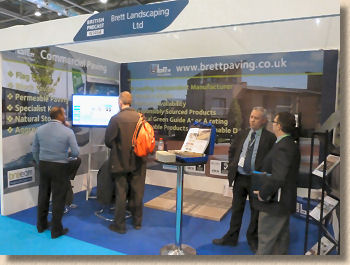 I've been lucky enough to have access to it for a while now, and although I haven't been able to really push it to its limits because of my limited free time and excessive workload, the potential benefits of such a piece of kit are obvious, even to a non-specialist such as me. If you have any projects in the pipeline where CBPP might be an option, I urge you to contact Brett and get them to run through PermCalc with you. I guarantee it will open your eyes!
Of all the exhibitors who made it to EcoBuild, none had a more impressive stand than Natural Paving . They were the only ones with a proper display of paving, a sizable area laid with a selection of their better-than-average products, there to be walked upon, prodded and poked, judged from a real installation rather than a photie or a web-presentation. They even had Derek brewing the very welcome tea! What more could you ask?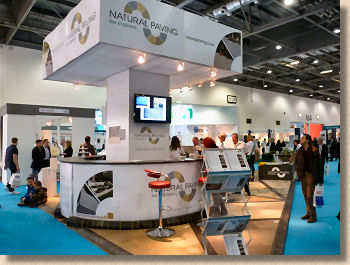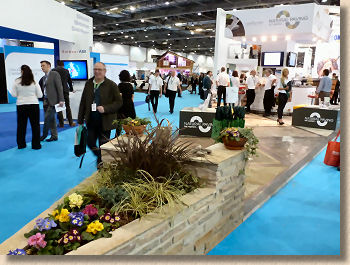 Given the previous comments about the peculiar audience at EcoBuild, you, like me, might wonder why Natural Paving make the effort. At first glance, this show is not a natural target for them, nor for any other medium-sized supplier, But that's the point: they are the only medium-sized supplier at the show, so if anyone has an interest in seeing, touching, sourcing, assessing or buying natural stone paving, Natural Paving have the opportunity sewn up!
OK, but just how many genuinely potential customers are at this show? More than you might think, you may be surprised to learn, with enough small and medium-sized builders' merchants and landscape distributors to make it worthwhile, according to MD Paul Shephard.
So, having completed the traipsing in what is referred to as the North Hall, time to drag my sorry arse and even sorrier legs over to the cunningly titled South Hall and catch up with whoever is lurking over there.
Hang on! What's that on the Uponor stand? Heated paving? In Britain? FFS!
I know the company behind the technology (Velta) comes from Sweden, but the number of possible applications in Britain can be counted on the toes of one leper's foot, and each of them is guaranteed to be a case of people with more money than sense. Even in the really bad winters when temperatures plummet down as far as maybe -10°C, you can't possibly justify the installation and running costs of a heated pavement anywhere in Britain or Ireland.
Still, if you are determined to sell the idea, it might help just a tad if you can actually lay the blocks the right chuffing way up!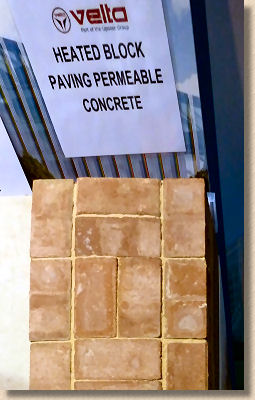 Right- South Hall, here I come…and most of those lurking over there seem to be suppliers of resin surfacing, so we have the unhappy juxtaposition of Ronacrete and gravel-partners Derbyshire Aggregates right next door to resin-bound specialist, SureSet, while Addagrip are positioned a good 100m away with lots of intervening nonsense, and Adbruf, who must have upset someone, are right at the back and facing the wrong way!
I think it's grossly unfair for direct competitors to be placed immediately next to or opposite one another. There's too much noseying about who is visiting the other and plotting whether the visitor can be shanghaied before they leave; too much opportunity to earwig, even accidentally; too much eye-to-eye competition. I've no problem with companies in the same line of work being located close by, as long as there are non-competitors forming buffers, but having two such well-respected yet closely matched businesses side-by-side was a major planning error on the part of the organisers.
The Ronacrete stand, shared with Derbyshire Aggregates , was manned to the gunwales. I'm not sure how they all fitted on there; actually, some of them had to stand in the aisle such was the crush for space. The message here was very much focused on the Eco-ness of the Ronacrete/DA package and it was a very upbeat message. MD and Brew Cabin Irregular, Simeon Osen, had decided that, at a show such as this, the only viable strategy was to push the green credentials rather than rely on general interest, and of all the resin suppliers at the show, this was the crew with the most definitive 'mission statement'.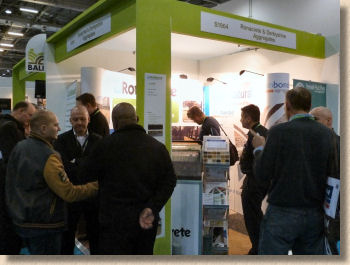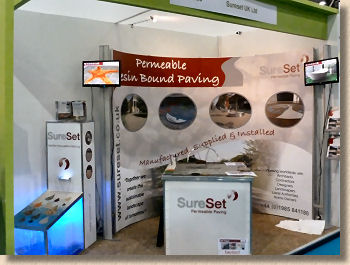 SureSet , right next door, had adopted a more interactive strategy. They featured a 'have-a-go' tray-table where interested parties could try floating a half-metre of resin-bound aggregate to see for themselves just how easy it can be. This is probably a very effective strategy at other shows, but EcoBuild is all about the suits; the architects, designers and planners, and I'm not sure how many of them wanted to risk getting their manicured mitts messed-up with resin.
Addagrip – well, although it was only 3pm, the stand was abandoned. I thought they may have sloped off for a pi …err a 'comfort break', but 15 minutes later, still no-one in sight. That struck me as odd. Addagrip have always had a well-presented and professional approach to these trade shows, and it is completely out of character for their stand to be deserted, so maybe there was an emergency?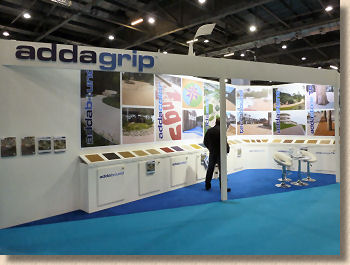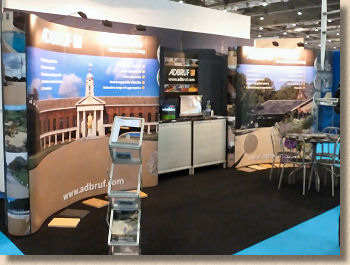 Adbruf , despite their awful position in the hall, were busy chatting away every time I passed, so I never got the chance to talk. This is always a problem at these shows. I don't want to drag people away from potential sales opportunities, but my time is limited and there is so much to get around before my back gives up. Sometimes, I just never get the chance to talk to anyone, which they probably consider a godsend, anyway!
Elsewhere, the stone village was a bit of a poor show, at least from a paving point of view. The porphyry looked fantastic, and I'd love that cut-from-a-single-piece sink and draining board countertop if I ever had a house posh enough. The limestone blocks from Albion looked interesting, if shelly, but it wasn't really paving material. Lithofin , the sealants people were there one minute than gone the next - must be summat in the water!
Meanwhile, Marshalls , who you can normally rely on to put up a good spread, decided to play down the fact that they manufacture paving and focus instead on their Ferrocast bollards, which somehow meant they had a 'knock seven bells out of it' gizmo which was incredibly popular with foraging students but few others. Sadly, I hadn't brought my own maul, so I had to reluctantly forego my opportunity to show them how it's done.
And that was about all the time available. The Marshalls' stand sort of summed up the whole event for me: WTF?
It's more-or-less accepted that EcoBuild is the big industry show for now, but just what the hell do we do with it? Without the focus of CityScape, it's all a bit hit-and-miss. Many companies feel they ought to be there but don't really have a clear idea of what to do once they are there. It's not a hard landscape or paving show; it's not a full-on construction show; it's not a garden or homebuilding show; so where do we put our trade?
There is a growing eco-awareness within the paving manufacturing and supply businesses but it's not really an exciting message, which leaves the problem of how to exhibit at EcoBuild. Ronacrete showed one way by bigging-up the environmental credentials of some of their products, and Brett, too, had a good shot at being 'on message' with the PermCalc demo, but there was a sense that most of the others were scrabbling about wanting to look relevant but not quite sure how.
The seminars were plainly popular, but there was very, very little over the three days that was of any real relevance to this trade, yet there was a surfeit of arenas, pop-up theatres, forums and the like which would surely have benefitted from a couple of discussion focussed on where we are going with the paving industry and what role we have to plpay in a more envirnonmentally-conscious future.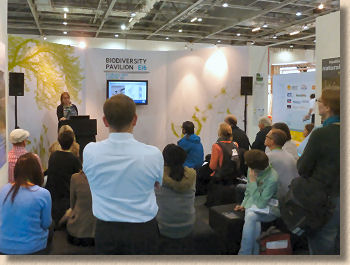 Maybe we are at a crossroads with EcoBuild. This was by quite some way the weakest show to date, as far as our trade is concerned. Obviously, some of that is down to the bloody awful trading conditions over the past 12 months, but I sense there is also an air of confusion regarding how paving, hard-landscaping and associated trades fit into the EcoBuild ethos and how they can appear as relevant to the EcoBuild audience. Exhibiting at shows such as this is a significant financial and logistical commitment. Without some clear indication of how the show can benefit the industry, I suspect its relevance will dwindle. Nothing I saw or heard or sensed filled me with positivity for the 2014 event.