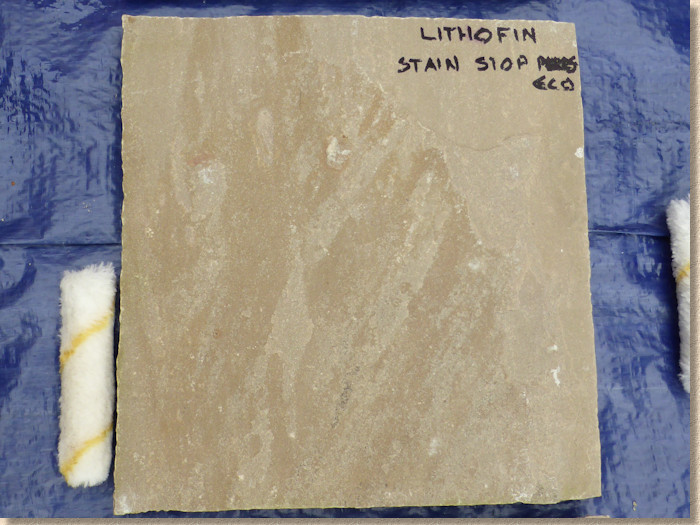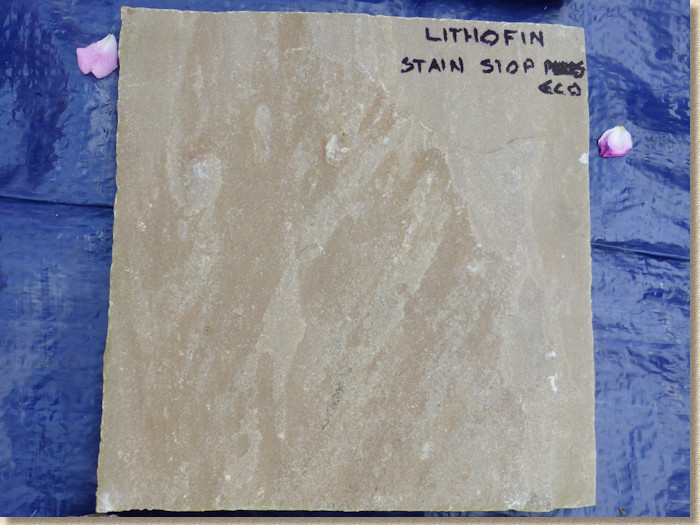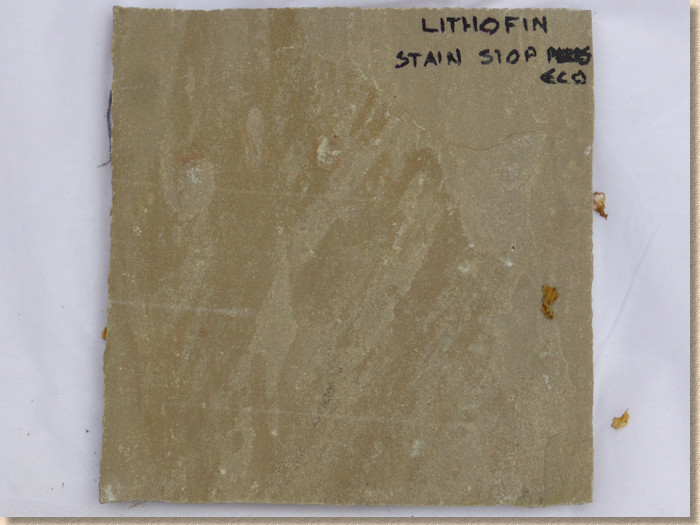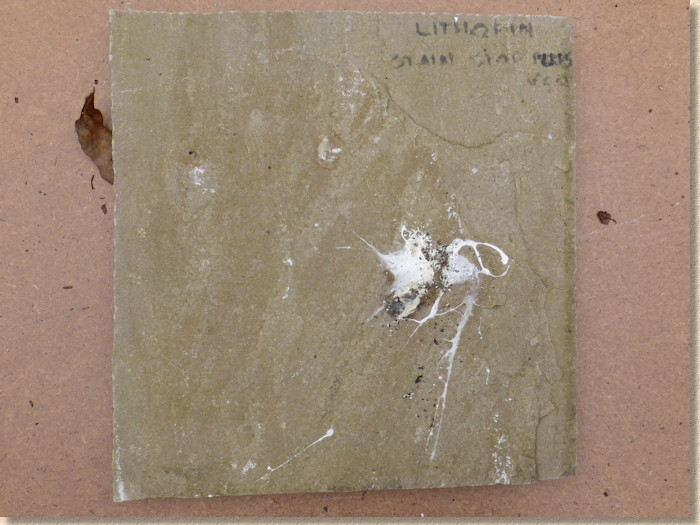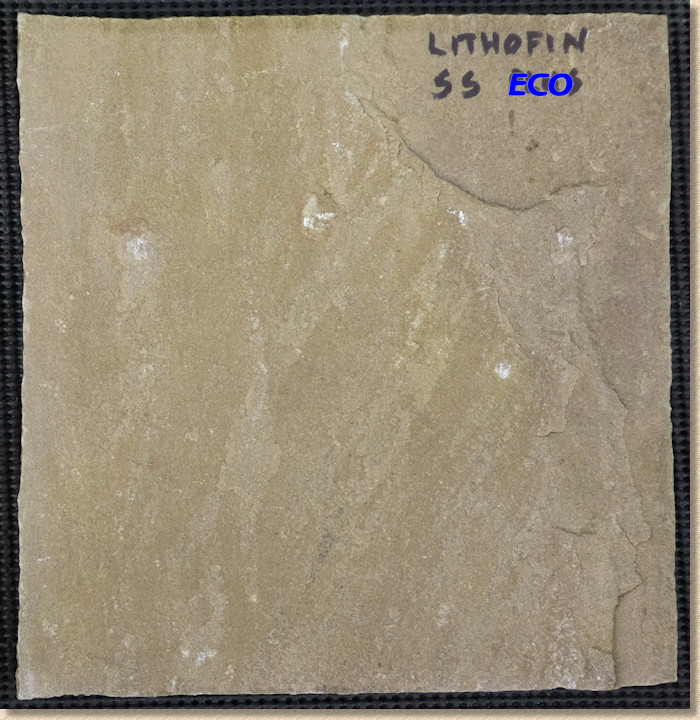 Summary:
1st coat: Thin, watery, clear liquid that foams but no odour and rapidly dries
2nd coat: +1:15 hrs Didn't seem to bond at first but eventually took
There's no denying the bird mess cleared away without needing any assistance, but this section of the trial is focussed on visual performance, and looking at the Sept 2016 image it's hard, nay impossible, to tell whether a sealant has been applied.
The natural shading of this piece of stone (compare and contrast the first photo with the one directly above) makes it hard to be sure whether there has been any visual impact, but when viewed in real-life, and looked at from all angles, the whole sample looks the same, that is, the sealant does not seem to have had any visual effect.
It's not even possible to say that the treated side of the sample is cleaner or has less algae than the untreated side. Overall, it's practically ikmnpossible to say just what this sealant has done. Maybe the clue is in the name: Stain Stop.......let's see......
Stain Trials: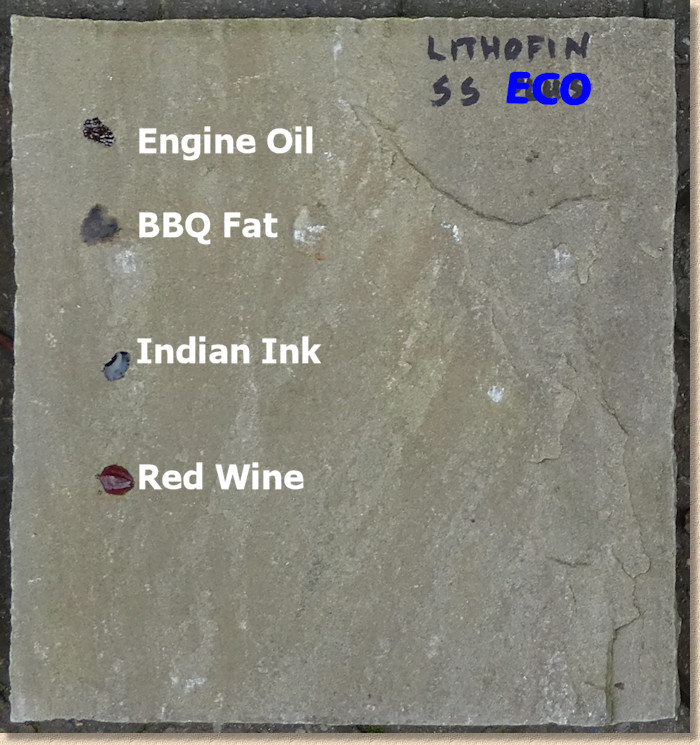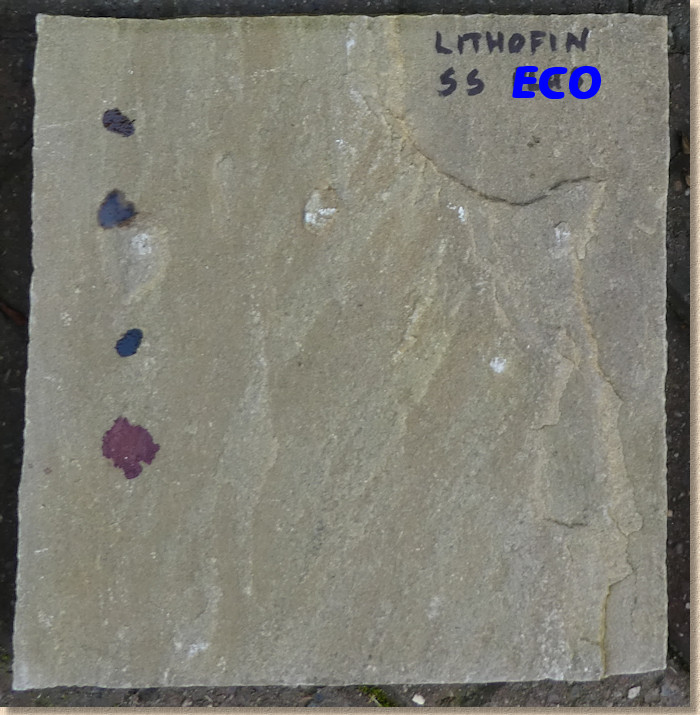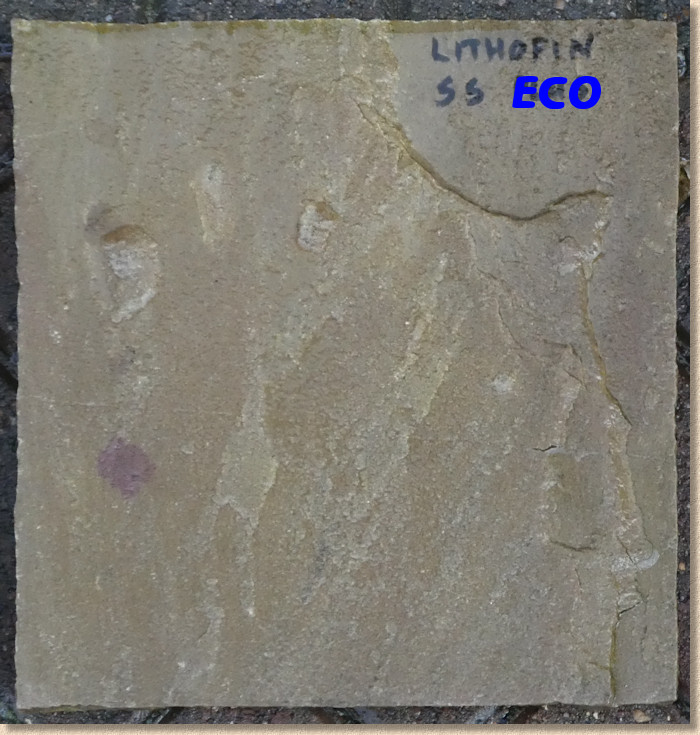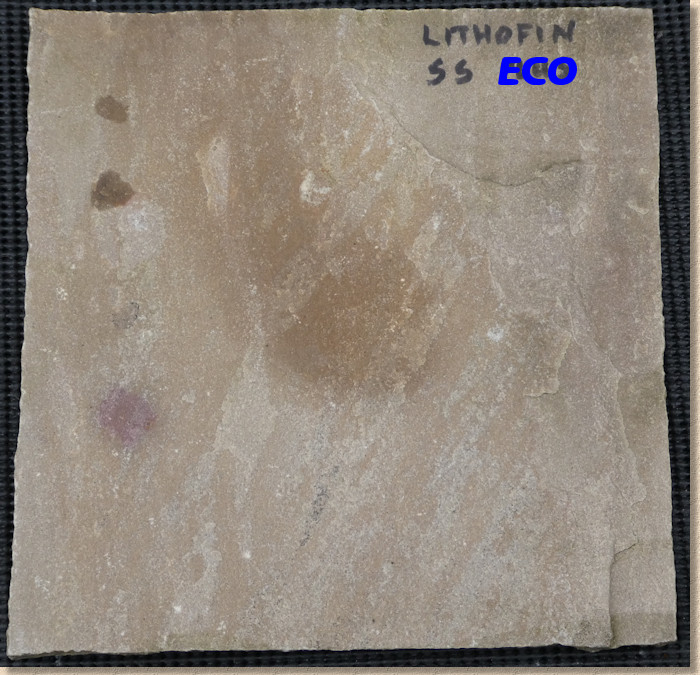 Comments:
Whoa! This is awful! It seems there has been buggerall in the way of stain protection from a product labelled as Stain Stop! How has that come about?
Every single stain, the oil, the fat, the ink and the wine, has left a mark, and the mosskiller has dumped a big rusty mark in the centre of the stone. There are products in this trial that make no mention of 'stain' in their name and they've performed better than this!
For a product whose key selling point is stopping stains, this does not look good. And compared to the stain results from the StainStop Plus , it looks even worse.
Note: Any apparent variation in colour of the flagstone is due solely to changes in the condition of the natural daylight at the time the photograph was taken.
Other than cropping to exclude extraneous background and adding a drop shadow to the cropped image, there has been NO post-processing of the original photographs.
Supplier:
Lithofin Stain Stop Eco is available from: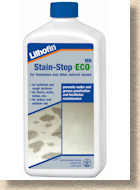 Advanced HD | Advanced Stone Seal | Dry Treat Intensifia | Dry Treat Metacreme Dry Treat Stain Proof | Dry Treat Stain Proof v2 | Easy Seal Col Enh | Easy Seal Ultimate Funcosil OFS | Hanafin Finisha | K-Seal | Larsen | Lithofin Col Int | Lithofin Stain Stop Eco Lithofin Stain Stop Plus | LTP Col Enh | LTP Nat Fin | LTP Matt | Pavetuf | Resiblock Indian Romex Col Enh | Vulcaseal 277 | Vulcaseal 286 | Weiss FT Plus | Weiss Stain Protect