South Africa 2016
It took almost 18 months to organise, but after hundreds of emails, dozens of calls, a series of meetings in both Germany and England, the grandly titled 'Better Block Paving' workshop finally made it to four of South Africa's bigger cities in August 2016.
The original idea had sprung from a concern amongst some concrete block paver (CBP) manufacturers, the South African Concrete Masonry Association (CMA), and a small number of contractors, that the standard of CBP installation in the country was poor and in danger of plummeting towards abysmal unless something was done to halt the slide.
Although there is a good and eminently workable National Standard (1200MJ), there is no accredited training for flexible (unbound) block pavement construction , but there is a growing concern that bad practices are becoming embedded as the norm, in particular the perception that a sub-base is over-engineering for residential patios and driveways, and the attitude that edge courses don't really need to act as restraints: they are just there to define the edge of the pavement. Even in the public and commercial sectors, there is poor understanding of the correct build-up for unbound, flexible block pavements, and the sub-standard installation of significant public schemes was beginning to give CBPs an undeserved and unjustified reputation for low quality with a limited service life.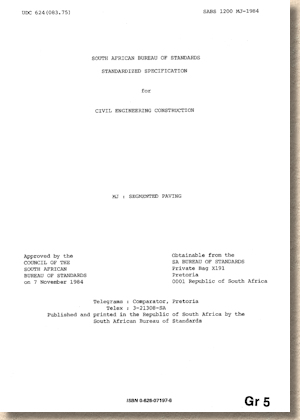 So, we debated and discussed, plotted and planned, and eventually set a date for 10 days in mid-August, the South African winter, when the trade there isn't quite as busy as in the summer months. My flight costs andaccommodatiuon would be covered by South Africa's leading cement and ready-mix producer, AfriSam , to whom I'm eternally indebted. The cities of Durban, Port Elizabeth, Cape Town and Johannesburg were chosen to give reasonable coverage for the more densely populated parts of a vast country. The brief would be to deliver a basic outline of what was required to meet the South African standard for block paving, particularly for residential projects, and to look more closely at the way wet-cast flagstones should be laid, as this format has a much bigger market share in SA than it currently enjoys in Britain or Ireland.
Particular emphasis was to be placed on they why and the how for sub-bases and proper edge restraint for CBPs, and then the correct build-up for flagstones. It was decided that, as dreadful as it can be in the wrong hands, PowerPoint was the only way to explore and entrench these important subjects, and so a series of 60-90 minute presentations was prepared.
The first event took place in Durban, to a crowd of about 30-35 people; some engineers, some designers, some sales personnel and a generous sprinkling of contractors. The presentations took longer than anticipated, but none of us had expected a 90 minute overrun! Regardless, the bulk of the delegates chose to stay in place to the bitter end, and even then, there was a good 45 mins of further discussion, comparison of practices in Europe and South Africa, a deeper exploration of the difficult market for contractors, and consideration of how the industry could 'professionalise' itself, to improve quality, enhance the public's perception, and to generate a better margin for the good contractors.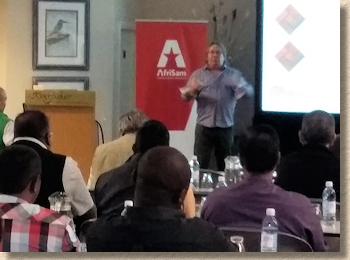 I liked Durban, or what is, I suppose, the new Durban, the rapidly expanding northern suburb of Umhlanga Rocks. In the rapidly descending evening, we strolled along a pier jutting out into the Indian Ocean and later chanced upon a fantastic restaurant with what turned out to be the culinary find of the entire event – onion petals. Largish pieces of individual onion rings, maybe 3cm x 3cm, in a delicate, light batter, deep fried and so much classier than the sheer heavy stodge of a traditional British/Irish onion ring. You could actually taste the onion and NOT the batter! The mouth is watering just recalling that evening!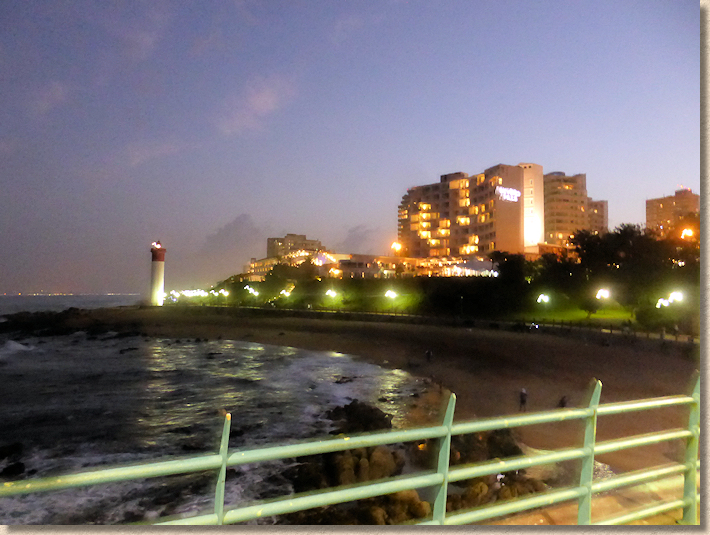 When we moved on, via airplane, to Port Elizabeth, part of the CBP programme was trimmed in an attempt to prevent too long an overrun, and in front of around 60-70 delegates, the presentations were repeated, and this time with just a 45 minute overrun. Again, there was a strong discussion after the event, and the cut-throat nature of the trade was brought up, time and again, by contractors who genuinely want to improve the industry but fight a daily battle against an uneducated customer base with scant regard for quality, along with a large body of installers with little, if any, actual skill or knowledge regarding CBP and flagstone installation.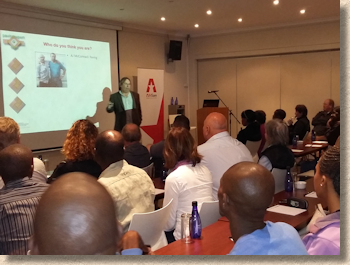 Contractors reported losing out on jobs by 50 Rand (3 quid sterling!) even though they could demonstrate a superior service, had impressive portfolios and glowing testimonials. In a country where block paving is the de facto paving of choice for residential driveways, where four out of every five driveways is block paved, there is a sense that the general public has settled into a position where CBPs, in particular, are regarded as a cheap and basic option.
The city of Port Elizabeth, or PE, as it is known, is tired and desperately in need of some TLC. For decades, it has relied, possibly over-relied, on the automotive industry for employment and wealth, and like many other cities with a similar heavy engineering background, it has struggled to keep up with a rapidly changing 21st century. Some of the city centre paving is, not to put too fine a point on it, bloody desperate, but you can still see the potential. The ocean coastline is gorgeous and more recent commercial and residential developments show just what can be done, but the old centre of town is teetering on the brink of irreversible decline.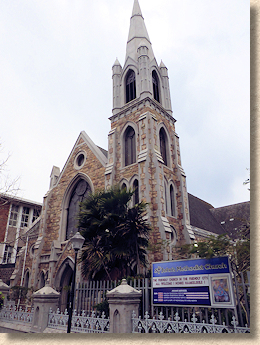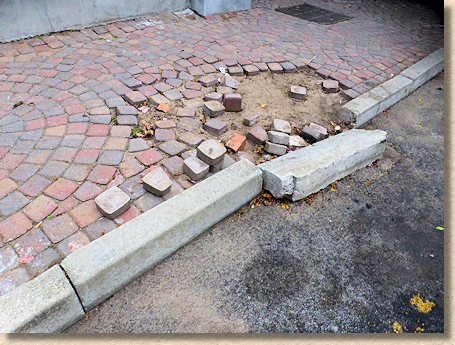 Just before leaving PE, we called in at a concrete paving franchisee, at the invitation of the owners. With SA being such a huge country, and the distances between centres of population being measured in hundreds of miles, much of the wet-cast manufacturing is carried out at local centres under a franchising system. An entrepreneur pays a licensing fee to get the moulds, the dyes, and the know-how from a nationally recognised brand, which they then use to produce paving in their own production shed for distribution locally, say a 100km radius.
It's a system that works well when centralised production, as tends to be popular in Britain (less so in Ireland), makes no economic sense because the haulage would cost multiples of the cost of the flagstones themselves. The franchisee gets the benefits of a big brand name and all the marketing and advertising that goes with it, but can adopt and adapt the range to suit local tastes.
In PE, wet-cast setts are a popular choice for driveways, an attractive and slightly cheaper alternative to CBPs. We'd barely countenance such a notion in Europe, where haulage is relatively local and CBP distribution is widespread, but it works for SA, and it suits the needs and preferences of the population. Looking at the range of sizes, textures, colours and styles available ex-stock, it's somehow comforting to see the simplest of concrete casting technologies surviving and, indeed, thriving.
Cape Town had been talked up since before we even set off from South Lancashire. It seems obligatory for every South African to wax lyrical about the city on the southern tip of their nation. Our wonderfully generous hosts repeatedly apologised for having such a tight schedule in Cape Town, with almost no time at all to see anything other than the inside of a hotel or conference centre, but they did, somehow, manage to finagle a couple of hours for us to travel out to Bloubergstrand, north west of the city, and gaze back towards the stunning Table Mountain, and out to the infamous Robben Island. Sadly, that was to be the limit of the sightseeing in what we could tell, even in such a brief time, was a fascinating and alluring location.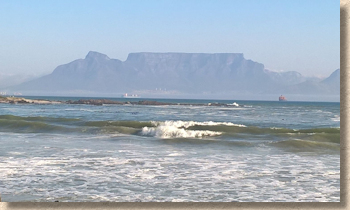 Fridays in Cape Town are busy, and the early evening flights to Johannesburg are heavily over-subscribed with commuters heading back to their distant homes after spending the week working in the city, which meant the only available 'plane back to our notional base left at 5pm sharp. Such an early flight meant the CT presentation MUST be over by 3pm, allowing us a meagre 45 minutes to pack up and get to the airport before the boarding gate closed.
The already nobbled presentation from Port Elizabeth had to be pared back even further, right to the bare bones, and we had to impose a strict timetable, with rushed 10 minute breaks and just 30 minutes for lunch. That's not the best recipe for keeping the expected 130+ delegates entertained and happy, but somehow, we managed it, finishing exactly at 3pm.
Despite the stripping back, despite the rushed and curtailed discussion, despite the pressure of having many of the great and good of South Africa's paving industry in attendance, the Cape Town event seemed to have a real buzz about it. Umpteen contractors wanting to reveal their own struggles with quality and labour during the foreshortened breaks; academics interested to hear of the European experience or national standard implementation; sales managers keen to air ideas about contractor organisations and practical training events. All of this, all this energy and positivity and appetite to improve led to the Cape Town event being the best to date, and it was with a genuine reluctance that we had to flee, leaving contractors still wanting to talk, still wanting more information, still wanting to understand more. If nothing else, this desire to be and do better bodes so well for the future of the trade in South Africa.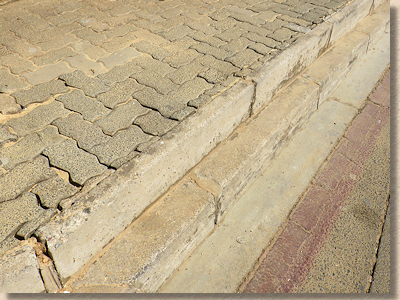 A quasi-restful weekend was spent at the B&B base on the outskirts of Johannesburg, punctuated by an expedition across some paving that was, in hindsight, actually worse than bare ground, en route to a local shopping centre, and a chance to catch ones breath and reflect on the experience to date.
Not sure if this was a barrier or a kerb. It was a 450mm drop from pavement to carriageway - not for the faint-hearted!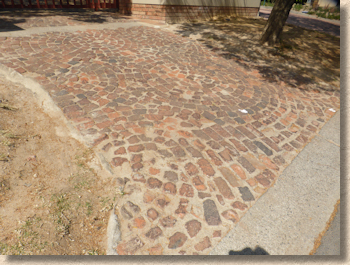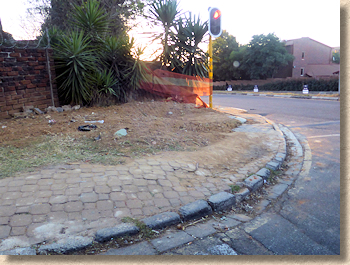 August bears the first promise of Spring in South Africa, but it's like a good summer's day in Britain. Temperatures in the low-to-mid twenties, unbroken sunshine, cerulean skies, and a glorious garden in which we could sit out and re-jig the presentation yet again in readiness for the final event which would take place in eastern Jo'burg on Monday. With greater freedom over the timings, there was the opportunity to reintroduce some of the content that had been callously ditched for the peremptory Cape Town workshop. And this final show was to be the largest of the entire tour, with 150+ delegates anticipated and a huge conference room booked to accommodate them all.
I had worried that by presenting what was, more or less, the same spiel over and over again, it would lose its sharpness and relevance by the time we got to Jo'burg, but somehow, by sheer chance rather than by design, the unscripted material allows each presentation to acquire an individual character, to be related in new ways, with new emphasis and genuine enthusiasm, so even at the fourth iteration, there was, I hope, no sense of ennui or jadedness.
And suddenly, it's all over. All those months of planning, all those emails back and forth, all the will-it-won't-it-happen, is done. Mission accomplished. Somewhere close on 450 delegates given a taste of what should happen with a professional and progressive paving trade, and shown how to make it happen. The immediate feedback, and that received both after the final presentation and since returning to Britain, is overwhelmingly positive and enthusiastic. There's a real appetite for more. Many emails ask why such events weren't arranged long before now, and plead for more, with practical sessions and improver courses that will help the industry move to a position where contractors can earn a good income, customers can expect paving with a generous service life, and manufacturers can move to offer enhanced products with a better margin. Everyone wins!
We spent a day looking at a block making plant and the secondary processing unit that is becoming increasingly necessary, as customers' tastes become ever more sophisticated. A CBP plant is a CBP plant is a CBP plant, wherever you are in the world, but each has its own idiosyncrasies and that's what fascinates me. The minor differences, the layout variations, the positioning and size of the curing chamber, the height of the finger cart...all these combine to keep me interested, even if I've seen the press itself a hundred times before.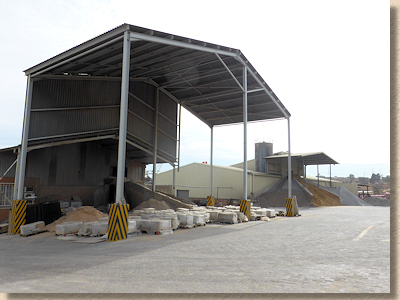 Wet-cast is big business in the South African paving industry, and the range on offer is so much greater than what we see in Europe. For all sorts of reasons, wet-cast paving in Britain and Ireland is now largely limited to reproduction riven stone, but in SA, there are wet-cast setts and cobbles, wet-cast walling, wet-cast permeable paving, wet-cast with inclusions, wet-cast in textures that defy description.
Unlike Europe, SA hasn't been flooded with cheap, imported natural stone, and wet-cast has a good reputation, despite it being only 50-70% the strength of British/Irish wet-cast – typical SA strengths of 25-28 MPa whereas GB/RoI figures are usually in the range 45-54MPa – and this has enabled wet-cast development and innovation to power ahead, unimpeded by the threat of being undermined by the likes of Feeble Fossil Mint and Eyesore Rainbow.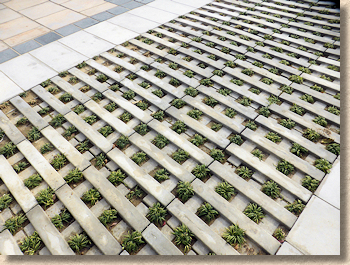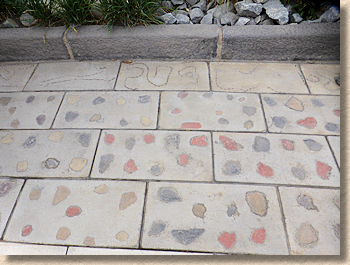 In fact, I saw more innovation in just one wet-cast site than I have seen in the whole of Britain and Ireland in the past decade. South Africa shows that, with a little bit of will and vigour, there is a place for wet-cast paving on a modern hardscape sector, and that has to be good news.
What definitely isn't good news is the installation standards. We'd been witnessing sub-standard paving since first landing in the country, with only occasional examples of what we, in Europe, take for normal. A visit to a major pavement reconstruction project in a large Jo'burg suburb revealed much about why so many relatively young pavements have failed.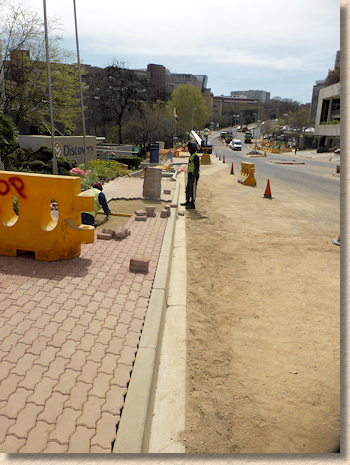 Three paving gangs, each comprising 6-12 men, working on 3m wide city centre footpaths, and not a single plate compactor to be seen. Nor any screed boards or screed rails. Cutting in is done in-situ using a generator-powered angle grinder to spew carcinogenic dust over the workforce, the passers-by and the whole of the city centre.
Kerbs are spot haunched, with barely half a shovel of site-mixed twenty-to-plenty concrete placed behind each joint between the 1m long kerbs. The same technique is used for a rear-of-path edging kerb, which, more often than not, won't actually be parallel to the kerbline.
Sub-base is a crushed sandstone aggregate known as C4 which is then sprinkled with cement powder, and wetted down in what is regarded as a 'strengthening' strategy. If there happens to be one around, this "sub-base" might get some minor attention from an underweight vibrating plate, or, if it's really lucky, a lightweight roller.
The laying course is known as 'River Sand' and is a coarse-ish sand of highly variable composition, scattered over the contentious sub-base to a thickness that could be anywhere from 40 to 100mm. Screeding is carried out freehand using a 1,200mm spirit level and relying, one could say over-relying, on the eye of a poorly paid and under-motivated operative. Blocks are laid in small sections, with any required cutting-in deferred until the appointed dust-shrouded operative gets around to it in a week or so. Manholes, lamp posts, and other intrusions are just missed out completely until some undetermined time later. There is no temporary restraint of free edges, no attempt to align, no replacement of broken or spalled blocks.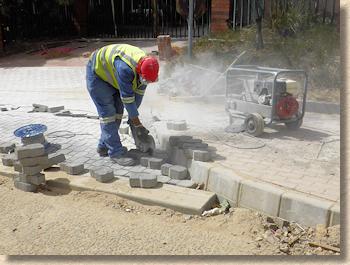 After cutting-in, the standard of which is worryingly haphazard, a dry plastering sand with far too much clay content is scattered over the surface and left in place for a few days just in case a plate compactor makes an appearance, but, by and large, the laid, cut-in, and jointed pavement is not compacted down: it's left to gravity and passing foot traffic to consolidate the blocks, which goes a long way to explaining why there is so much unevenness, so many lips and trips.
The teams on site aren't deliberately or even knowingly cutting corners: this is how they've been shown how to do the job. They genuinely believe this is how block paving should be laid, how block pavements should be constructed. It would not be fair to blame them; they know no better, but shouldn't the site engineer, the designer/architect, the main contractor know better?
To the obvious frustration of the block manufacturers, supervision is, at best, a token gesture and, it is claimed, a system of off-the-record cash payments can ensure work is routinely passed as acceptable.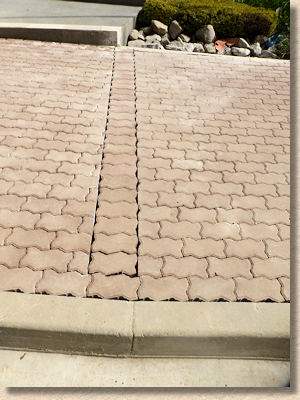 And so block pavements laid less than a decade ago are ripped up and replaced, with no improvement in the installation technique, no lessons learned, and the sure knowledge that they'll be back in 8-10 years doing it all again.
The economy of South Africa isn't strong. Surely, if infrastructure investment is to provide genuine value-for-money and act as a spur to economic growth, the basics have to be done correctly. Investing in proper training for the workforce can only improve productivity, result in better quality pavements, and significantly extend service life, thereby reducing the all-too-frequent reconstruction of work that should be lasting at least as long again.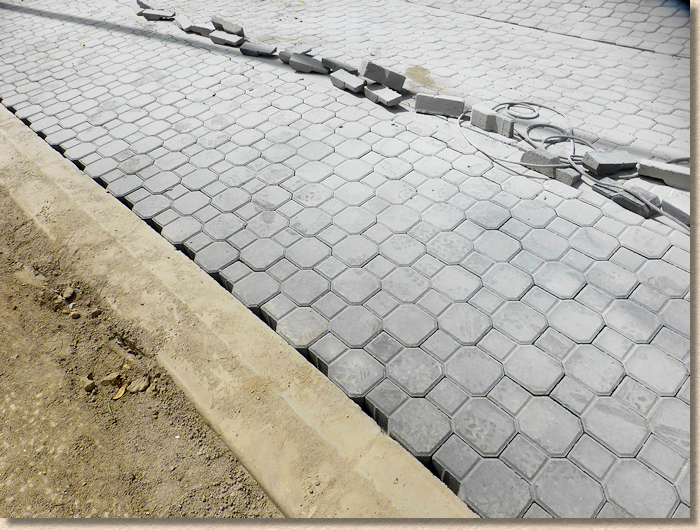 The current race to the bottom amongst contractors and contracting businesses, slashing prices to win work and spurning any sense of quality or integrity, is surely doomed. Eventually, the customer, whether it's Mrs. Van Vuuren with her patio or Pietermaritzburg City Council's plan for a new shopping centre, will start to question the value of CBPs as a hardscape material, and that's seriously bad news for all of us – contractors, manufacturers, designers, architects and consumers.
South Africa has an opportunity to do something, but it needs to be done now, if not sooner. A properly trained, professionalised workforce of skilled paviors can only be of benefit to the country as a whole. Paving is a personnel-intensive industry which offers great employment opportunities for a society where labour is plentiful and cheap. The more CBPs, and wet-cast, that can be laid, the more people will be employed, the more people will not be relying on benefits, the more people will be paying taxes, and the better will be the utility and useability of the local environment. However, it all relies on the laid paving being of a suitable standard – and for that, comprehensive accredited training is absolutely essential.