Minster Paving 2010
Most of the reviews published on this website related to national brands from manufacturers with healthy marketing budgets and a predilection for referring to their paving range as a 'collection' or a 'portfolio'. While there's no doubting that it is these big boys that tend to drive the market in terms of taste, innovation and style, there are dozens of smaller manufacturers operating on a regional or even a local basis who strive to survive in the ultra-competitive residential paving market. Several of these smaller manufacturers have, over many years, built a reputation and nurtured a loyal local following, often selling direct from their own base and producing items that are incredibly well-matched to the local environment, not just in terms of colours, but also by matching local price points, sizings and even textures.
A classic example of such a manufacturer would be Minster Paving , based in Witney, Oxfordshire, right on the edge of the Cotswolds.
On a limited budget, they've managed to produce a very professional looking and highly attractive A5 landscape brochure running to 20 full colour pages featuring their wet-cast products.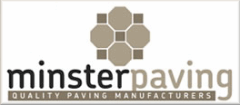 Like most smaller manufacturers, Minster's money-maker is the traditional wet-cast riven effect flagstone, which they sell as " Minster ", inspired, they say, by the nearby village of Minster Lovell. What sets this particular offering apart from the many others of a similar ilk is that they manufacture in a healthy seven different sizes and four locally influenced colour blends, including the inevitable 'Old Cotswold', along with Limestone (a paler buff), Old Minster (Grey-Green) and Slate(Charcoal). The surface is a gentle riven effect and it's an ideal garden paving for that cottagey look.

For many local flag producers, one type of flagstone would be ample, but Minster offer back-up in the form of " Yorkstone Riven ", which has a more noticeably riven surface and comes in four buff-to-grey 'North Country' colour options. There's also a " Worn Limestone ", which is barely undulating and said to replicate Normandy flagstones, and a " Cotswold Riven ", with a distinctive riven surface that proves to be popular with the local customers.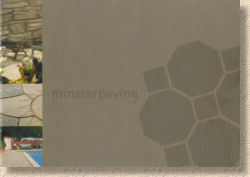 As you'd expect, there's a selection of circle kits stretching out to an eye-boggling 5.28m diameter along with a "Minster Octant" octagon that weighs in a 2.3m across. All of the circles and the octant kits can be orederd in any of the colour options to match or complement the standard flag paving.
There's a decorative " Aztec Sun " circle, and an attractive " Greek Key " which are generic items manufactured by various companies up and down the country, but hey! Is it fair to expect a small local outfit to produce a totally unique low volume item?
Similarly, the range of edgings and walling blocks are not exclusive, but the colouring suits the local scene and there's the reassurance of supporting a local small business.
In fact, as Minster Paving rightly point out, by using local aggregates and recycled material, their products offer reduced 'flag miles' for customers, as well as feeding money back into the local economy. With some flags, edgings and walling blocks travelling the length and breadth of the country in their search for a customer, this is an important consideration. Is it really worth hauling concrete up and down the nation's motorways when it can be obtained almost on your own doorstep?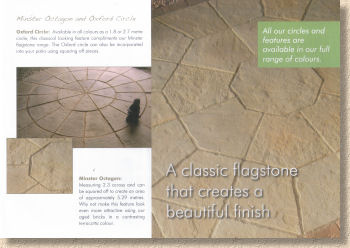 Overall, Minster deserve a big hand for this effort. It's not easy for a small business to commit to funding a colour brochure. It's not just the printing; there are the photos and the text and the design and proof-reading and a dozen other things to consider, and all the while there's a business to run and flags to produce.
What they have come up with is impressive. The photos are well staged and the locations are suitably impressive. By using local designers and contractors they've showcased the best of what they can offer, and kept a real local feel to it all. There's not a lot of technical data to give, so that's kept to the essential info on sizes and colours.
Normally, I recommend everyone ask for their own copy, but let's be reasonable. If you're in Penrith, there's not a lot of sense in requesting a copy of the brochure, but if you're anywhere in or around the Cotswolds, give them a call and get them to send one out to you. You'll be improving your own project, and probably helping keep those 'flag miles' to a planet-saving minimum in the process.
Minster Paving - Witney, Oxon - 01993 771697