New Interpave Publications
Despite rumours to the contrary, the reported demise of Interpave has been grossly exaggerated. True, it's not as active as it once was or as it should be, but it's still eking out an existence and to prove the point, two new documents have just been published, and there's a new edition of the downloadable magazine formerly known as Pave-it and now re-branded as e:Pave.

There are moves afoot to require all new commercial or public paving projects to be suds-compliant and all by next year, 2011. Hopefully, the yoghurt-knitters in government will have learned summat from the comedy legislation introduce in 2008 covering front garden paving and so we might actually get a sensible proposal, but you can never trust a politician, so we'll have to wait and see.
In the meantime, Interpave have published a second edition of Understanding Permeable Paving which they claim reviews these proposals as well as other legal and practical issues. The document also explains the principles of the different systems and techniques available, and how these methods and materials can be used to build sustainable pavements.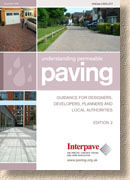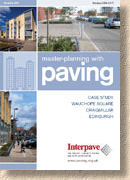 Second up is a new case study which considers the Craigmillar district of Edinburgh which labours under the dubious distinction of being the fourth most deprived area in Scotland, apparently. A more positive claim to fame is that Craigmillar is home to the first Concrete Block Permeable Pavement to be adopted by a local authority in Scotland.
More for the planners and designers amongst you, this document uses lots of trendy buzz-words such as "Masterplanning" (I remember Masterblasting from Stevie Wonder, but this is a new one to me!) and "place shaping" (FFS! Where do they get these phrases from?). Anyway, Masterplanning with Paving - Case Studies should while away a rainy lunchtime and it can't hurt too much, as long as no-one repeats these techno-bollocks phrases in front of impressionable contractors.