Winners at RHS Malvern Spring Festival
I don't normally cover garden festivals, other than the two or three I attend each year, and even then, only when there's something of interest to the wider world of paving, but there's a valid exception for this year's RHS Malvern Spring Festival, which took place last month (May 2019).
As a self-inflicted victim of Type 2 diabetes (I eat too much and do too little) anything that helps promote awareness of the condition and, hopefully deter others from following the same path to misery that I have taken, has to be worthwhile, so it's heart-warming (and hopefully belly-trimming!) to learn that The Habit of Living Garden has won the prestigious People's Choice award at the Festival, an award determined by public votes. It also took home a prestigious silver gilt medal and the Best Construction Award.

Designed by Lichfield's Karen Tatlow Garden Design with Katherine Hathaway and landscaped by Mike Lote of MJL Garden Design from the same town, there was, unsurprisingly, genuine joy and elation with the result. Karen enthused,
"We are thrilled with these awards, especially the People's Choice award – it means so much to us that people love what we worked so hard to achieve."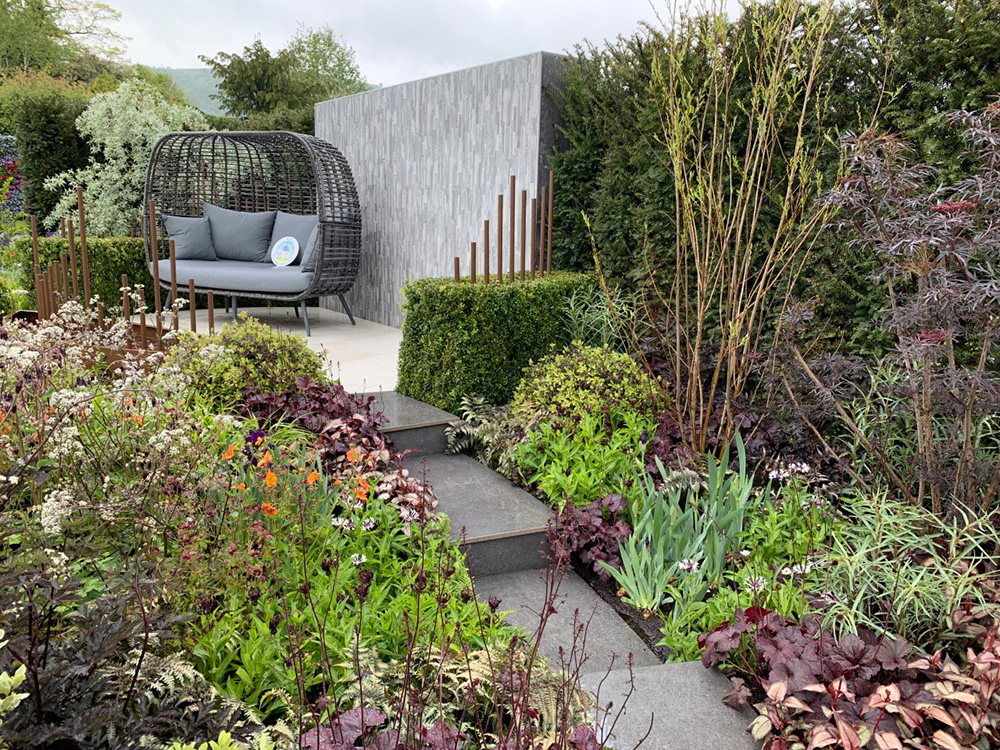 It was, apparently, a garden inspired by personal experience of both Type 1 and Type 2 diabetes, and is claimed to be the first ever show garden (at Malvern, I assume) in support of Diabetes UK, targeted with raising awareness of a condition which now affects more people than cancer and dementia combined. It is reckoned to affect 4.7 million people in the UK alone. And for too many of us, me in particular, it's our own fault – lousy diet and lack of regular exercise.
The all-important paving materials were supplied by Lichfield-based Ethan Mason Paving, making it a triple whammy win for the Staffordshire city.
Director of EMP, Mike Leeming, rejoiced,
"Ethan Mason is delighted the garden has won such prestigious RHS medals. It has been great to work with such a dynamic team."
They had donated porcelain paving and walling, notably EM Garda and EM Orta from their premium Italian MII (Made In Italy) Porcelain collection, while local multi-branch Builders' Merchant, Tippers, another denizen of Lichfield, had supplied ancillary materials and a bespoke water feature came from Urban Street Designs in Nelson, Lancashire.
The press release tells us, (in proper press release language complete with obligatory "journey" metaphor)….
The garden was designed around the charity Diabetes UK's branding and colour scheme and imagined as a small, private garden for a 'state of the art' diabetes care centre. It highlighted the struggle faced by someone newly diagnosed with diabetes and the emotional and physical journey they make before they are able to manage the condition well.
Peter Shorrock, Regional Head of Diabetes UK Midlands and East of England, said,
"Diabetes affects one in fifteen people and that's why this show garden was such an important and innovative way to raise awareness.
In particular, we hope it will have increased understanding of the mental health aspects of living with the condition among the visitors to the Malvern Spring Festival and to a wider audience beyond."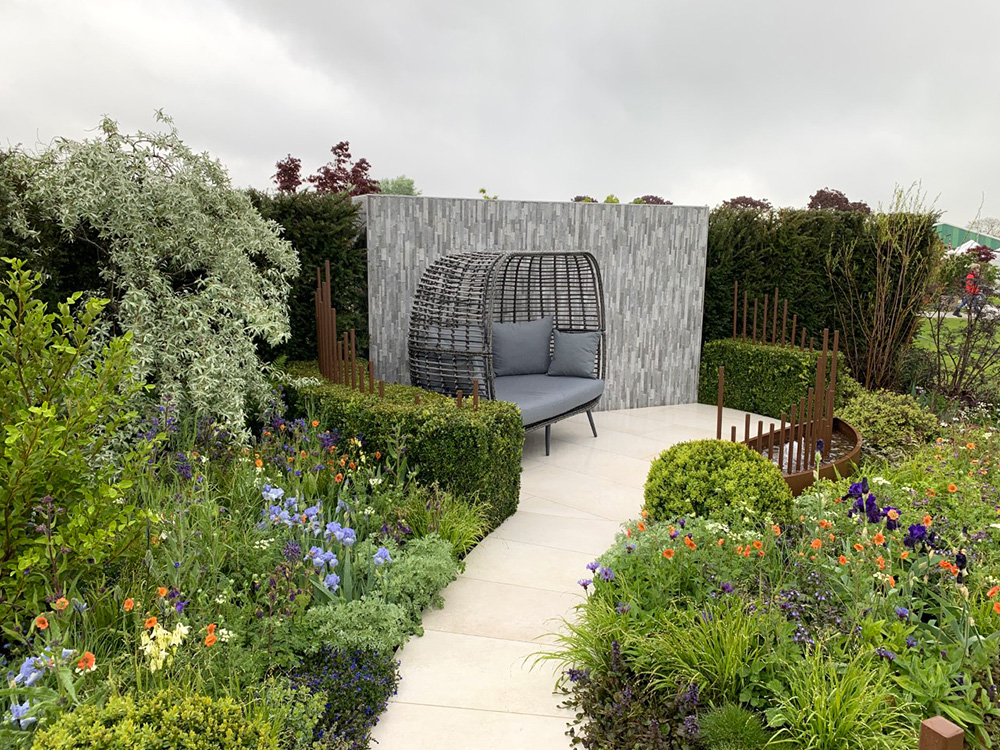 Congratulations to everyone involved. All levity aside, the diabetes epidemic is an important issue facing our society, so anything that can help, whether it's in prevention, treatment, or just simple education, is to be commended. I can only hope it will inspire myself and other needlessly overweight middle-aged folk to make a bit more of an effort to change our lives and improve our outlook.
I'm sorry to tell readers that there will be no further news items published for approximately two months from Monday, June 17th, 2019. However, there is a very good and exciting reason!
The completely re-vamped, re-built and easier-to-navigate pavingexpert website is perilously close to completion, and so we are obliged to enter a period of 'lockdown' while the web development team transfer all the existing content to the new system. Any new content would simply be lost somewhere in cyberspace, and none of us want that!
All being well, the new site will be live and fully functional by the end of August (allegedly!), with an exciting new look and style to the News pages which will become more akin to a blog.
Thanks for your support over the past 20 years of this format, and I look forward to welcoming everyone once again towards the end of summer.
Tony McCormack