Marshalls make a splash with permeable paving
Marshalls hosted a special "Permeable Paving Press Day" at their Enfield Transformation centre on Wednesday 10th September, scheduled to coincide with the planned publication of the government's new legislation on the subject, which, with the sort of inevitability that has dogged this project since its proposal back in the spring, arrived 24 hours later, on the 11th.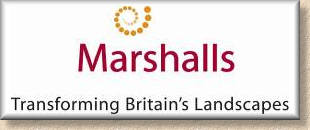 The day was split into two sessions, either side of a buffet lunch. A presentation outlined the need for a re-think of how we, as a society, handle surface water, and a gentle introduction to permeable paving as a concept. This led on to coverage of the Marshalls' permeable products, notably the Priora, the Tegula Priora and the newly announced Argent Priora, and an assessment for how Marshalls have been training over 300 of their register installers in the science of permeable pavement construction. The well-attended morning session was finished off with a dramatic demonstration of just how effective permeable paving can be in dealing with exceptional storm events.
The training aspect should not be overlooked. The comedy Impact Assessment Document published by DEFRA earlier this year claimed that the "industry may need some upskilling in laying permeable paving" , giving an immediate insight into the complete lack of understanding and awareness amongst those that dreamed up this scheme.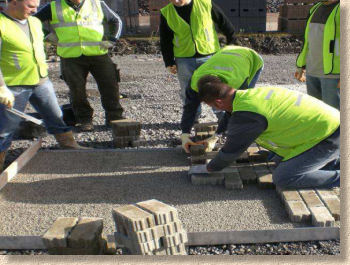 The official training body for the industry, the HLTG , was presented with a one-day course courtesy of Interpave but other than two pilot events back in April, has done nothing to promote training over the course of the summer. So, credit where it's due: Marshalls have surpassed themselves by training over 300 individuals in this new technology and, in so doing, have done more than their bit to ensure there is a pool of properly skilled contractors ready to undertaken this type of project.
A specially-constructed 100 square metre demonstration area had been split into five sections separated by a low kerb with 25mm of upstand. A panel of the very attractive Tegula Priora adjacent to a panel of standard Priora blocks (200x100mm format), and next to that, a panel of standard 200x100 conventional block paving. A solid concrete slab came next, and finally a panel of GrassGuard, the concrete cellular product that is filled with grass and said to be suitable for "occasional" parking.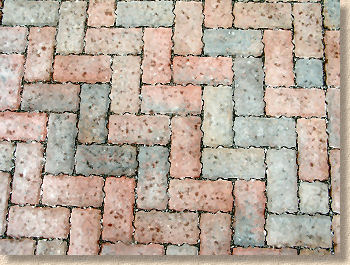 The test pavement had been constructed back in the spring to demonstrate the potential for permeable paving, and given the dismal summer, there could be no suggestion that the sub-base was 'dry' or 'empty'. Indeed, the tail end of yet another day's rain was just fizzling out as the guests emerged from the presentation building.
The plan was to drench all five panels using the equivalent of two fire hoses fed from an array of water bowsers hidden behind the back panel. Someone calculated that each hose could discharge a super-soaking 10 litres per second, which is greater than a once-in-two-hundred year storm event. As the assembled onlookers donned protective plastic ponchos, the pump was started and water played onto each of the five panels by a couple of Marshallettes perched on staging high above the pavement. While water disappeared from the two panels of Priora, never even managing to reach the furthest end of each panel, the panel of conventional paving and the concrete slab were completely submerged in a matter of seconds. Even the GrassGuard panel was more than capable of absorbing all the water directed at it, and while the permeable panels drank every last drop sent in their direction, the impermeable surfaces overflowed and spilled onto the adjacent panels.
There's no doubt that permeable paving works, and that it can cope with unnatural quantities of water, far greater than is ever likely to be experienced, even in these soggy islands, but seeing a demonstration such as this really brings home the point and emphasises just how effective it can be.
Note especially that while the conventional paving is under water, the permeable paving closest to the camera is not even wet, despite dumping 5,000 litres onto the surface in a little over 7 minutes!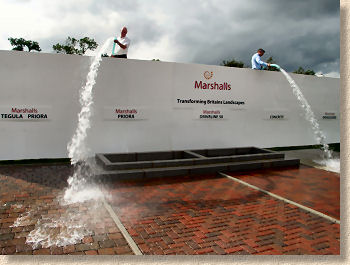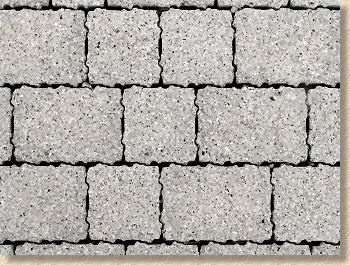 While GrassGuard has more limited applications, Priora and Tegula Priora offer an attractive option for homeowners looking to install permeable paving. Priora comes in six colours (Brindle, Bracken, Burnt Ochre, Charcoal Red and Buff) while Tegula Priora is currently available in the three most popular Tegula colour blends (Traditional, Pennant Grey and Harvest). In January, they will be joined by a new option: Argent Priora, which will be the permeable format of the gorgeous Argent granite-like paving, in three tones: Light, Dark and Graphite.
Chris Harrop, Group Marketing Director for Marshalls says,
"Marshalls is fully committed to offering our consumers unrivalled choice and quality and we will continue to innovate in this area to bring the very latest technology combined with outstanding landscaping designs to the domestic market. We are fully supporting Consumers, our Registered Installers and Builders Merchant stockists and see this as a great opportunity to sustainably transform Britain's Landscapes."
Like several other manufacturers, Marshalls have seen that they need to be offering permeable versions of their most popular products if they want to attract sales. The new legislation (more on this later in the week) is going to affect the market, so having the ability to offer attractive, versatile and well-designed products can help contractors win more work. The two-prong approach that has been adopted by Marshalls, of developing good products AND providing a good standard of installation training, is likely to result in them stealing a lead on many of their competitors.