SureSet spruces up Pompey
Resin bound surfacing specialists, SureSet , are celebrating another successful installation in Portsmouth, this time at the new John Pounds Community Centre, where landscape and sculpture artist, Pete Codling , was comissioned by the City Council to develop a landssape theme depicting the area's history and its long associations with the sea.

The Community Centre and an adjacent medical centre are now linked by an eye-catching walkway incorporating images of fish combined with 250 footprints produced from traces provided by users of the two facilities. To achieve the desired outcome Pete Codling called on the services of resin bound surfacing specialist, SureSet. Having worked with them on previous projects he was confident their wide range of materials and finishes would provide the desired results and, being resin bound, there should be no problems with loose or crumbling surfaces. For the 'beach effect' background he specified a gravel mix with the fish and footprints being created from Atlantic Blue, Pacific Blue and Clear Frost recycled glass. The walkway has become more than just functional and decorative, as those using both the medical and community centres can often be seen trying to identify their own footprint, which confirms the original brief has been successfully met in an inter-active manner. The same 'beach effect' finish allows the theme to be extended to outside seating as well.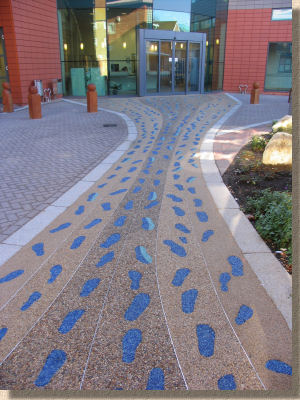 A major design feature within the community centre's reception area is based on Pete's interpretation of a slipway leading down to the sea and incorporates both large boulders and small pebbles, graduated in size as would be in reality. SureSet's Silver Pearl mix in sizes graduated from 10mm down to 3mm plays a major part within the feature. SureSet Paving in a blue glass finish has been used to create a feeling of puddles around the site's tree bases.
Pete Codling comments:
As illustrated here the application possibilities for SureSet are endless but the system has also been used extensively elsewhere for access roads and car parks, driveways, pedestrian areas, footpaths and cycleways, tree pits, patios and pool surrounds. SureSet believe the features their system offers are second to none and all their installations now come with a 7-year guarantee. SureSet provides a nationwide supply and lay service for the larger contract and for designers and specifiers comprehensive data in PDF format can be downloaded from the company's web site .