Marshalls' Transformation Centre
For some reason, the north-west of England has become the focus of frenzied activity in the paving supply industry over recent months. Last week's review looked at a newly established centre in Leyland, and there have been similar-but-different 'facilities' opened at several locations between Bredbury and Barnoldswick. However, the biggest, most lavish, and probably the most expensive, is the Marshalls' Transformation Centre at Bramhall, south Manchester, which has been open to the public for the last few weeks.
Unlike other centres that are linked to existing businesses, be they garden centres, builders' merchants or reclamation yards, the Bramhall centre is a bespoke site, and in that neck of the woods, sites such as this aren't particularly cheap. The land covered by the Marshalls' Transformation Centre could easily have been used to build half-a-dozen £500,000+ luxury homes: it's that sort of area. Leafy lanes, a semi-rural feel to the place, two minutes from one of the major arterial roads feeding Manchester, and only 10 minutes from the Footballers and Soap Stars belt, it's hard to think of a better location for this particular sort of outlet.
That prime location is key to the whole business model, because the Marshalls' Transformation Centre isn't selling paving per se; it's selling driveways, paths and patios – the full monty. The central idea is that the site is a showground for the products and the design ideas. Visitors are encouraged to view the various displays and then, following a 'design chat' with one of the trained advisors, Marshalls offer a complete package of design, materials and installation. In effect, customers are buying a driveway, or a patio, or a courtyard, rather than simply buying the paving.
Visitors are able to choose the paving styles and colours that suit their taste, and Marshalls then arrange for one of their Register Contractors to undertake the work. The materials are supplied via one of the participating merchants, rather than direct from Marshalls, but it is Marshalls that are the "vendor", and they are responsible for the smooth running of the installation.
This is a very different model from that of other Paving centres, and it raises a number of issues. The more traditional model for patio and driveway installation relies on a contractor supplying materials and labour, and the customer's contract is with the people doing the work. The Transformation Centre model means that the customer's contract is with Marshalls, and therefore any hiccoughs or "issues" will have to go through them. I can't help feeling there's potential for problems here.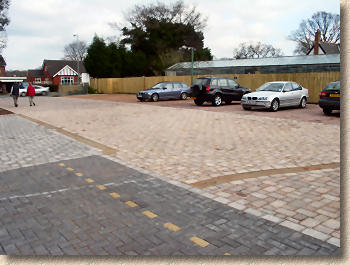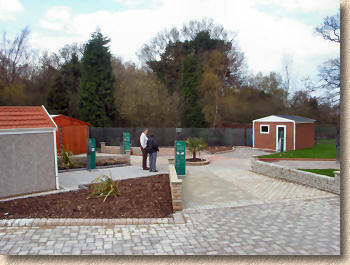 The centre itself could be divided into three main areas. There's a large car park, paved with various Marshalls' concrete block paving products, naturally, and this links directly to an open display area of five rectangular driveways arranged in a star formation around a central planter feature. Each driveway features a selection of the Marshalls' driveway products, including kerbs, lighting and walling, along with garden buildings and garages supplied by manufacturers affiliated to Marshalls' in one way or another. The plan is that the displays will be changed and updated over time, but at the moment, they feature the Haworth Moor setts, along with Elite, Excel, Tegula and Argent block paving.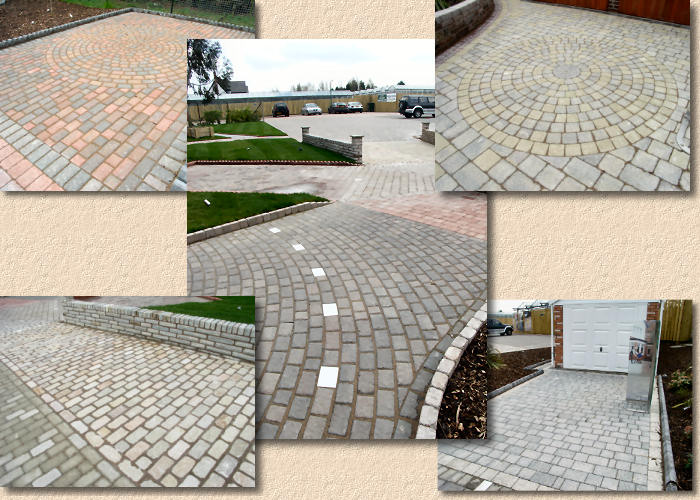 Each of the six 'panels' provide a realistic impression of the product that is just not possible via a catalogue or website, and each incorporates a simple design idea. However they are, in my opinion, rather too simplistic and lack that touch of inspiration that can make such an enormous difference to a finished pavement. A Tegula circle feature in a bay of Tegula paving is hardly revolutionary, nor is an octagon of Excel Burnt Ochre in a panel of Excel Brindle. The words "Mill" and "Run Of" spring to mind.
In contrast, the patio displays are all indoors, and by and large, they show a completely different approach to design, in that they look as though they have actually been designed and not just thrown down in a mad rush to complete the job. I know the word "indoors" in relation to hard-landscaping displays worries people – it worried me when I first heard that the patio and pathways displays were "indoors". It's all well and good having a display area that is immune to the vagaries of the British weather, one that can be open and accessible for 12 months of the year, but indoor means lighting problems. No matter how much we fiddle with blue-spectrum light technology and colour-compensation systems, paving and hard-landscaping always looks different outdoors in the natural daylight, and given that outdoors is where most paving is laid, it makes sense to look at displays under natural lighting conditions.
Marshalls have attempted to resolve this conflict by having the whole of the large patio and pathways area laid under glass, in what was, presumably, a very big greenhouse in a previous life. But even the clearest of clear glass has a 'filtering' and/or a polarising effect on natural daylight – how would it work for Marshalls?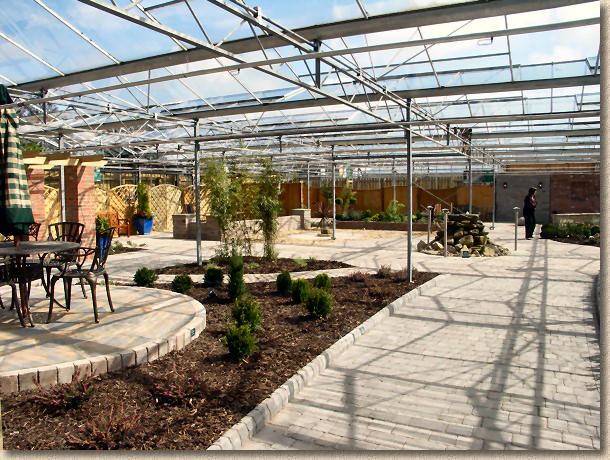 Well, once your eyes have adjusted to what is a very bright area, the light quality is far better than expected. It is bright, incredibly bright in full sunshine, but we're blessed with very accommodating eyesight and after an initial few seconds of partial blindness, the colour and texture returns to the scene, and a panorama of patios and paving is presented before you.
And the contrast in style, attention to detail, overall concept and general layout between this indoor feast and the outdoor picnic could hardly be stronger. In here, under the glass and in the muggy warmth of an afternoon in mid-April, your eye can wander at will to explore dozens of full-scale patio layouts featuring walling, edgings, select items of garden furniture, water features, with trellis-work and pergolas that tempt the eye upwards into the third dimension. There are block paved paths linking patios of riven flagstones with discreet courtyards of cool, clean granite. There are raised sections offering different perspectives, and hidden corners offering a hideaway from the day-to-day hustle and bustle. There are straight lines interspersed with sinuous curves and gentle arcs. There are hexagons, octagons and polygons galore. It's a treasure trove of patios.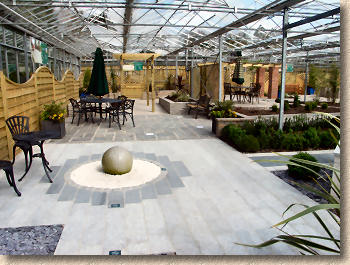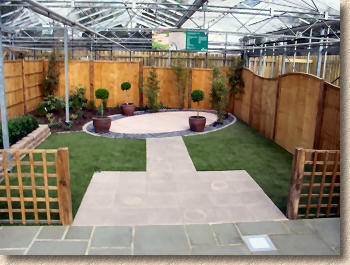 A cooler, shaded, and very comfortable sales office-cum-design room links the outdoor driveways with the indoor patios, and this has a calm, relaxing, almost serene atmosphere. It's obviously designed to provide the most suitable environment in which to do the sales spiel, whether it's a brief enquiry about such-and-such a product at the sales desk or a longer, more detailed discussion about form, function, feasibility and finance on the sofas. I could quite happily have parked me backside on the sofa all afternoon to drink tea and talk paving.
Two issues in particular affected me most during my pleasant afternoon with Marketing and PR bods, Tina Crossley and Michelle Thompson. Firstly, and most obvious was the huge disparity in style between the indoor patio displays and the outdoor driveways. The patios and pathways are well-designed, and offer dozens of mix-and-match ideas while providing a good hour or more of unhurried browsing. The driveways display gives the impression that they had some paving left over and two days to use it. As good as the patios are, the driveways are a disappointment.
The second issue is the whole business model. I've already expressed my concerns to Tina and Michelle, and I appreciate their honesty in answering my questions as far as is possible, but I can't help feeling this is an overly complex arrangement. Many customers choose a contractor based on a combination of factors. Cost is a consideration, as is quality of workmanship, but an often overlooked factor is the ability to feel at ease with a contractor. Having a contractor foisted upon them may not suit everyone – and what happens when there is a clash of personalities between a contractor and the customer? What happens when it's one of those real awkward git customers that all contractors come across eventually – the sort that are on the phone complaining about everything and everybody? What happens if there's a conflict with customer claiming the work is unacceptable and the contractor claiming it's their usual standard? These are just a few of the issues that will come up in the next few months as the Centre attracts more and more business. I'll be very interested to see how it develops, and I have to say that I think the 'adapt-as-we-grow' approach being championed by Marshalls is the only way to succeed. There are just so many unknowns in this model of selling paving that there is simply no way anyone could plan for every eventuality. If Tina, Michelle, and everyone else concerned with the scheme were complacently confident that everything will be alright and nothing could go wrong, I'd be even more concerned. A sense of trepidation and nervous excitement are very healthy emotions in a scheme such as this.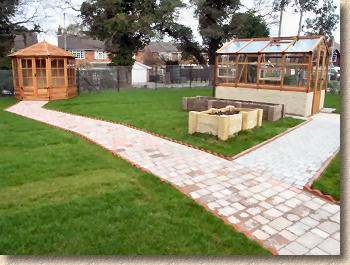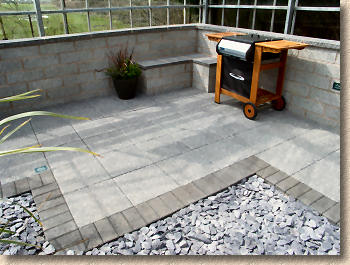 Overall, this is a very interesting variation on a more traditional sales outlet. It will be a great resource for customers and contractors alike. Customers can see what's possible and what to expect, while contractors can send their clients to see how the paving actually looks when laid. Similarly, designers and architects can use the centre as a visual stimulus. The sales centre and patio display area make a superb venue for design seminars and CPD sessions, and there is real potential as a destination for horticultural societies, garden groups and the inevitable mob of students.
There are a few niggling problems. Some of the workmanship outdoors is pretty poor, and in its current state, it could well act as a deterrent to anyone looking for a good contractor, but I know that snagging is underway and within a short period of time, all should be put right. The driveway display needs re-thinking – space isn't an issue on this site, and it should be used to show off the products to much better effect. The indoor patio area, as good as it is visually, needs careful monitoring as we enter the summer, because it can get to be very, very warm and muggy in there. I can imagine it being unbearable on a busy afternoon in July unless some form of air conditioning is installed.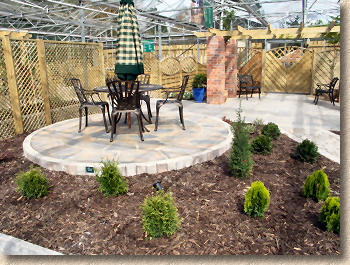 However, none of this should deter anyone from visiting and forming their own opinion. It's a valuable resource, and given the additional space they have in reserve, it's the sort of location I can see myself re-visiting on a regular basis, much like a favourite nursery or garden centre, just to see what's changed, what's been updated, what's been expanded.
Everyone is free to visit the centre during opening hours and wander around the display areas at their leisure. The centre is open 7 days a week from 10am (10:30am on Sundays so the staff can have a lie-in)
Pre-booked appointments to speak with trained patio and driveway advisors can be made by calling 0845 3070701
Click here for a street map from Multimap