External Works 2007
It's been a while since I've known a trade event enjoy so much pre-show anticipation as that enjoyed by External Works 2007 which took place at Birmingham's NEC on Tuesday, Wednesday and Thursday of last week. For the passed month or so, barely a day has gone by without somebody from one exhibitor or another calling or emailing to update me regarding their latest plans, so it feels that I've been personally involved in the pre-planning and production far more than would normally be the case for an exhibition.

This is a long review: it took three days to meet and chat with as many of the exhibitors as possible, and to do justice to their efforts, the text alone runs to 5,000+ words, plus the accompanying photos. To ease downloading for those not lucky enough to have broadband connections, the review has been split into three parts:
So, it was with a heightened sense of expectation that I passed through security and hobbled into the cavernous Hall 5 only to be confronted by a sense of underachievement. The place was funereally quiet, with just a murmuring hubbub of chatter that seemed, for the most part, to be generated by exhibitors asking one another at what time the visitors were due. It was pretty dispiriting, even for an early Tuesday morning, but I never like to judge an event on first impressions; the tide can change suddenly at these things and before you know it, the hall might be packed. Just don't hold your breath!
Most of that first morning was taken up with jointing mortars. The revamped editions of parts 4 and 12 of the unputdownable BS7533 have been released since the previous incarnation of EWx, as the event organisers like to brand it, and every major pavement jointing mortar supplier involved in the British market was on parade, eager to show that theirs was the product we needed.
Pavement Mortars
Instarmac
The first to catch my eye, primarily because of their enviable position right opposite the main entrance, was Instarmac headed up by the irrepressible Matt Carter. Instarmac have put a deal of effort into promoting their bedding and jointing products and Matt was literally buzzing with excitement over the company's acceptance into the honourable Stone Federation, not to mention their decision to acquire RIBA accreditation of their CPD presentations, and their huge investment in getting their products listed within NBS online.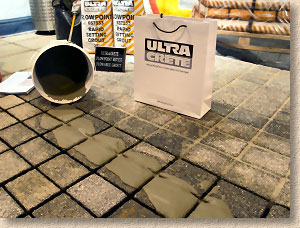 The widely respected Ultra-Crete and Flowpoint ranges are to be re-branded with consistent packaging later this summer, with the aim of creating a more coherent image for the products that should help on-site handling and management. Meanwhile, the JointFix sealant-cum-Stabiliser for CBPs that was unveiled earlier this season is winning over new fans at an impressive rate. It's cost effective, simple to apply, and protects the paving from the twin problems of stains and scour.
Easipoint
A few metres behind and to the right, Easipoint , who really ought to be regarded as 'old hands' when it comes to these events, had an open and inviting, centrally located stand that was cleverly laid out to show off various aspect of the Easipoint product palette. The looping video presentation on the large screen at one corner was certainly eye-catching, and cycled through the use of Easipoint slurry jointing on a project in central Manchester (sorry, Sue – can't for the life of me recall the name of the street!) to show how easy and how effective the modern slurry systems can be.
Although the video and the belt cleaner machine they had parked up on the stand were attracting most attention, the real showstopper for anyone familiar with the paving mortars industry is the silo – the ability to have 30+ tonnes of bedding or jointing mortar "on tap" ready to be spat out and mixed on demand from the transportable site silo, serviced by industry leaders, CPI. No more effing about with 25kg bags and worrying about over-wetting: the silo system allows larger sites to mix as much or as little as is needed, when it's needed, with the certainty of specification compliance, reduced costs and no packaging waste.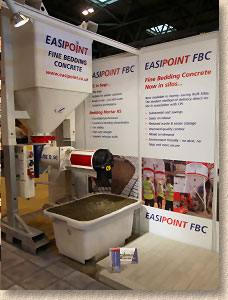 Acosim UK
Continue onwards past Easipoint and a little more to the left to find exhibition newcomer, Acosim UK , manned by the ever-engaging Grant Wilson. I've been watching the Acosim system for the best part of a year now, because it's similar in principle to a methodology my late Father espoused in the 1960s and 1970s, and also because it has a small but loyal fan base in certain parts of Scotland due to its excellent performance under heavy city-centre trafficking.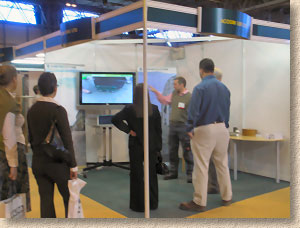 I'm sure Grant would want to regale potential clients with the benefits and performance data, but for those unfamiliar with Swiss company, Acosim and their main mortar, Samco 88, imagine a system where the paving elements are laid on a cement-bound, open-textured laying course, jointed with a high-strength, high adhesion slurry mortar that flows into the joints and then uses gentle but firm vibration (the patented and damned clever part of the system) to "jiggle" the mortar down into the porous bedding, spreading it beneath the paving elements to create a T-Beam grid which gives the whole structure it's incredible strength.
Sika
The Acosim system is a fascinating system, and one that will certainly appeal to those of with an engineer's mind, which my be why the recently launched Sika system is remarkably similar. Compared to some of the other mortar bods, the Sika display was slightly smaller and more demure, staffed by the affable Alan Stubbs, who readily admits he's relatively new to the paving industry, but not to mortars and certainly not to Sika.
Sika are no stranger to the construction industry, being renowned for their range of additives and concrete treatment products, so a move into the burgeoning pavement mortars market is eminently logical, and, some would argue, long overdue. Like the aforementioned system from Switzerland, Sika's NF system relies on a porous, open-textured laying course, albeit one without a cement binder, followed by a slurry-applied mortar that flows into the joints and throughout the 10mm clean, angular aggregate laying course, to create a composite system.
The demonstration cross-sections Alan had on show are very impressive, but having never worked with this system, I can't say how well the mortar penetrates the pavement structure or how successful it is, under site conditions, at achieving full penetration. It looks very good, but I really want to see it "in action" before praising it too highly.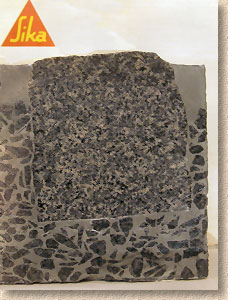 I also ought to mention Flexicrete, the cement-based slurry-seal product for use with open-textured macadam. This is, I suppose, an extension of the NF system, and relies on the slurry being spray-applied over the pre-laid macadam, whereupon it penetrates the voids and creates a hugely strong cementitious surface that requires no movement or crack control joints (allegedly) and can be coloured to suit the client's wishes.
SteinTec
Meanwhile, close by the over-priced, under-appetising canteen facilities, David Burton was perched in a smaller booth-type stand displaying the merits of his technically-impressive SteinTec bedding and jointing mortars. Where others rely on big stands, video presentations, and expensive graphics, David steadfastly ploughs his own furrow relying on a quality product and his own almost encyclopaedic knowledge of paving systems.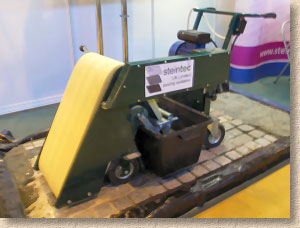 For this event, David had brought along an electricity powered version of the Pergo belt cleaner which ha become an essential tool for anyone working with commercial cement-jointed paving installations, the first I have ever seen, and, according to Mr Burton, specially commissioned for this show, because the organisers won't allow fuel-engined machinery to be used during opening hours.
NCC Streetscape
The final jointing mortar exhibitor has been saved for last because their product range is NOT cement based; it relies on epoxy resin technology. NCC Streetscape , based in Chorley, Lancashire, have surprised many in the industry by acquiring the sole British and Irish distribution rights for the hugely admired GftK mortars from Germany. Prior to the surprise signing, NCC were best known for distributing construction chemicals from the likes of Sika (there's that name again!), Fosroc, Remmers, et al.
GftK are widely acknowledged as the industry leader for epoxy-based pavement jointing mortars in their native Germany, and after months of research and careful consideration, they have teamed up with NCC to make a selection of their extensive range available to specifiers, contractors, and engineers in these islands. With stereotypical German efficiency, GftK give their products numbers, rather than snazzy names, so there is the patio-friendly brush-it-in-and-it-sets 840, and the bus and HGV capable 855, with a host of intermediaries suitable for every type of pavement.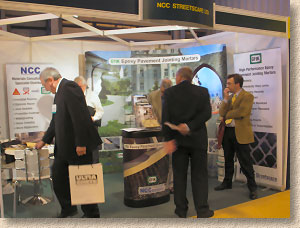 Epoxy mortars are clean: they are prepared, brushed in (usually as a slurry), swept ff, and left to cure. There's no need for costly and time-consuming belt cleaners, there's no need to keep traffic at bay for days (or weeks) on end, and there's almost no risk of a cack-handed contractor cocking it up. They have an impressive record in mainland Europe and NCC's leading light, Dave MacKay, reckons the time is right to bring this advanced German engineering to British and Irish pavements – he's even taken on ex-Sika technical specialist, Gary Ken, to help spread the word.
A I said in the pre-show news item , I saw the GftK products being applied during the murderous storm that battered western Europe back in January, and they worked. Full stop. If they can work under those conditions....