Introduction:
Polymer Modified Cementitious Overlay Systems
Many of the decorative concrete techniques considered elsewhere on this website achieve their effect by colouring or texturing a new concrete slab. For most purposes in Britain and Ireland, the minimum slab thickness will be 100mm (considerably more for areas taking vehicular traffic or heavy goods) of which only the top 6-20mm will actually be treated, depending on the technique being used. That's an awful lot of untreated concrete!
And what about if there is an existing concrete or other monolithic surface which is in reasonably good condition apart from looking a little untidy or plain? Surely there must be some method of applying a thin overlay that would give the old surface a new look and a new topping that could be coloured, textured, stained or whatever, isn't there?
Of course there is! It's such an obvious requirement in our industry that several products have found their way to market, but they are not all the same. At the bottom end, we have the basic cement-based overlays which are, literally, thin layers of sand and cement glued to the existing surface using something akin to PVA, while at the elite, more professional end of the market, and the only ones really worth further consideration, are the Polymer Modified Cementitious Overlay Systems.
This group of products, which are also known in the trade as thinset overlays, Micro-overlays, Micro-toppings, Cementitious Overlayments and various other vague terms, generally use a specially prepared cement-based pre-blended mix of fine aggregate and high-performance polymers which impart adhesion, strength, and durability to the product, and allow it to be applied as thin as 3mm in certain cases.
On this page we will look at how these Polymer Modified Cementitious Overlay Systems (PMCOS) work, what potential uses they have, how they can be used and what benefits they can bring to a project, be it a new installation or the restoration of an existing pavement or floor.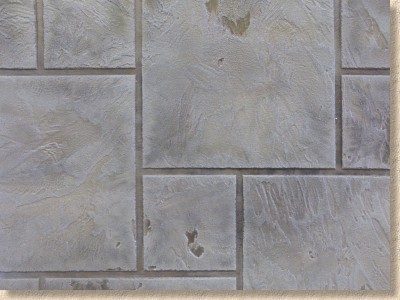 ---
Benefits:
The best PMCOS often use "hybrid polymer technology", combining the best properties of acrylic, vinyl and styrene polymer modifiers.
Essential to the success of these products is the careful and methodical preparation of the concrete substrate, which will involve a meticulous acid wash followed by full neutralisation which is all designed to open up the pores of the concrete and so ensure a full chemical bond, which is far stronger than the more common mechanical bond relied upon by cheap products.
Good quality PMCOS products are usually pre-batched so it should be just a case of 'add water and mix'. To ensure product consistency, there should be no complicated measuring, adding this that and the other, nothing more complicated than adding the correct volume of clean, cold water and mixing using a paddle stirrer.
Once mixed, be aware of pot life. Cheap products may have a fairly short working time, whereas the better products often offer a relatively lengthy pot life where the prepared material can be left in the mixing container for several hours - 4 to 6 hours is not uncommon - and it will not start to cure until it is applied to the substrate.
Advantages of using a good quality PMCOS:
Strong chemical bond
Avoid cost of ripping out existing surface
Faster, simpler installation
Wide range of colours, textures and styles available
Durable
Low Maintenance
Reliability - over 20 years proven track record
---
Uses:
Decorative finishes to new concrete bases
Overlays of existing concrete surfaces
Changing or updating the appearance of an existing surface
Permanant fixing of potholes, pitting, and spalling
Correcting ponding and backfalls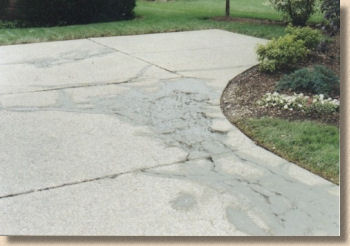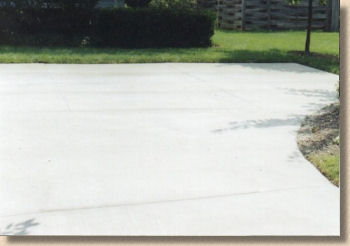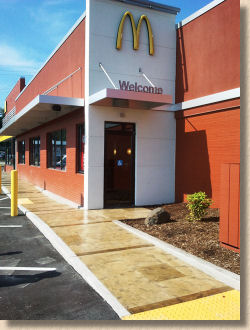 Typical projects would include....
High-strength garage floor surfacing
Water and chlorine resistant anti-slip pool deck surfacing
Super clean hygiene floors for medical and pharmaceutical use
High-traffic commercial and retail flooring
Anti-marking floors for car dealerships
Stylish floor surfaces for bars, restaurants and coffee shops
---
Decorative Styles:
Trowel Down finish
The overlay is floated to a smooth, even finish ideally suited for internal floors, patios or areas where a simple coloured surface is required.
The design possibilities are almost limitless as unique looks can be created by using design tape to form tile, flagstone, block or any organic shape finishes.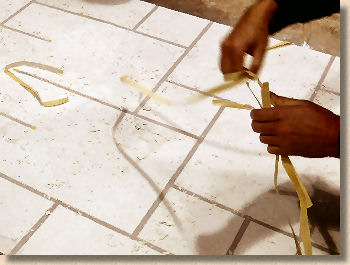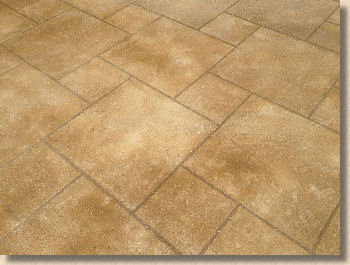 Brush finish
A smooth finish which is then enhanced with light brush stroked to impart texture and improve traction. The stroke marks can be straight or curved, patterned or free-flowing, whatever the imagination fancies.
A popular choice for driveways where a simple, un-fancy look with good traction and a sense of solidity is required
Spatter finish
This finish is popular for poolside areas as the enhanced texture aids traction when wet. Essentially, it's layers of drips or 'spatters' built up in various colours to create a tactile, multi-coloured surface.
Another incredibly versatile finish with countless design possibilities created by changing the colours, the spatter sizes, the background, or by combining with design tape layouts. A real opportunity to create something unique!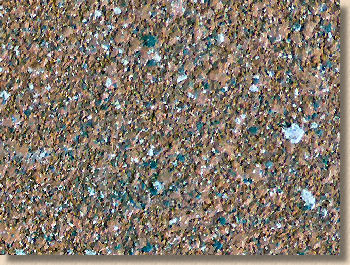 Stamped finish
This finish is more familiar as the pattern imprinted concrete . Using the same principles, a selected pattern is printed into the still-plastic surface using a series of mats and/or texture rollers to give the appearance of, say, sett paving, old bricks, weathered timber planking or natural stone slabs.
The very best colouring systems result in a multi-tonal finish from just a single application of the colourant.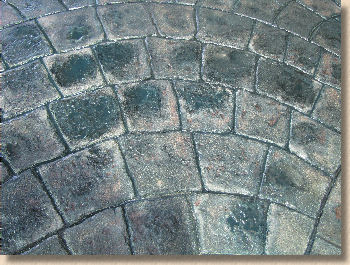 Stencil finish
Another technique more often seen with full-depth concrete slabs, where stencils are used to mask off various patterns or sections of the pavement which allows a range of colours to be used to create distinctive looks ranging from simple jointed stone or brick, to highly intricate custom designs.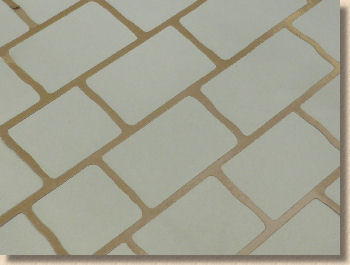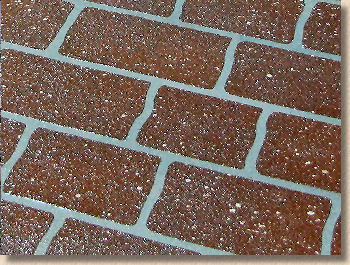 Staining finish
Alchemy in action! By careful choice of base-coloured overlays and subsequent treatment with acids and other stains, fantastical organic and totally unique effects and colourings can be achieved to give a rich organic feel to a pavement or floor.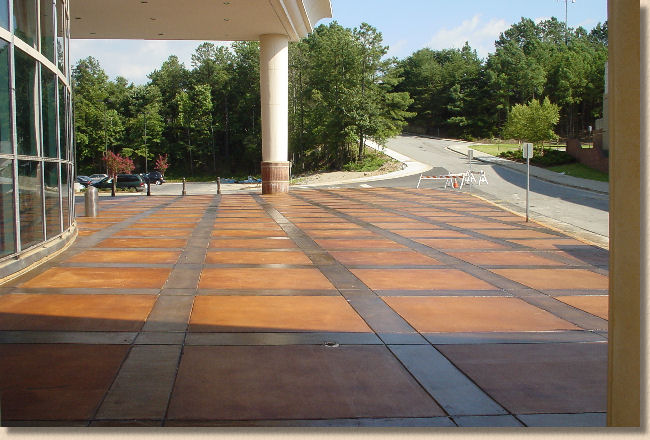 ---
FAQs

Can Polymer Modified Cementitious Overlay Systems be used to overlay bitmac, asphalt or macadam?

The better products have been specially formulated to create a permanent chemical bond to new or existing cement-based substrates, particularly concrete, but there may be problems with bitmacs or asphalt. Check with the product supplier.

Can these products be used by DIYers?

In theory, anything can be used (pronounced "messed up") by DIYers but it is strongly recommend that only properly trained installers should be used to lay PMCOS.

How do I find a suitable contractor?

Product manufacturers and distributors often carry lists of approved installers that have been through a rigorous training programme.

How do I go about becoming an installer?

Some distributors run training courses throughout the year. Courses range from basic Introductory days to familiarise trainees with the various systems through to high-level improver and specialist technique courses tailored to their exact needs.
---
---