Durakerb gets HAPAS approval
Durakerb, the Midlands-based manufacturer of the revolutionary, lightweight and environmentally-friendly plastic kerbstone have achieved HAPAS cerification for their HB2 kerb (half-battered), which fully complies with Health & Safety guidelines concerning the manual handling of kerbstones.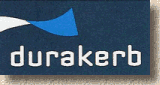 Manufactured from a blend of recycled polymers, the kerbstone is said to help all specifiers and contractors comply with Government aims of building a sustainable future. More importantly, it will enable contractors to continue to lay kerbstones exactly as they have done for generations, but in a quicker and safer fashion.
HAPAS accreditation (Highway Authorities' Product Approval Scheme) indicates that a product has been thoroughly tested for compliance with all relevant specifications and found to meet or exceed the required standards. As such, the product is deemed to be suitable for use on highways projects throughout Britain.
Durakerb managing Director, Phil Sutton, says he's delighted with the accreditation.
"We've worked hard to ensure Durakerb meets the HAPAS requirements and this certification vindicates the belief we have in Durakerb as a genuine alternative to heavier concrete units. Contractors and specifiers now have a real alternative when planning highways shemes."
Full information on the HAPAS certification and the wider range of Durakerb products can be obtained from the company website.