HLTG Training Courses
As reported way back in July , the Hard Landscape Training Group (HLTG) committed themselves to providing a minimum of ten paving courses before the end of this year. Well, behind the scenes, a small handful of dedicated troopers have been beavering away and we're now in a position to announce the Provisional Schedule of Courses that will run from the beginning of October. These dates are subject to confirmation, but we need to establish what level of interest is out there, and which courses are of most interest, which is why this provisional list is being published here and now.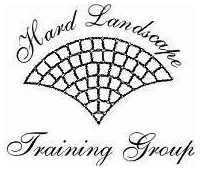 These are Introductory courses: we've deliberately started with simple courses so that we build a body of courses that, eventually, will provide a logical progression from basic skills right up to advanced techniques and recognised accreditation. The Introductory courses are ideally suited to newcomers to the trade, or to tradesmen looking to broaden their skill range, but everyone is welcome and we hope that even experienced hands will learn something.
The courses are being developed using some of the material from this website, but there will also be lots of new material created specifically for these HLTG courses by Pavingexpert.com, InterPave/Interlay, the HLTG and some of the sponsoring companies, so you can be sure everything is relevant, up-to-date and easily digested. The block laying course will reflect the recent changes to BS7533:Part 3 that every contractor ought to be aware of.
Each course will run from 9am until 4:30pm, and will comprise a morning session focussed on theory and regulation, with an afternoon practical session that will require each attendee to construct a pavement (or kerb line) using the principles introduced earlier in the day. On completion, each attendee will be awarded a Certificate acknowledging their attendance and the support of their employer.
As you can see, we've really tried to ensure we cover as much of Britain and Northern Ireland as is possible, and we've also aimed to provide a mix of courses that reflect the amount of interest expressed to date. Next year, we hope to reach even more places and make it easier to attend a relevant course in your own area.
At the time of writing, we're not sure of the exact cost of each course, but it will be "reasonable".* The HLTG is essentially not-for-profit: the costs of staging the course will need to be covered, but we aim to make these courses affordable to everyone, from the school-leaver to the nationwide landscaping companies. If you're interested, please let us know by completing the form below, which places you under no obligation whatsoever - it's merely a way of registering your interest and will enable us to get more information out to you as soon as it becomes available.
* UPDATE: Course cost will be roughly 70 quid per place, which will include a spot of lunch on most courses.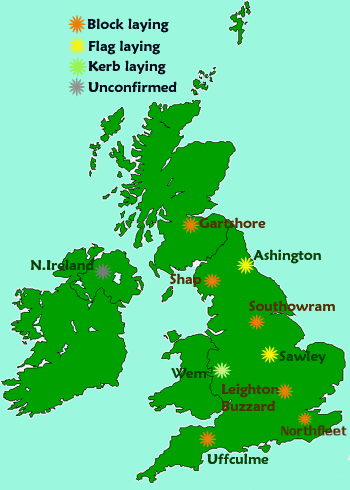 Download application form , print it out and mail it to HLTG at the address given on the form.
OR.....
Just fill in the form below....
HLTG Course Information Request
Your Name: Your e-mail address: Please re-enter e-mail: Company/Organisation: Number of places required... I'm interested in the following course(s)...
[tick all that apply]
Intro. to Block Laying Southowram, Halifax 6th Oct 2006 Intro. to Block Laying Gartshore, Livingstone 12th Oct 2006 Intro. to Block Laying Leighton Buzzard 19th Oct 2006 Intro. to Block Laying Uffculme, Cullompton 26th Oct 2006 Intro. to Flag Laying Ashington, Northumberland 2nd Nov 2006 Intro. to Kerb Laying Wem, Shropshire 9th Nov 2006 Intro. to Block Laying Northfleet, Kent 16th Nov 2006 Intro. to Flag Laying Sawley, East Midlands 23rd Nov 2006 Intro. to Block Laying Shap, Cumbria 30th Nov 2006 TBC Northern Ireland December 2006 Other comments: Please allow 3 working days for your query to be answered. If you don't receive a reply within that time, it's most likely because the email address you supplied is invalid - please try again and check that your email address is correct. Problem?? If the form above is not co-operating (I've been told it's summat to do with certain types of personal firewalls) then use this
email link
as a last resort.