EJ Stone open Paving World in Stockton
There's been a spate of Paving Centres opening over the last few months. After years of ignoring the concept and forcing customers and contractors to buy their paving either from the notoriously macho Builders' Merchant, or spotty Darren with his two GCSEs (PSE and Media Studies) at the local DIY shed, the larger manufacturers seem to have suddenly woken up to find a strong smell of caffeine in the air.
The Paving Centre concept has been up and running for a good few years in Ireland, where it's the de facto way for the discerning customer to buy their patio or driveway, as well as providing an invaluable sample and display resource for the more competent contractors. However, the tight-wad hyper-conservative bigwigs on the British side of the water seemed to prefer the model where the Builders' Merchants held sway and the poor customer (and contractors) had to put up with it.
The decision by a certain non-mainland paving maker to open the first purpose-built Manufacturer's Paving Centre in the north-west of England resulted in a flurry of activity that saw similar centres operated by other manufacturers in the same region.
And now comes the next phase: the semi-independent Paving Centre, a centre that is nominally part of a larger group but has a degree of independence that allows it to stock and supply product that originates outside the group.
EJ Stone was set up in the north-east of England a decade or so ago by Mick Clippendale and named after his daughter's initials. A couple of year's ago, they allied themselves to the Aggregate Industries family and many of the popular EJ Stone products have since been re-branded as StoneFlair products. However, EJ Stone remains an independent company.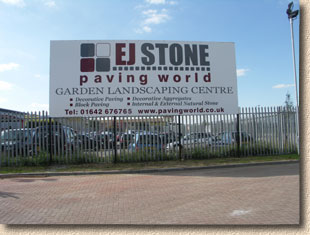 However, if anyone thought that was the last they'd seen of EJ Stone, they should take a drive along the A19 fly-over through Stockton-on-Tees. It's all but impossible to miss the enormous signs proclaiming the presence of the EJ Stone Paving World , which occupies an even more enormous site (just over 1 hectare - which is more than 2 acres for those of you still measuring the world in perches, poles and furlongs) slap-bang beside the A19 on the phenomenally popular Portrack retail estate.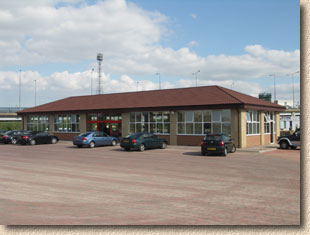 So: what's different about "Paving World"? Well, for a start, it's bloody huge, over 2 acres, as already stated, with around half an acre of actual paving displays. This is far, far bigger than the other Paving Centre sites reviewed earlier this year, and by some distance. While all this space allows for a bigger expanse of displays, most of the plot is given over to two impressive stockyards. Why two? One for smaller, individual items, which is open for browsing by one and all, so the actual quality, thickness, weight and handling can be assessed, while the second yard, roughly half the entire site, is the "full packs" stockyard, with pallets of flags, crates of stone, and bales of blocks of every shape, size, colour and texture just waiting to be loaded onto a fleet of delivery wagons or the eager contractor's own transport.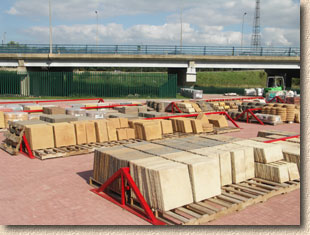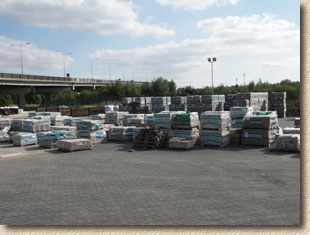 There's a substantial and spacious purpose-built reception building, where the floor is covered with a selection of conservatory-type travertine and marble tiling, (which can also be purchased via Paving World) along with a few sofas for more relaxed discussion of options and colours. In the next few weeks, a fuller display of conservatory and patio furniture will be introduced, along with areas to keep the kids entertained (or at least stop them squabbling for 30 seconds!) and a small refreshment facility.
The reception building opens onto the extensive main display area featuring a large rectangular fish pond, complete with trickling waterfall at the far end. I lost count of the total number of individual displays, but, as you'd expect, they are interlinked which allows the visitor to wander at will. There's a slightly detached area of concrete block paving which gives a good feel for what can be achieved on driveways and forecourts.
The main display area features a lot of wet-cast product, which is how EJ Stone first made their mark, but there are also panels and features of imported natural stone flags, the ever-popular Carpet Stones and a wide selection of decorative aggregates, both small scale for use as surface dressings and or mulches, and much larger rocks, displayed in wire gabions, which can be used for rockeries or other garden features.
The poor weather during August made finishing the site more of a challenge than had been expected, and the result is that some of the paving work was rushed, and it shows. There's a good bit of snagging to be done, but Mick and his team are more than aware of it and plans were in hand to start on some of the remedial work as soon as the site is closed on late Sunday afternoon. There's not a site on the planet that doesn't have some snagging, so Paving World is no different in that respect, but it does need to be addressed with a degree of urgency as some of the errors are detracting from the quality of the products and the value of the overall site.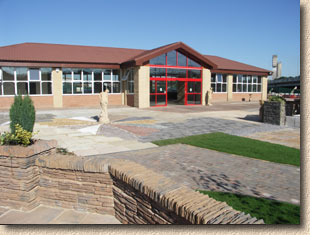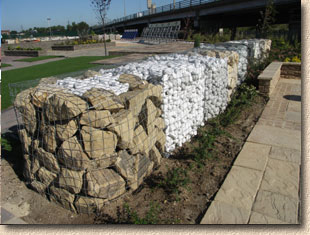 Earlier in this piece, I asked what was different about Paving World and then spent the next 300 words rattling on about its size. But that's not the main difference: what's ground-breakingly different for a manufacturer's paving centre is the will, indeed the desire, by Mick to offer products and materials from other manufacturers. Yes: he's going to concentrate on the products from the various Aggregate Industries imprints for now, so expect to see plenty of StoneFlair, Charcon, Bradstone, Border Stone, et al. but, provided a sensible deal on prices can be agreed, he's hoping to be able to offer flags, blocks, setts and stone from other national and regional suppliers, allowing him to provide the people of Stockton, Middlesbrough, Darlington and farther afield, the most eclectic range of paving and hard-landscaping ever seen on one site.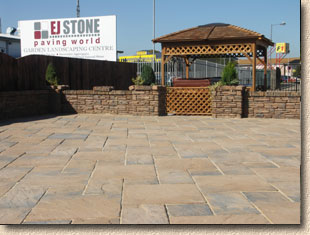 In the medium term, there are plans for similar centres up at Consett and also at Redruth (could you have two more geographically-separated locations in England?) and it's hoped there'll be a review of these as and when they "go live".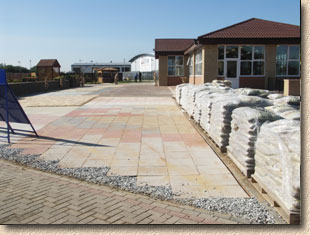 For now, I strongly recommend that anyone in North Yorkshire or the North-east, schedule a visit to Paving World some time in the near future – you won't be disappointed! Nineteenth century Stockton gave us the world's first scheduled railway service: maybe the re-vamped 21st century Stockton will give us the first successful large-scale implementation of a multi-source manufacturer's Paving Centre.