National Trust Collection
In what has to be regarded as something of a coup, Shropshire's Westminster Stone have been granted the licence to manufacture and sell the official National Trust range of paving and decorative aggregates.
The new range has been developed in conjunction with the National Trust and reflects the heritage and tradition of paving and hard-landscaping at many of Britain's best loved properties.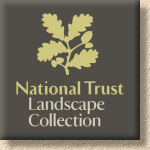 The National Trust Garden Collection as it has been dubbed, was soft-launched last week at The Chelsea Flower but a freak blast of intense sunshine meant the photies I took didn't turn out as well as I had wished. The big official launch will take place at Glee in September and a further two product lines will have been added to the range by then. The Collection also includes a select range of decorative aggregates in 15kg handy bags, and full Bulk Bags.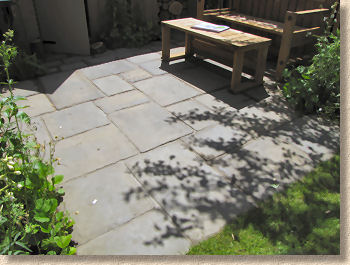 The Collection is to be launched as a totally separate brand to Westminster Stone but the deal allows for them to be acknowledged as the manufacturer on all packaging, leaflets, press releases etc, so it should be a fantastic boost for Westminster Stone too.
At the moment, the range comprises four themed selections:
Cotswold Manor
Country House
Inspired by the famous National Trust gardens at Hidcote and Snowshill. The range is said to reflects the warm mellow tones of traditional Cotswold buildings and the Hidcote Flagstones recreate the character and tradition of Hidcote Manor, coming in 10 compatible sizes based on the 150mm module which can be complemented by Snowshill Shingle , a Cotswold gravel of mellow buffs and weathered greys in 10mm and 20mm sizes.
Offering the grandeur and formality of the nation's finest stately homes, Petworth Flagstone is a reproduction Yorkstone having a smooth worn texture with olive and grey tones in five sizes based on a 450mm gauged width, but capable of being laid in a random layout if desired.
The range is completed by the Tatton Courtyard Cobble which is actually a sett, but since when has the NT been fussy about the correct terminology? The sett comes in 3 sizes and is matched by a Kerbstone in 600mm lengths with a 300mm corner unit. The complementary decorative aggregate is Tatton Shingle a blend of pinks, browns and greys in 10mm, 14mm and 20mm grades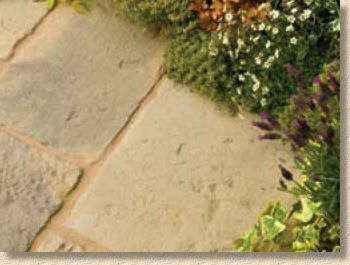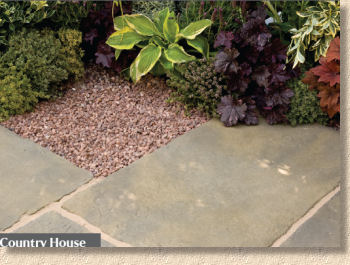 Kitchen Garden
Roman Villa
Designed to reflect the traditions of the working gardens found at several National Trust properties, Barrington Flagstones are intended to be reminiscent of those found within the grounds and kitchen garden at Barrington Court in deepest Somerset. Warm beige brown hues in seven modular sizes and best laid randomly for an authentic traditional feel.
The Brick Paver is relatively large format at 260 x 125 x 40mm, but can be used as an edge course or laid to a basketweave or herringbone pattern for larger areas., and Barrington Shingle has warm tones of gold, cream and ochres.
These designs have been inspired by Romano-British mosaics and paving at National Trust sites across the country. The Chedworth Tile is a 420mm square tiles based on terracotta originals and available in burnt terracotta and ash black, they can be used to create single tone panels or combined to create a variety of patterns.
The Chedworth Triangle is a small triangular paver found in mosaics at Chedworth Roman Villa in Gloucestershire. Available in honey and burnt terracotta, they may be combined with the tiles and edgings to form features and panels. The Tile and Brick Chippings are, as the name suggests, an eco-friendly crushed tile and brick chipping intended to complement the Roman Villa range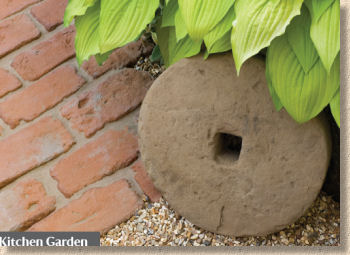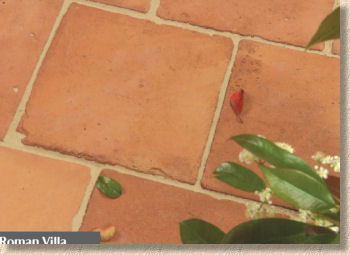 Most of the paving products are available in individual sizes and as 5m² or 10m² project packs.
The website is up-and-running as I type, but there's still some way to go before its completed. Still, it's worth a look, as Westminster's MD, John Clifford, has put an enormous amount of work into winning the deal and then in overseeing the development and production of what are exceptionally high-class reproductions of our national heritage. Back in the depths of Autumn 2010, just before the snows arrived, John could hardly contain his excitement at the prospect of being responsible for such a prestigious project and now, in the balmy days of summer (it's actually lashing it down outside) it's fantastic to see it come to fruition.
The National Trust has shown an enormous amount of trust in allowing their internationally respected brand to be used for a paving collection, but they couldn't have chosen a safer pair of hands or a better master of the moulds than John and the team at Westminster Stone.
Want to know more?