Introduction:
Star Uretech are a formulator, manufacturer and supplier of resin binders and coatings for use in decorative aggregate bonding applications, such as domestic driveways, car parks, hard landscaping and tree-pits.
As an alternative to more traditional forms of surfacing, such as block paving or loose aggregate, decorative surfacing resins are becoming more common in construction due to their low maintenance, hard wearing and highly durable properties, as well as being aesthetically pleasing with near limitless design possibilities.
Decorative Resin Surfacing Systems
Decorative Resin Surfacing is a system in which decorative stones (the aggregates) are stuck to a surface (such as a path or a driveway) using an adhesive (the resin). The completed surface is highly decorative, hard-wearing and provides an alternative to other traditional forms of external surfacing such as asphalt, concrete or block paving.
There are two basic types of decorative resin surface (Bound and Bonded) and each type contains their own sub-categories.
Resin Bound and Resin Bonded:
As a manufacturer Star Uretech find that the terms 'bound' and 'bonded' can lead to confusion for both installers and customers. When dealing with their customers they would usually refer to a bound system as 'trowel applied' and a bonded system as 'coat and scatter'.
Resin Bound:
Trowel Applied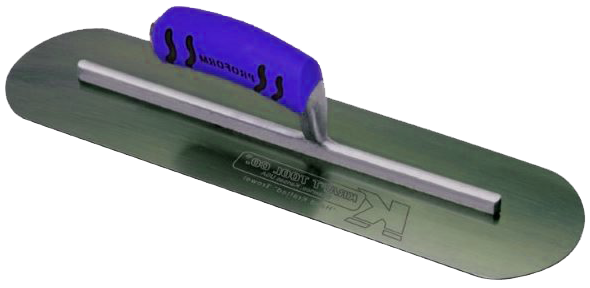 Resin Bonded:
Coat and Scatter
Each system has its pros and cons and these should always be taken into consideration before choosing one system over another or even in deciding that neither system is correct for any specific requirements. The StarScape range of products contains both bound and bonded surfacing resins and this allows Star Uretech to view the systems without bias. Many manufacturers and installers only have access to one system and this may often lead to a "bias specification" and the wrong type of system being used.
Typically, trowel applied (Bound) systems are significantly more expensive than coat-and-scatter (Bonded) systems and as such this leads some suppliers to promote the use of the trowel applied (Bound) products in order to make a greater profit. The reality is that the best specification could be either or neither of these systems. Star Uretech view each installation on its own merits and specify accordingly, even if this means pointing a customer away from our own range of decorative surfacing resins.
Star Uretech help to promote the Pavingexpert website as they believe it gives an unbiased view of all hard landscaping options.

The StarScape Range:
Resin Bound Surfacing: StarScape ULTRA
StarScape ULTRA is a high-performance, UV resistant, 100% aliphatic isocyanate adhesive used for decorative, resin bound aggregate surfacing applications.
Incorporating the latest in polyurethane technology, StarScape ULTRA's aliphatic formulation is unique and ensures a long-lasting installation that will not discolour or
become brittle over time.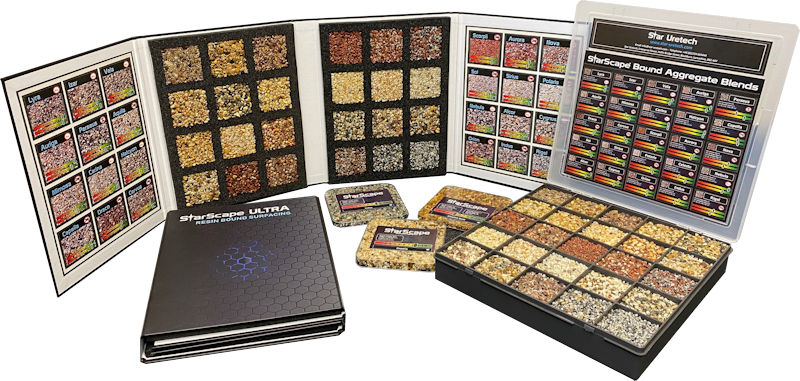 Key benefits of StarScape ULTRA:
High Strength - Excellent bond strength guarantees performance and longevity.
Fully Tested - Hundreds of tests over five years enable us to specify the performance level of specific aggregates and blends.
Moisture tolerance – Nitrogen blanketing & a unique formulation helps protect against whitening or blooming and removes the requirement to test the dew point.
UV Resistant - 100% UV Resistant, non-stabilised, aliphatic formulation ensures surface will not degrade or discolour.
SUDS Compatible - Measured, tested and highly porous aggregate blends allow for incorporation into Sustainable Urban Drainage Systems.
Low Maintenance – Easy to clean and resistant to plant growth.
Weather Resistant – Will not become brittle or crack in freezing temperatures.
Solvent Free - Does not contain any hazardous, flammable solvents.
Low Viscosity - Easy to mix, low viscosity formulation enables simple, easy trowel, error-free application.
Enhanced Deflection - Unique crack-resistant formulation combines the perfect balance of high strength with flexibility.
Chemical Resistant - Resistant to oils, brake fluid, diesel and pesticides.

Resin Bonded Surfacing: StarScape PRO

StarScape PRO is a high-performance adhesive used for decorative, resin bonded aggregate surfacing applications. A completed installation provides a highly durable, attractive alternative to traditional exterior flooring types such as paving, concrete, gravel and bituminous surfaces.
StarScape PRO is a coloured resin which is applied to a base and covered with a decorative aggregate. When cured, the surface is swept to remove any
excess aggregate, resulting in a finish that has the attractive, natural appearance of a loose gravel surface but without the inherent problems associated with loose gravel such as aggregate migration, trapped litter and tyre rutting.

Incorporating the latest in polyurea technology, StarScape PRO's unique, patented formulation ensures a long-lasting installation that will not discolour, delaminate or lose its natural look.
High Strength - Excellent bond strength guarantees performance and longevity.
Approved Aggregates - Tested aggregates ensure strength and a highly aestheticappearance.
Moisture tolerance – Nitrogen blanketing and a unique formulation allows for moisture-tolerant application.
Highways Grade - Passes the Highways Agency scuffing test to Type 1 with an erosion index of zero (0 best, 30 worst).
Low Maintenance – Easy to clean and resistant to plant growth.
Weather Resistant – Will not become brittle or crack in freezing temperatures.
Solvent Free - Does not contain any hazardous, flammable solvents.
Low Viscosity - Easy to mix, low viscosity formulation enables simple, easy trowel, error-free application.
Chemical Resistant - Resistant to oils, brake fluid, diesel and pesticides.
Unlike expensive, two component, polyurethane bonded systems that lose aggregate and become brittle over time, StarScape PRO's unique, patented polyurea formulation provides outstanding performance at a significantly reduced cost.

Expertise, Ethics and RTFM!
Honest marketing & following instructions is key to success.

Mark Almond is the Managing Director of Star Uretech, manufacturer of the StarScape range of decorative resins, and in this comment piece, he considers the importance of honesty when marketing resin systems, customers checking the installers credentials and installers being trained to strictly follow the installation instructions.

As the use of resin bonded and resin bound surfacing has grown enormously over recent years, so has the number of suppliers and installers. This has created a much more competitive market and in such an environment, reputation is paramount, so no-one, not the supplier, not the installer and certainly not the customer, wants a project to go wrong and possibly result in expensive remedial work.

When asked about how customers and installers can avoid problems Mark said,

"The main cause of failures in resin bound surfacing applications are mis-sold products, not following product specific instructions and inadequate specification in order to reduce costs. A resin bound or bonded system is not always the best option in a wide array of hard landscaping products. I urge anyone thinking of having a resin bound or bonded surface installed to check that the installer is either an approved contractor or has training
records from their resin supplier and a history of successful applications. I cannot emphasise enough the importance of applicators being trained in the use of their chosen resin system and following the supplier's instructions.
A resin bound installation should never be specified to accommodate budget. Manufacturers, distributors and installers all have a responsibility to market our products and services honestly. Claims that a resin bound surface overlaid on a non-porous base is SuDS compliant, a 12mm resin application
depth is adequate for vehicular traffic or that alternative systems are inadequate, only serve to damage the reputation of the industry as a whole. Resin bound and bonded surfaces are fantastic, long lasting systems when specified and installed correctly."

With so many installers and resin systems currently on the market it can be difficult to identify the correct options and Mark was asked how customers can avoid any pitfalls.

"There are several types of resin systems available and to ensure that an installer is using a suitable system, customers should always request that the installer provides them with the resins technical data sheet. This document will confirm if the product is 100% aliphatic, its minimum application depth, the type of substrate on which the resin has been developed for use and also what are suitable installation conditions.
Some cheaper aromatic systems will yellow and discolour, are liable to cracking and may only last for a few years and these should not be confused with aliphatic products.
If you have any doubts at all then simply ask the installer which resin, they use and contact the manufacturer. They will be able to confirm both the suitability of the resin and claims of the installer.

Aggregate selection is also of vital importance and I would only recommend the use of speciality aggregates supplied by the resin manufacturer or a trusted decorative aggregate supplier such as Long Rake Spar. "

Mark continued,

"As with any industry, there are both good and bad manufacturers, suppliers and installers. Manufacturers such as Star Uretech are always happy to answer any questions regarding both the quality and suitability of products. Whilst resin manufacturers cannot control the supply-chain, they do have a responsibility to ensure their products are marketed correctly.
Our website features a 'Resin Bound Knowledge Base' which contains everything from deciding if a resin bound system is correct for specific installations to the more technical aspects such as the chemistry behind resin systems."

In conclusion, before anyone commits to a decorative resin installation, they should ensure that the installer is using a suitable product (ask to see the products technical data sheet) and that the installer has been trained in the use of the product by the manufacturer or distributor (ask to see their training records).

Star Uretech - Our credentials
One of the first UK companies to receive 'Good Business Charter' accreditation.
Star Uretech are the first (and still only) resin supplier to commit to being a living wage employer.
We continue to make significant investment in product development and embrace new technologies.
We listen to our customers & utilise their experience and knowledge to develop our products.
Founder members of the FeRFA technical committee & award winners.
First company to develop and patent polyaspartic technology in the resin surfacing industry.
Our green credentials include environmental innovation award winning products.

We provide honest, reliable technical support with an emphasis on promoting the right product for the right job, even if this is not one of our own products.

Star Uretech have been formulating and manufacturing surfacing resins for over 20 years and our team includes several of the UK's leading polyurethane chemists and experienced installers.
In 2015 Star Uretech was taken over by a new management team that decided the current UK resin surfacing market and products needed dramatic improvements if they were to continue to grow. Our chemists formulate all of our own products in our purpose-built laboratory which are then manufactured and distributed from our production and warehousing facility in Lancashire. Our in-house testing facility enables us to provide
unmatched product testing, performance data and a guarantee that our products are of the very highest quality.

Further resources:
Further information on surfacing products and services from
Star Uretech
are available from their website
Tel: 01254 663444