Brett Approved Installer Awards 2017
In what has to be regarded as a fair attempt to level the playing field, the big National event of last Friday was preceded by three smaller regional events for the South-east, the South-west and the North & Midlands, where, it was hoped, contractors were competing with their equals, at least in terms of potential jobs. At each regional event, attending BAI members voted for their choice for best jobs, with the top five in each of four categories (big/little patio, big/little driveway) going forward to the National Final, as well as being given a regional award.
No disrespect to those ancillary exhibitors, but the big attraction was the new products, and, in particular, a completely new Porcelain range that's been saddled with the cumbersome title of Geo-Ceramica , alternatively pronounced with a hard or soft 'c' depending on who's talking.
I'm sure Brett won't mind me saying this is their BIG idea for 2017 and beyond. In essence, it's a 10mm porcelain tile or flag or whatever you want to call it, factory bonded to a high-permeability concrete-ish base. "Why?" I hear you cry, and understandably so. Why take a porcelain tile/flag and over-complicate it? Why take a product that, at 20mm thick, is already unnecessarily over-engineered (believe me, 10mm is plenty for porcelain: it's a lot tougher than you think!) and ramp it up to a chunky 40mm thick? Or 60mm thick for the driveway-suitable versions?
The answer is simple: it's to make life easier for us contractors! I know, I know: how is a chunkier flag making our daily grind that much less onerous? Well, it's all to do with the way we lay porcelain, or, more precisely, the way we *are supposed* to lay porcelain paving. It's all that carry-on with a primer and laying onto a full bed of wet mortar. Too many installers (and remember, this includes landscapers, builders, DIYers and so-called handymen, not just paving professionals) are either failing to understand the importance of a primer and the correct bed or, more likely, they just can't be arsed.
While the ability to lay on bound or unbound bedding has to be seen as an advantage, and the fact that the very same 'tile' can be had as an indoor-spec 10mm thickness without the fancy concrete-ish base, is all this enough of a bonus to give Brett a healthy slice of the porcelain pie? Well, the sizes, colours and textures will have a role to play in determining the success, but, ultimately, it will come down to cost. Geo-Ceramica has to be competitive, which means it can't cost more per square metre than it would for a 'standard' porcelain with the primer, otherwise installers will vote with their wallets.
But let's not allow Geo-Ceramica to dazzle us with its potential. There were lots of other new candidates on show, and while some are just damned-sure-fire winners (such as the tumbled Vintage Kerb) and should be in production now, if not sooner, others face more of a challenge to be taken seriously.
It would be beyond surprising if every new candidate product Brett (or any other manufacturer) put forward subsequently proved to be a winner. The whole point of showing these products to the likes of contractors, designers and specifiers, is to better assess the feeling within the market, to gain invaluable feedback (many of us were quizzed on our thoughts) and so make a more informed decision before investing heaps of money in new production lines and marketing.
Some of these candidates will firmly establish themselves; some will struggle; and some will fall by the wayside, but such is the nature of product development. If only we could be sure of everything that initially seems like a good ideaÂ….weÂ'd all be millionaires!
So, with the regional events wrapped up, a month later the top five projects in each of the four categories are automatically qualified for the Grand Final at the national event, where, once again, contractors are asked to vote for their favourite projects, and it is this vote that will determine the winners of the four project categories.
What is noticeable at the 2017 National Event is the reduced numbers attending. This has been a conscious decision to invite those contractors who have shown loyalty to the brand and, more importantly, stood by the BAI principles through what has been a very difficult year.
And the event really benefited by having a more focussed, supportive and committed audience. The number of rowdy only-here-for-the-beer morons was dramatically reduced, and the interest in the awards was distinctly heightened, as everyone knew it was their vote determining who won the project awards.
I do feel this was a bit too pared down. I appreciate that nearly everyone is achingly familiar with these stalwart sponsors, but even so, having a few 'props' to hand is a great way to trigger conversation and to foster deeper relationships. This needs a re-think, Calvin.
For me, the fact that the BAI awards have always been decided by an independent panel has been essential for my involvement. I don't really want to be part of an awards scheme that doles out accolades to 'pet' contractors or for projects which used a product the manufacturer wants to promote, and, in the 10 years I've been doing this, never once has anyone from Brett pushed me in a particular direction, whether it be towards a contractor or a product. Every year it's been a case of ' Here are portfolios of 60-80 jobs for you to wade through and pick the ones you feel are better than the rest '. Nothing more; nothing less.
BAI Award Winners 2017
Project Awards:
Pavingexpert Awards for Technical Merit
"For demonstration of wide-ranging hard-landscaping skills and exceptional design"
"For exceptional inboard cutting-in on arcs and curves with no crossed joints"
"For showing drainage connection and use of dust-suppressed cutting kit"
Other Awards:
Contractors of the Year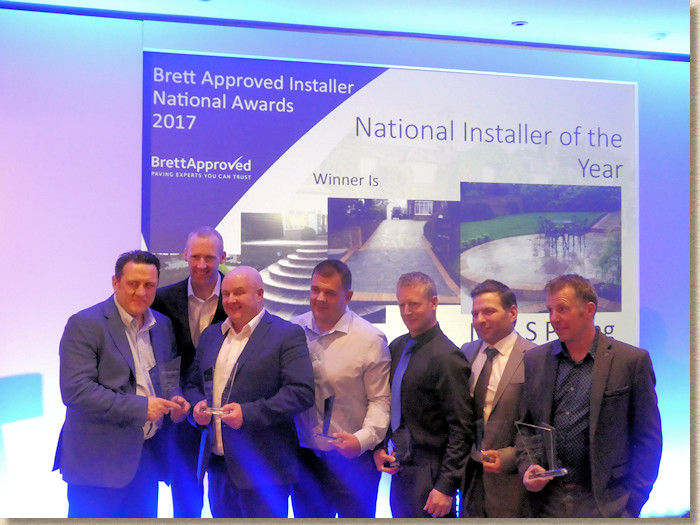 As the excitement died down, Calvin announced that, tonight, everyone would be a winner, and prizes were to be given out based on the number given on a lightweight 'block' selected by all attendees earlier in the day. These ranged from Easter Eggs to pairs of top-notch work-boots, site tools, and free BAI membership for 12 months right up to luxury weekends away at swanky hotels, and rounds of golf at the aforesaid Belfry course. I managed to head back to our very comfortable room with a stonking great industrial extension lead and a bumper pack of smelly candles.
I'm sure there must have been some nervousness at Brett Towers before the event. Trimming the guest list, re-organising the scheduling, even moving the venue up to the northern wastes of Warwickshire all represent a risk, but, on balance, it worked. In fact, it more than worked, it went tremendously well. Feedback from attending contractors has been overwhelmingly positive and there is a greater acknowledgement that an award from the BAI really does put you at the top of our trade.
Hopefully, Lisa will continue to recover, the scheme will regain its impetus, new members will be recruited, and 2018 will prove to be an even better year for everyone. There is a sense that this is all heading in the right direction. The focus for BAI continues to be quality of installation and not quantity of installers. As Calvin says, it's better to have 200 top-class, professional, committed installers than 600 badge-collectors interested only in bigging themselves up by trading under the name of nationally recognised brand. I'm with him: give me quality over quantity any day!