Natural Stone Show 2011
The biggest event for the British and Irish stone industry is holding its 9th biennial outing at that London's ExCeL from 15-17 March 2011.
The press release blurb, in the usual overenthusiastic tone states:

"Set within a stunning waterfront environment in the dynamic and thriving Docklands (a big shed on the banks of the Thames) , just a stone's throw away from Canary Wharf (that's an Olympic Spear Chucker's throw, not one that we mere mortals could manage) , ExCeL offers a world class facility for visitors and exhibitors alike (it's big and it's got a coffe bar) . The recent completion of its £165 million phase 2 expansion, new on-site hotels and significantly enhanced transport links all underline the level of investment going into this part of London as it gears up for the 2012 Olympic games." (Still a pain to get to from anywhere north of Luton, though!)
There's no denying that the market for natural stone has boomed over the past decade, as everything from back garden patios to major city centres have been paved using an enormous selection of stone from every conceivable corner of the world. Although our interest is in its use as a hard-landscaping material, you can't fail to notice its use as a general building material, as well as everything from headstones to kitchen worktops. Even the ultra-conservative market for conservation and restoration has been affected by this now global market: when one of our capital cities finds it cheaper to ship stone to re-pave its streets halfway around the world than from a quarry 12 miles outside town, you know we're talking globalisation!
Apparently, this is the 17th year for the show (but as it's only held every other year, it's show number 9) and since the demise of lesser events, it is now the only UK bash for natural stone and its associated trades. Accordingly, it is the major day out for everyone involved in design, specification, installation, maintenance or ancillary services.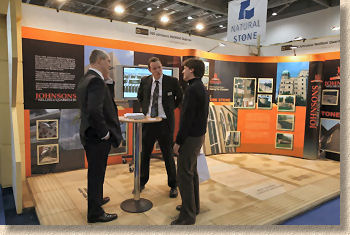 As ever, there will be a huge range of stone on show. This time, we are promised granite, marble, limestone, sandstone, slate and travertine (but don't let that put you off) and it will be in a multitude of formats including hard landscaping, internal flooring, cladding, kitchens, bathrooms, roofing, fireplaces, memorials and even sculptures. There will also be the full gamut of accessories including fixing systems, sealants, adhesives, cleaning, materials, stone working machinery, and hand tools.
There is also a full conference programme running for all three days.
Tuesday 15th March is Architects' Day. RIBA, Marmomacc Veronafiere and The Architects' Journal will

"explore the challenges facing architects and designers in fulfilling sustainability criteria when building and specifying with stone".

Wednesday 16th March is said to be an Industry Day. Stone Federation Great Britain will present their RIBA CPD accredited Stone in the City seminar providing an overview on the use of stone from the selection process to the finished project and giving an insight into the trends and analysis of the UK stone market.
The final day, Thursday March 17th, is St. Pat's Day but is also dedicated to stone conservation and will be overseen by English Heritage and their affiliated organisations.
And as if that isn't enough, there are live demonstrations and a Stone Federation Village.
If you are serious about stone, or in anyway involved in its use, this is probably the show for you. Make a note in your diaries:
Natural Stone Show # 15-17 March 2011 # That London
For more information on the Natural Stone Show visit www.stoneshow.co.uk or telephone +44 (0) 115 945 3889