Stonemarket 2006 - Brochure Review
First of the new crop of brochures for 2006 is the Stonemarket offering. At first glance all is much as would be expected: the cover features the familiar Stonemarket logo along with a classy-looking photo that is very much garden-orientated, even more so than usual, with the paving taking up less than a quarter of the image. In fact; if it wasn't for the 'Quality Garden landscape Products' legend beneath the Stonemarket logo, you could be forgiven for not realising this is actually a paving catalogue.
The Contents list on page 3 divided the catalogue into three sections: pages 4 to 61 feature "Handmade Reconstituted Stone" which is more commonly pronounced as "concrete"; pages 62 to 103 are devoted to Natural stone products; and the final section from page 104 through to page 122 contains the technical info, although this has been entitled "How to Create your Beautiful Garden". There's a strong smell of marketing-speak here. First of all, creating a beautiful garden involves a damn sight more than choosing the hard-landscaping. And secondly; Reconstituted Stone? I can't help feeling that this is a term with one purpose: deception. Stonemarket make concrete products. They are very good concrete products, and there's nowt wrong with concrete, but by claiming they are "reconstituted stone", I can't stem the suspicion that this term has been specifically chosen to mislead and to bamboozle the general public, the vast majority of whom would not be aware that "reconstituted stone" is bollocks-speak for what the rest of us refer to as "concrete".
Putting aside my cynicism and lifelong distrust of marketing, what about the actual brochure and the products? The contents page helpfully highlights eleven new products, although many of these are actually additions to existing ranges. A good example of this is found in the 16 pages given over to the flagship "Millstone" range of reproduction riven-effect flagstones, which is the product that really made Stonemarket's name. Only one new product, the fish-motif feature that was shown at Glee back in September , but then the Millstone range is about as comprehensive as it needs to be, embracing as it does flagstones and walling in three base colours, and twenty-odd different sizes in the flagstones alone.
The "Radius Koi ™ Mosaic" is quite attractive, but I'm not sure how many will actually be installed by regular contractors over the coming year. It's a special feature that will appeal to special clients with special tastes. It's a stylish new application of colour and texture, and does represent a new line of thinking for the wet-cast industry, but I can't see it taking the country by storm. However, the rest of the Millstone range remains one of the best wet-cast products in the world, and the photos in this year's catalogue show off the possibilities to best effect.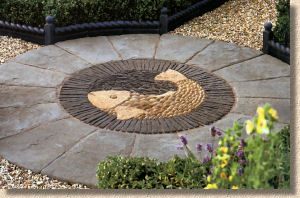 The all-new "Concept ™" range takes this idea of high-relief casting and develops it into a complete range of feature paving. This product won me over when I saw it at Glee, so much so that I gave it the Best New Product Award. It's been tweaked a bit since then: the colours seem more mature and they've unveiled the Ammonite texture that wasn't shown at the NEC.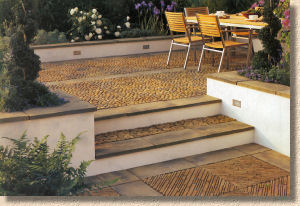 I can see this type of product being popular amongst the patio-buying public in the coming years. It has versatility and originality. I'm not so sure about the Ammonite form – that may be just a tad too twee for many tastes – but the other forms, and the general principal, are certain winners. The design guide on pages 106-107 illustrate a few of the simpler layouts, but this is one of those products that will have many designers dizzy with ideas. It can be mixed and matched with other Concept™ elements, with other Stonemarket products, and (dare I say it) with products from other sources to create original and distinctive designs.
No need to dwell too long on the new colour option for the basic "Yorkstone" range. Weathered Ochre (where do they get these names?) is a sort of mid-point between the standard York buff and the browny-yellowy-plum that revels in the soubriquet of Weathered Bronze. If I had to describe it in standard English terms understandable to your average Earthling, I suppose the best I could manage would be to says it's an orangey-yellow brown with browny plum bits. Clear? I didn't think so! Nip down to a local stockists for a close encounter of your own.
The second new product range is the Rio™ Paving , the sinuous, curvy paving that attracted so much attention at Glee. Back then, I had difficulty visualising a use for it, but came to the conclusion that it would be at its best used within a terraced scheme, and that's just what's shown in the page-and-a-bit photo on pages 42-43. Although subsequent pages illustrate alternative designs, where it's contrasted with the charcoal "Storm" colour option, it really is in its element as a step within a terrace. The Storm colour wasn't shown at Glee, but I think it is a positive addition to the neutral tones offered by the Sand and Shell colours. The USP (Unique Selling Point – more market-speak) of this product is its sinuous form, and it really did need a strong contrast to emphasise this. The charcoal option does this wonderfully well.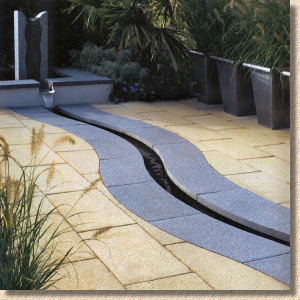 Terrascina (the obligatory Terracotta tile product) isn't really my taste at all, but they've added 150mm squares in both Country Red™ (rusty red) and Olde London™ (dark graphite grey) for those of you daft enough to want to reproduce the Tosser de Mar in wintry Wigan.
Moving on to Driveway products, Stonemarket have elected to plough a separate furrow from that of their overlords in Halifax and to that end they've produced a genuinely original Stonemarket paver block that isn't simply a colour variation of a certain other well-known product. The Drivestone® Paviors are a three-size tumbled block with two differently textured faces: smooth (as in yer typical tumbled block) and "rippled", which has a distinctive riven effect a la Excel from Messrs Marshalls. The blocks are only available in the 50mm thickness, which is perfectly adequate for the vast majority of driveways, and surprise, surprise: it comes in 120/160/240 x 160mm plan sizes. Four colour schemes are available, see if you can figure out what they are from these names: Honey, Mill, Orchard™ and Bronze.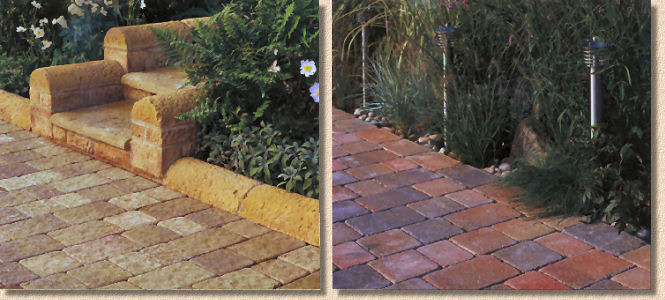 Rippled (left) and Smooth (right) Drivestone® Paviors
Overall, this is an intriguing product with good potential, but the market for tumbled blocks is super-saturated just now so you have to be able to offer the end-user a damned good price. The feedback I've had from stockists suggests that these will be slightly more expensive than the usual 50mm tumbled blocks. It's a cut-throat market at the moment and there's more and more manufacturers, both British and overseas-based, putting product into the market. I can't help worrying that these Drivestone™ Paviors may struggle to carve a niche for themselves in what is an extremely competitive business.
To complement the Drivestone™ Paviors, Stonemarket have also introduced "Pavilion®" , a 50mm deep six-sizes-in-one-pack block with one "distressed" face. While the six sizes are welcome, having a fixed ratio will not suit every contractor. Three sample layouts are provided: a 200mm wide coursework, a mixed 100/200mm wide coursework and an allegedly random layout, but if edge courses are required and constructed using the same block, this could bugger-up the best laid plans. This block range will be available in three cryptically named colour options, Bracken, Burnt Ochre and Ember, and as with their siblings in the Drivestone™ range, success will largely be determined by cost. With severe over-capacity on the continent, several European manufacturers are eyeing the British market as a potential outlet for their products, and a multi-size tumbled product is seen as the potentially most profitable line. Will Stonemarket with their heritage in wet-cast be up to the challenge?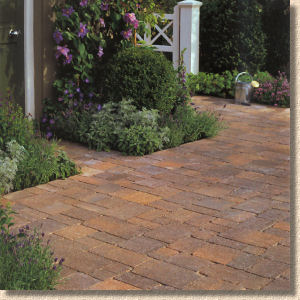 That's your lot for the concrete....oops! I mean the "Reconstituted Stone" products. Over now to the unreconstituted stone (or should that be "constituted stone""?) Four new products to look at according to the Contents page, although two of these are actually Decorative Aggregates rather than hard paving.
The Vintage Stone products were launched in 2004 and the subtle texturing technique (Stonemarket still cling to the naïve belief that it is a secret process!) proved to be exceedingly popular, turning an overly-familiar Indian sandstone into summat with a real look of age and character, and increasing the profit margin in the process. For 2006, Stonemarket have applied the hardly-secret texturing process to the 5-size Indian limestone previously sold under their Cotsdale brand. The result is actually a very attractive looking fine-textured flagstone with a hint of Portland stone about it. I'm not sure how it will wear: in theory, any abrasion should help maintain its looks, and there's not that much wear on a patio under normal condition. I'd be reluctant to use it on a driveway - I reckon the light colouring would show up each and every tyre mark – but I'd be interested to hear from anyone brave enough to give it a go.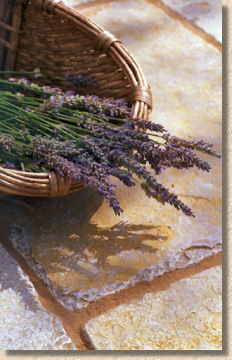 The other new stone product is an extension to the Arctic™ Granite range. 2005 saw just two colour options: Glacier (light silver grey) and Dusk (dark grey). Both are flame-textured and offer a basic 'classic chic' palette that has become increasingly popular since the turn of the millennium.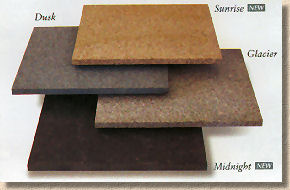 The decision to add two new tones to this palette is more than welcome, as it broadens the design possibilities and offers tonal compatibility with a wider range of properties. In keeping with the existing polar nomenclature, the new creamy offering has been dubbed "Sunrise" while "Midnight" is a much darker, midnightier deep grey, verging on black. A light with a dark colour is the classic combination, but I could make a case for combining the intense Midnight shade with the paler grey of Dusk, although I suspect such a design would need a few touches of either the Sunrise or the Glacier to keep it from being overly sombre.
For the sake of completeness, a mention for the new Decorative Aggregates. Pacific Paddlestones are flat, stepping-stone sized pieces of schist (a metamorphic rock with a distinctly laminar nature, somewhat like slate or shale). The same rock is available as rounded cobbles 75-150mm in size. Finally, a deep-black polished pebble, 20-40mm in size has also been added to the eclectic range of aggregates.
The Technical Info section is largely given over to layout designs for the various products, while laying advice is limited to just a couple of text-only pages. It's refreshing to see the nonsense regarding spot-bedding as a suitable laying technique that blighted previous editions of the Stonemarket brochure has been dumped, at long last. I do hope my constant whingeing about this frankly amateur and unacceptable method played some part in the decision to purge it from the pages of what is generally sound, if limited, advice. However, what remains is sparse, and while this may suit many contractors, it may well result in a higher number of calls to the Stonemarket Helpline from concerned and unskilled DIYers. A link to a genuinely useful website for detailed laying advice, or even the provision of online downloadable PDFs would be a boon. While appreciating that limitation of space may have precluded fuller information, and accepting that Stonemarket are manufacturers rather than installation experts, many customers and stockists will be expecting considerably more than the very basic information provided.
Also, I notice there's no mention of efflorescence - perhaps it doesn't affect "reconstituted stone"!
So: to sum up. Yet again, for the umpteenth year in succession, Stonemarket have produced a brochure that is elegant, attractive, packed with drop-dead-gorgeous photos and, for the most part, sensible, useful text. The full-page images are deliciously conceived, immaculately constructed and lovingly photographed. There are no silly grinning models spoiling the view, no overt lifestyle statements. They are just the type of images needed to sell an idea to a client. Yes: they are staged and idealised, and not many of us will ever have a garden or a patio such as these, but the intention is to show possibilities, not to prescribe design.
Just one word of concern regarding the colouring: it may just be the copy I received, but there's a cold, bluey cast to many of the images that makes me want to run them through PhotoShop to warm them up a touch. However, the photos are of such a high standard that even this hardly detracts from them.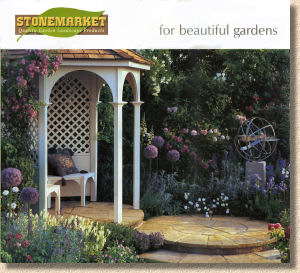 Landscapers simply must get a copy of this superb brochure if they have any intention of offering their clients a genuine service this coming season. Many paving contractors would also be well-advised to add a copy to their collection, if only to see just what is possible with wet-cast. You can be sure that any sensible style-conscious homeowner considering a new patio or garden for 2006 will be flicking through this brochure and folding down the corners of more than a couple of pages.