Introduction:
Over the years we've seen all sorts of alleged solutions to the age-old problem of how to accommodate trees within an urban landscape. The simplest featured nothing more than a 'hole' in whatever paving was being used. If the budget could stretch that far, there might even be an edging kerb separating the 'dirt' left around the tree trunk (you couldn't really refer to it as 'soil') from the paving or surfacing.
The key issue is that the tree roots need air and moisture, and most paving forms a reasonably effective barrier to air and moisture. In previous years, designers have relied on various types of grille systems, ranging from basic Kennedy Grating to highly decorative structures of various fancy geometric shapes. No matter how detailed the grille pattern, no matter what metal is used, with whichever impressive finish, they all collect fag ends and dog crap and start to look scruffy within weeks.
Additionally, in these straitened economic times, metal grilles are all too often "acquired" by the local bandits to be weighed-in for scrap value.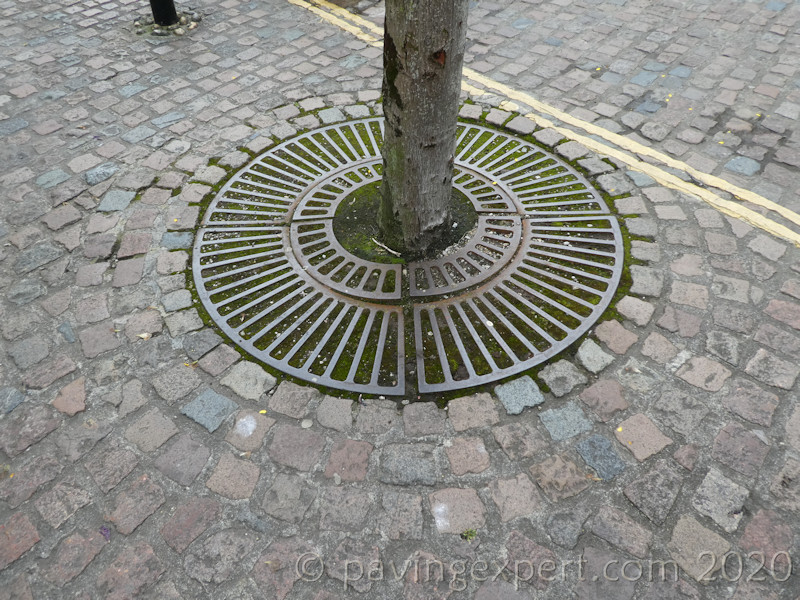 While all those fancy grilles and gratings were collecting their minimum allocation of fag ends, developments with resin technology were moving on apace. Once the industry had mastered the knack of creating reliable, load-bearing resin bound surfacing, it was but a small step for the technologists to tweak the recipe to give us permeable resin bound systems, surfacing that offered all the benefits of resin-bound paving with the added bonus of being able to facilitate that essential moisture and gas exchange between the atmosphere (above the surface) and the tree roots (below the surface). So, now we have a paving system that provides a firm and stable surface, that doesn't collect litter, but does allow the tree to survive in what should be an alien environment: the urban streetscape.
World-leading specialists in resin bound paving and surfacing, SureSet , have developed a specialised permeable Tree Pit Surfacxing System that's ideal for such applications.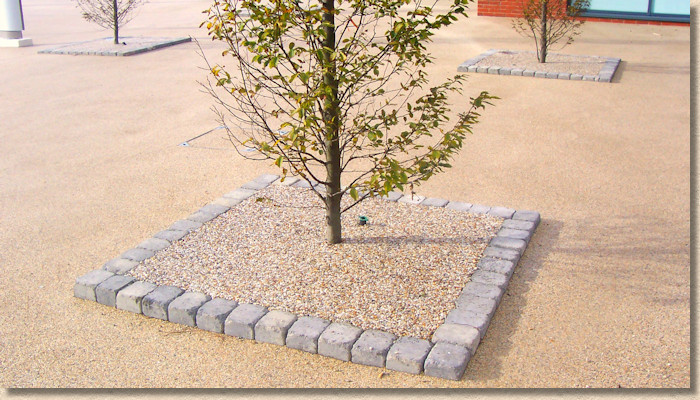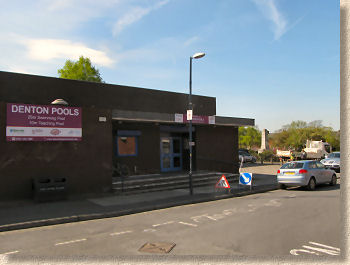 An opportunity to experience just how simple and effective this type of system can be arose when Tameside MBC , responsible for the eastern side of the Manchester conurbation, planted two young trees into an established paved area at the side of the local swimming baths known as Denton Pool.
The trees were set into specially created pits within an area of concrete flag paving, with flags being cut and trimmed as necessary to create a surface opening of roughly 1200mm x 900mm. The trees were given several weeks to settle-in, ensuring that they adopted to their new home and put out a full leaf canopy by mid-spring. This 'acclimatisation period' also allowed the specially selected rootzone material used to backfill the pit to fully settle. The final 100mm of backfill comprises a free-draining 6mm to 20mm clean gravel. On this project, a 10mm clean hardstone chipping was used.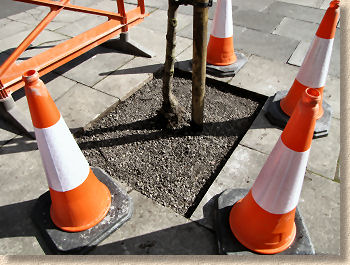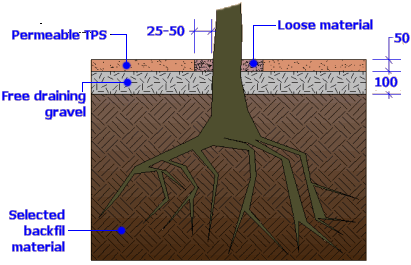 The System:
A proprietary Permeable Tree Pit System (TPS) was selected as it provides numerous advantages:
UV stable non-yellowing resin
Attractive natural aggregate appearance
Highly porous allowing tree to feed
Recycled aggregates available
Anti-slip surface dressing increases safety
Unaffected by water
Eliminates hazardous glass, needles and dog waste
Range of aggregate colours and mixes available
Does not require a solid base
Semi-rigid, allowing some flexing of the surfacing when cured
Achieves high

SRV

(typically >65)
Achieves pedestrian grade load bearing capability with just 50mm depth
Resin component comes pre-batched to suit 100kg mixes
Rapid setting resin allows pavement to be opened in just six hours
Highly permeable semi-flexible paving for planted areas
SuDS compliant
An elegant alternative, the benefits of a SureSet resin bound tree pit include:
A smooth surface, easy for street cleaning machines to pass over
Very low maintenance
Accessible finish
Flexible enough to be laid around mature trees with exposed roots.
SureSet permeable paving offers tree pit solutions in both Supply and Lay and Supply Only options.
SureSet offer the ideal surfacing option for Tree Pits with the FlexiSet® system which is explord more fully on a separate page
SureSet permeable resin bound paving is made from natural aggregate, marble or recycled materials and clear UV stable resin; delivering a smooth, sophisticated surface.
SureSet FlexiSet® is made from 50% recycled rubber, 50% 6mm natural aggregate and clear UV stable resin. Delivering a natural, rustic finish FlexiSet can be installed directly on to type 3 aggregate (or in some cases directly on to a membrane) making it ideal for woodland trails, golf courses, jogging paths, cycle tracks, equestrian centres, drainage channels, roof gardens, and of course - tree pits.
Health and Safety:
As with all resin based products, basic safety measures should be followed while working with this product.
Any bare skin should be covered-up and gloves should be used to protect the hands, and operatives may wish to wear protective eyewear while mixing the aggregate and/or spreading the coated material.
It is not necessary to wear face masks while working in the open, but operatives should avoid directly breathing any vapour arising from the resins.
The Aggregate:
The Permeable TPS selected offers a wide range of suitable aggregates, each chosen as much for their good looks as their durability and load-bearing capability.
While some budget suppliers and penny-pinching contractors will use almost any clean aggregate from 6 to 20mm, the proprietary systems have typically been tested for compatibility to ensure they do not crush too easily, that the aggregate is dry (moisture can adversely affect the resin binder), that it is not heavily covered in dust (which would compromise the resin's ability to bond to the actual stone), and that it will not degrade when exposed to environmental stresses, such as regular inundation by surface water.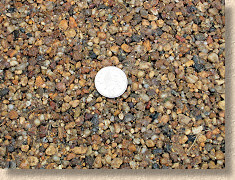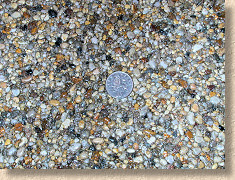 Suitable aggregates come in a good selection of colour options
The Resin:
The resin used as a binder is a two-part system; essentially Part A which is a glue and Part B, which is the hardener. The two components come separately packed, pre-weighed and precisely batched to provide the ideal quantity of binder for a specific quantity of aggregate.
This case study features just two relatively small tree pits and it was estimated that no more than 250kg of resin-bound material would be required. When the restricted working space was considered, along with the relatively small amount of surfacing material, it was decided to use a small 25kg capacity forced action mixer rather than the 100kg+ pan mixer that is typically used when working with resin bound systems.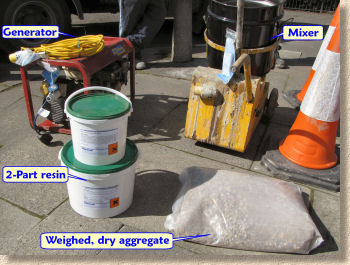 Preparing the resin:
The resin from Part A is added to the hardener from Part B and they are stirred together for approximately 2 minutes or until it becomes apparent that the two components are thoroughly mixed, with no streaking or banding visible. This is best done with a paddle-type stirrer fitted to an electric drill. When combined, Part A and Part B provide sufficient resin to coat 100kg of selected aggregate.
Mixing the material:
The selected aggregate is added to the mixer. By using pre-weighed, pre-packed approved aggregates, it's not necessary for the operatives to weigh the aggregate before placing it into the mixer. The combined resin packs provide sufficient binder to coat 100kg of selected aggregate, which could be 4 bags @ 25kg or 5 bags @ 20kg.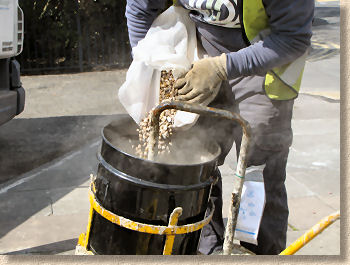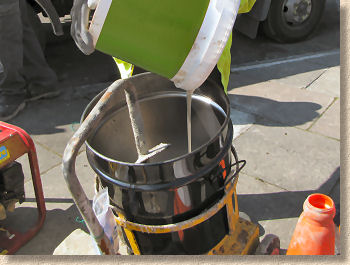 Once the aggregate is in the mixer, the resin prepared previously is added, scraping it out of the bucket to ensure that all of the resin is used.
The length of time required to mix the resin with the aggregate depends largely on the type of mixer being used, but, generally speaking, mixing takes approximately 3 minutes per batch. The important point is to ensure that ALL of the aggregate is thoroughly and completed coated by the resin before discharging it to the laying area.
Preparing the laying area:
The selected Permeable TPS does not require a base, but should be laid onto an even, stable and litter-free substrate of free draining clean gravel, at least 100mm thick. It's a good idea to compact this sub-base using a vibrating plate compactor or punnel before placing the resin, and to remove any loose material, litter or other deleterious matter.
The resins will set faster in warmer weather and slower in cooler temperatures, and the system is not recommended for use at temperatures lower than 5°C or over frozen ground.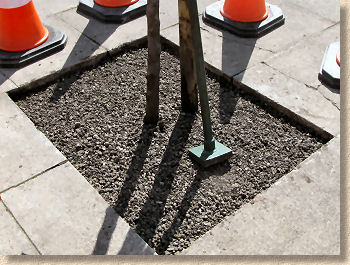 The resin surfacing should be laid to a thickness of approximately 50mm to ensure structural integrity and an ability to cope with pedestrian and occasional light-vehicle overrun. While there is no real problem in laying the material to a depth greater than 50mm, coverage per pack will be reduced and the installed cost per square metre will increase.
Spreading the material:
Once the resin and aggregate is thoroughly mixed, it should be immediately transferred to where it is to be laid. Remember that although there should be at least 20 minutes working time, the material will start to harden as soon as the two resin components are mixed together, so it's important to get the surfacing in place, spread and levelled as quickly as reasonably possible.
The mixed material is emptied from the mixer or a transfer container (such as an old bucket) directly onto the prepared substrate. On larger areas, the coated aggregate can be spread using an asphalt rake or a lute and then levelled using a bull float. For smaller areas, such as these tree pits, it's easier to rely on the float to push around the material and then smooth it to the required level with a sweeping arc movement, much like working fresh concrete.
The resin-bound material does not need compacting: it settles under its own weight and hardens quite quickly. Some operatives like to lightly compact the material by patting down with the float but this is not strictly necessary.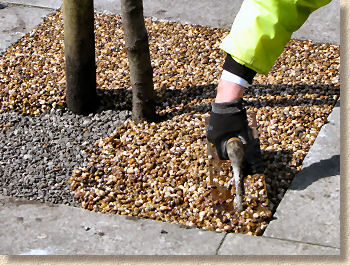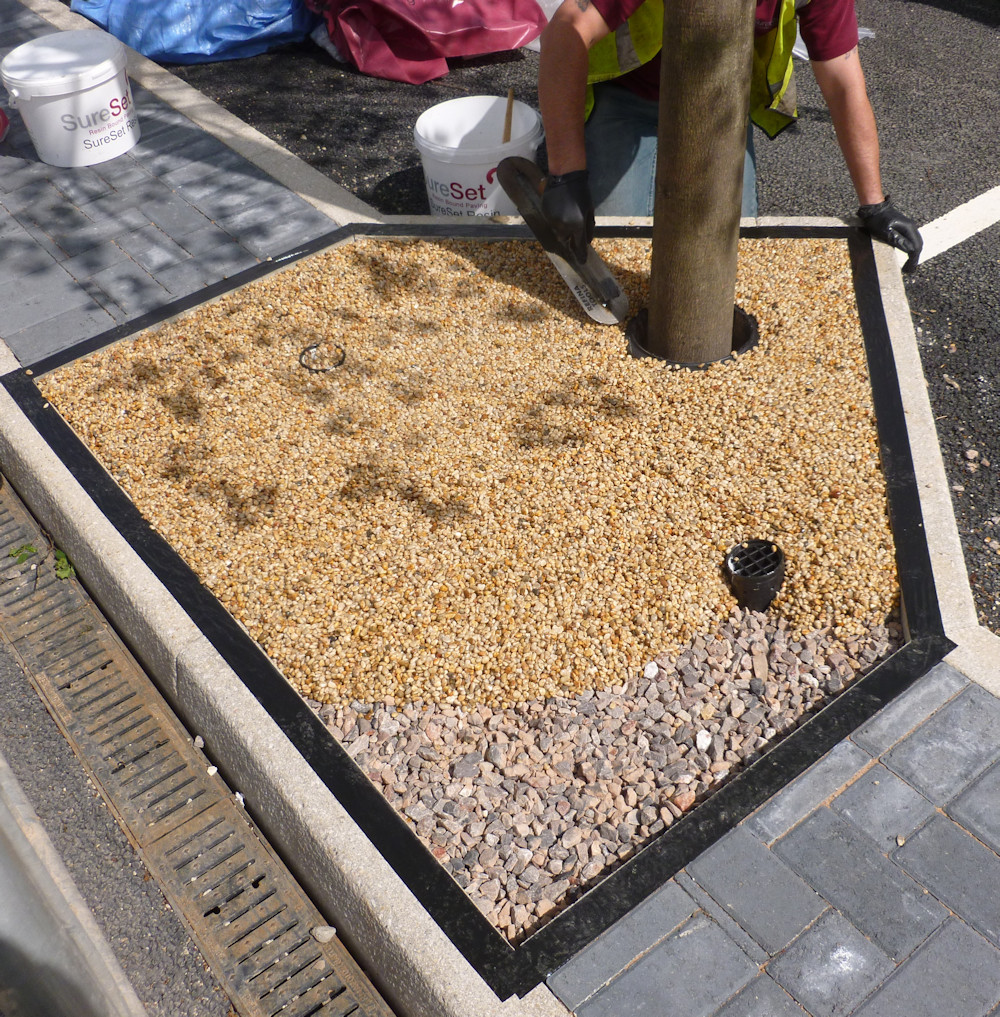 Growing Room:
Trees are living growing organisms, and as such it's important to ensure that space is provided for the tree to expand into as it continues its growth. Placing a semi-rigid surfacing material right up to the trunk of a tree not only impedes the natural growth, but is likely to result in the surfacing becoming rumpled or cracked as the tree forces itself against the surfacing over a period of years.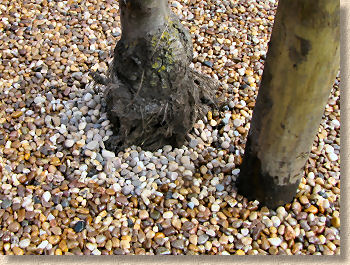 It is recommended that a 'collar' or 'funnel' of growing room roughly 25-50mm in width is formed around the trunk by simply omitting resin coated aggregate and filling the space with loose, uncoated aggregate, which gives the appearance of taking the surfacing right up to the truck, and eliminates any gap that would collect litter, while affording the tree unrestricted growth in trunk diameter.
Finishing Off:
Once an area has been covered with the bound material, a special 'traction grit', similar to a fine silver sand, is sprinkled over the surface while the resin is still tacky. The rate of coverage is very light, around 100g per square metre, and because the grit is relatively fine and neutral in colour, it is barely noticeable once the resin has hardened. However, its effect on slip resistance is significant and therefore its use should be regarded as an essential final step in the laying process.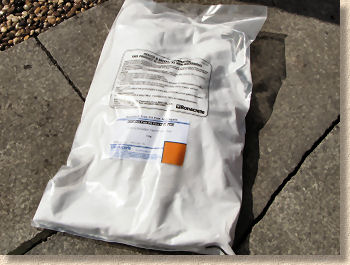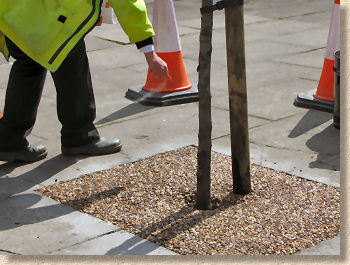 The hardening time for the resin bound material is dependent on ambient temperature: faster on warm summer days, and slower on cooler winter days. However, as a rough guide, on a typical day during Spring or Autumn, the resin should remain workable for 20-30 minutes and will be hardened sufficiently to support pedestrian traffic in 4-6 hours.
It is recommended that newly surfaced areas are protected from pedestrians (and any other "traffic") for the first 6 hours, using barrier fencing, cones or whatever is deemed necessary for any particular site.
Cleaning tools:
The mixed resin is a high-strength product and once hardened will be impossible to remove from tools, and so it is recommended that floats, trowels, rakes or lutes that are used to spread and level the coated material are regularly cleaned during the working process to prevent excessive build-up of hardened or semi-hardened resin.
Tools should be wiped clean using an acetone soaked rag. Operatives should wear appropriate gloves when cleaning with acetone and follow the health and safety directions given by the manufacturer.
Maintenance:
In general use, tree pits surfaced with a permeable resin bound material require minimal maintenance. Any litter that might accumulate on the surface should be swept off or removed by vacuum. General dust and detritus may gather in the open pores of the surfacing, but the permeability of the material is such that it is highly unlikely that clogging would occur under normal usage. However, in circumstances where clogging has occurred, such as when another material (sand, soil, grit, etc,) has been stored on top of the surfacing, any clogging can usually be cleared by cleaning with a high-pressure jet wash.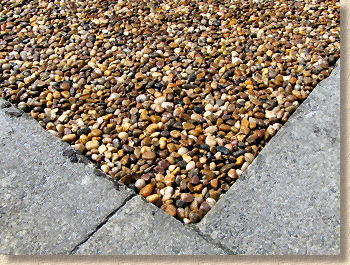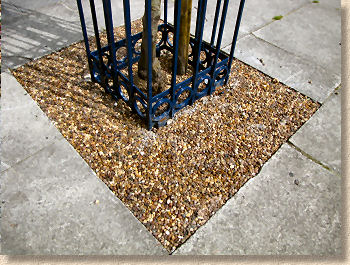 Case Study:
See also the impressive SureSet Case Study on their website
Gallery: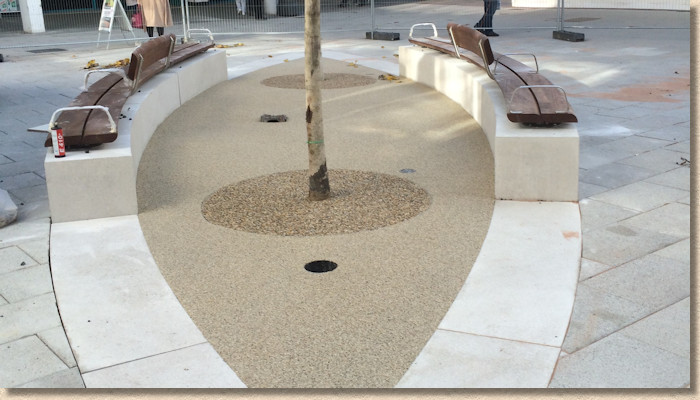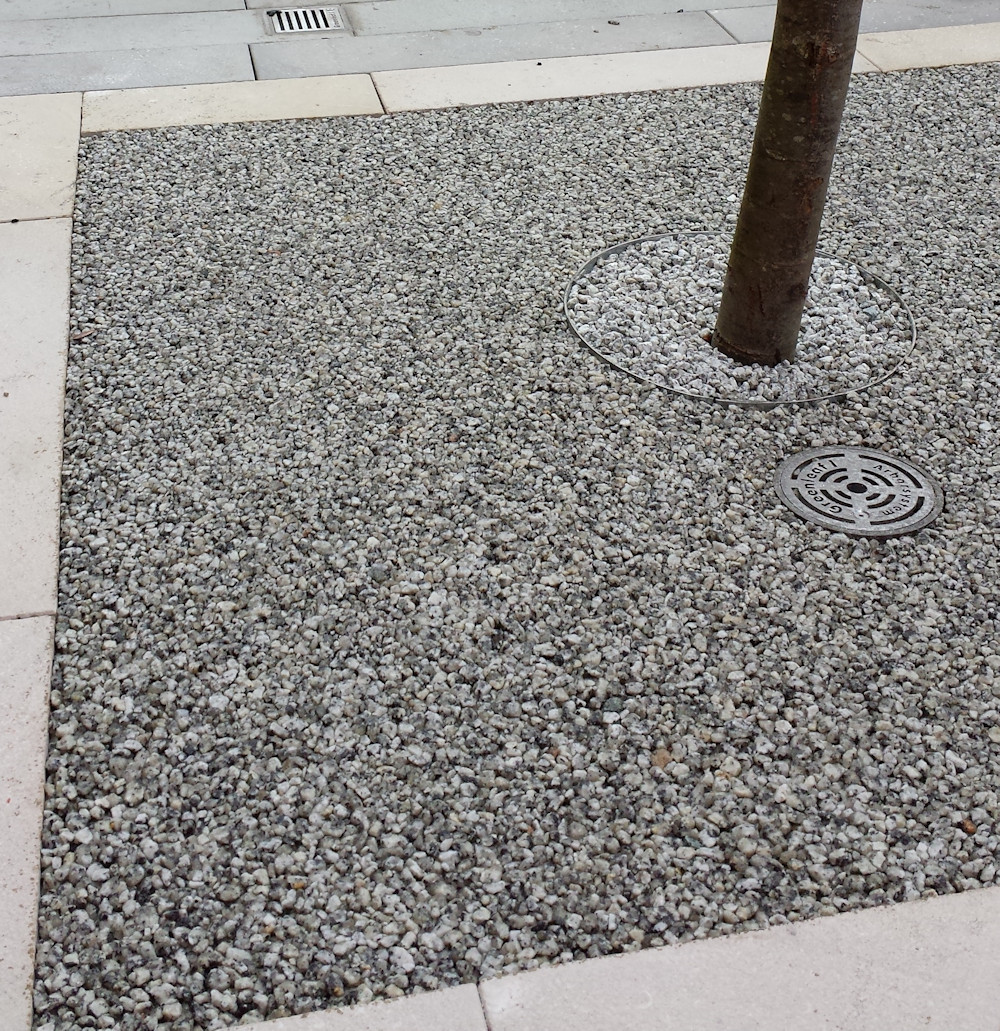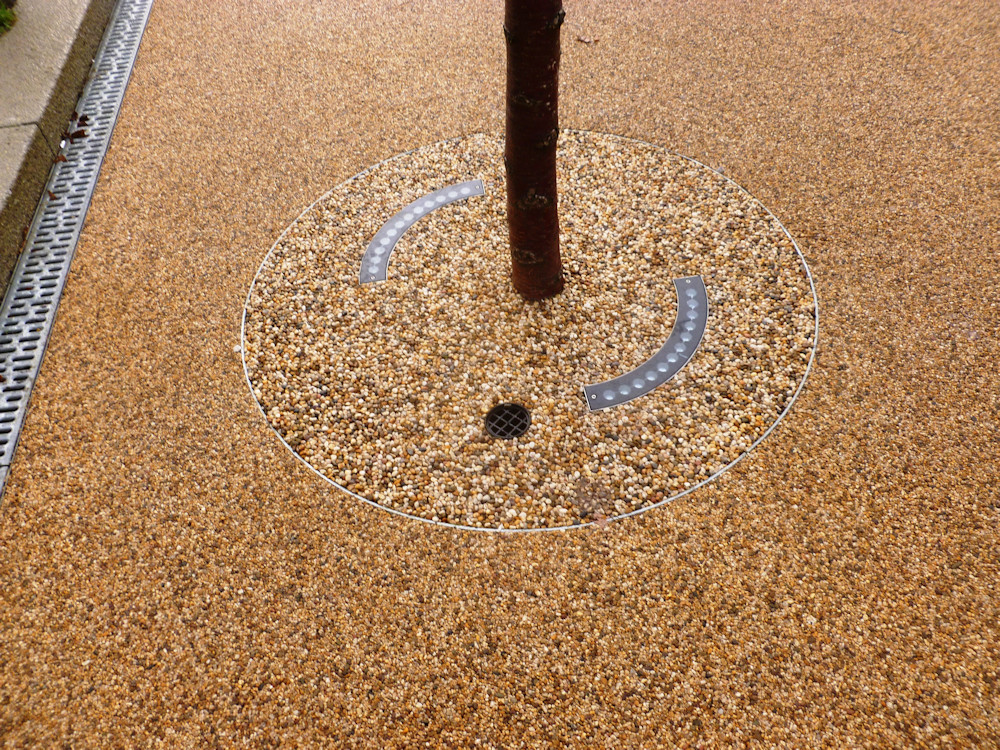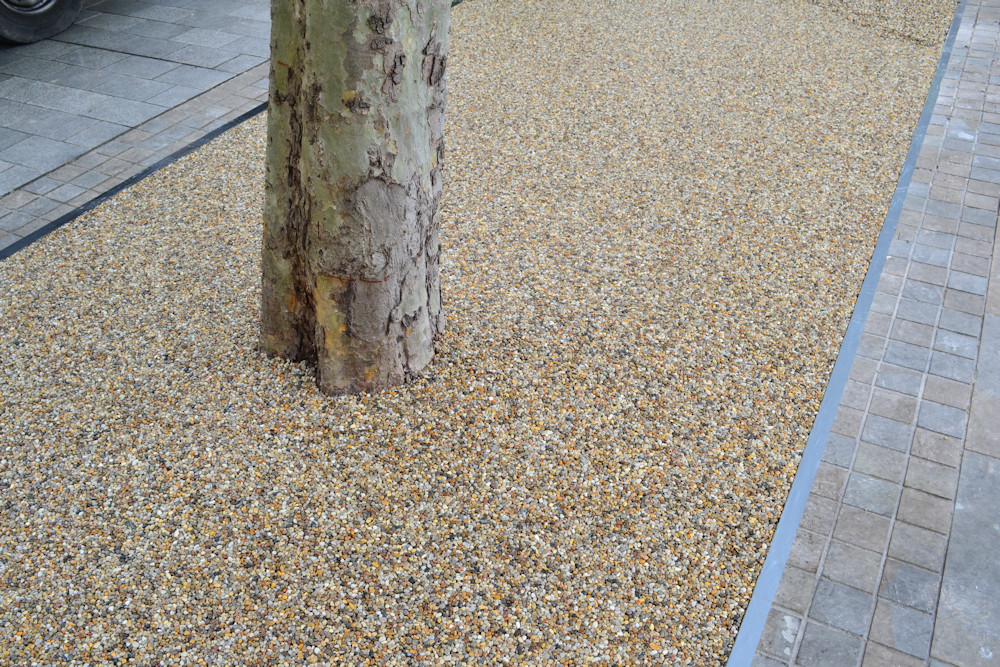 Further resources:
Further information on SureSet's surfacing products and services are available from the website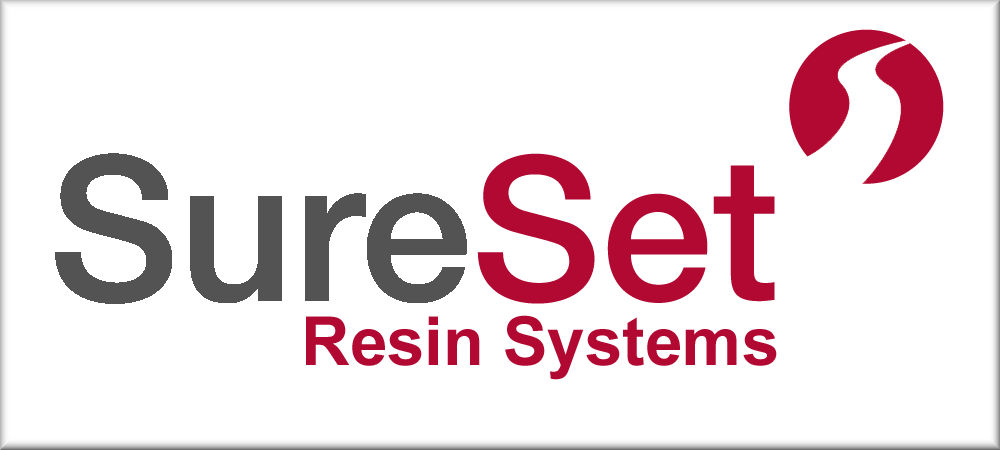 SureSet
Unit 32,
Deverill Road Trading Estate,
Sutton Veny,
Warminster,
Wiltshire
BA12 7BZ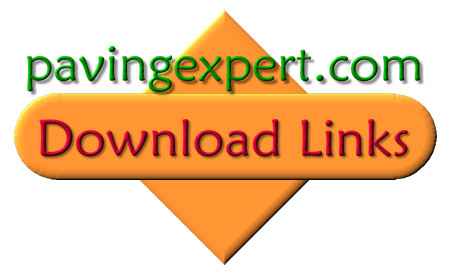 Download a PDF copy of the latest SureSet brochure


Download a PDF Booklet of the SureSet Trade Shop for Supply Only Customers
Installation Guides:
Download Installation Guides as required....

Other SureSet Pages on this site...