New lightweight block splitter from Probst
German manufacturer Probst has an enviable reputation for producing quality tools for the paving trade. Whether it's handling, levelling or cutting, you can be sure that Probst will have a superb piece of kit to make the job easier. The Probst block carts are legendary; when it comes to machine-laying, Probst is the first name to spring to mind; and the Probst block splitters are generally considered to be the best in the world.

So the announcement of a new, lightweight splitter warrants further investigation. The new splitter weighs in at a paltry 12kg and is capable of cutting blocks up to 150mm wide and anywhere from 50mm to 150mm thick. As you'd expect, the blades are the square cross-section format used on the AL series of Probst splitters, so they can be rotated up to four times to present new cutting edges, and so extend the life of each set of blades.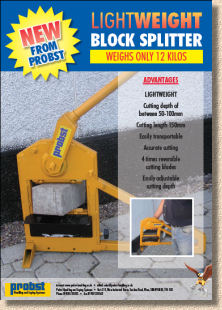 The only drawback I can spot is the potential problem cutting a certain brand of tumbled block that has a 160mm or 173mm course width as standard. However, as a small, cheap and lightweight cutter for use when working with the 200x100mm format blocks that still dominate the market, this machine is worth a closer look. I'm hoping to see it in the flesh at the Civils 2005 bash in London this week (November 22nd-24th 2005) so watch out for a more detailed review next week. In the meantime, there's a downloadable PDF available to whet your appetite.

Unless you already have it on your computer,you will need the Acrobat Reader to open the PDF.It can be downloaded, free of charge,from the Adobe site which can beaccessed via this link....