Ronacrete in Haven Pool
Ronadeck Resin Bound Surfacing has been used to provide a decorative, slip resistant surface to a sundeck and outdoor pool surround at Weymouth Bay Holiday Park, owned by Haven Holidays.
Contractors S Carter and Son laid macadam to provide a firm base for the Ronadeck Resin Bound Surfacing, which was then mixed and applied at a thickness of 15mm. The aggregate blend used on the sundeck was 'Combe Haven', a mix specially created for Haven Holidays for a similar project at Combe Haven Holiday Park. Quartz Parallel, another aggregate blend, was used for the pool surrounds.

Ronadeck Resin Bound Surfacing comprises a blend of graded aggregates, selected and formulated for strength and appearance, bound with a two part UV stable, elastic polyurethane resin. The finished product is permeable and provides Haven with a durable surfacing that because of its permeability prevents pooling of surface water. Because the Ronadeck resin is unaffected by ultra-violet light, Haven have the assurance that the appearance of the aggregate and the comfort enhancing "give" of the surfacing will remain unaffected by the passage of time.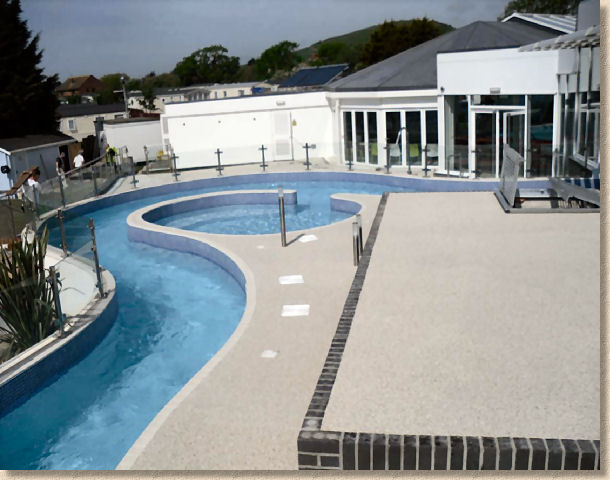 Haven holidays were very pleased with the finished results and are planning to use Carter's expertise and Ronacrete's specialist products in projects at other parks around Britain.
Ronadeck Resin Bound Surfacing is a UV stable resin bound aggregate surfacing, functional and highly decorative.
Attractive natural aggregate appearance
Highly porous allowing water to drain (SuDS compliant)
UV stable resin
Recycled aggregates available
Complies with the DIN 51130 slip resistance test (suitable for swimming pool surrounds)