Interlay - the sign of a quality contractor
One of the most frequently asked questions on this website regards contractor competence and integrity. Clients seek re-assurance that their contractor has the requisite skills, qualifications and insurances to undertake the work in hand, whether it's a patio or a commercial freight yard, and similarly, the better, more professional contractors need some way of proving their credentials to potential clients.
What's needed is an independent, creditable trade association.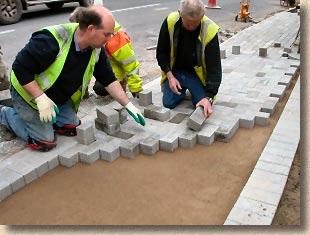 And that's just what Interlay is: an independent trade association for the pavement construction industry. A trade association that is dedicated to promoting and maintaining the highest professional standards while providing contractors with a "Seal of Approval" and offering the clients the reassurance that their selected contractor is a skilled tradesperson working to the highest standards of construction and an exceptional level of integrity.
However, Interlay is more than just a list of reputable contractors: it is a source of information on best practice for both contractors and clients, and it provides an authoritative voice for the contractor that is listened to by manufacturers, developers, academics and government.
So, when you see the distinctive Interlay logo, you can be assured that the contractor is one of the elite – it's your signpost to quality.
For Contractors
As one of the better contractors, you're rightly proud of your skills and the work you produce, but how can you show your clients that you're not just another paving gang, but one of those elite contractors with independently-verified skills and a professional approach to every job? How do you prove to the wider world that your paving company is a cut above the unskilled fly-by-nights that do so much damage to the public perception of our industry?
Interlay is the ONLY nationally recognised and truly independent trade association for paving contractors. Interlay is not tied to any one manufacturer nor is it a shallow marketing exercise aimed at providing a veneer of respectability. Interlay is an association of professional contractors that want the world to know they are true craftsmen; that they are proud to work to the highest standards; that they are up-to-date with the latest developments and practices; and that, for them, paving is a vocation and not just a job.
Trade Links - Making friends and influencing people
Interlay provides guidance, advice and support for all of its members. Its strong links to manufacturers, research bodies, universities, other construction organisations, and government ensure that its members have access to the very latest developments.
But that's not all: Interlay also enables the thoughts, worries and concerns of its members to be heard by these organisations, so that the contractor working on site has a stake in the future of the industry as a whole. Interlay's close association with Interpave, the trade association of the concrete block, flag and kerb manufacturers, as well as the Paving Committee of the British Standards Institute ensures that the concerns of contractors are heard at the highest levels. Co-operation with BALI and the Construction Industry Training Board (CITB) provides access to unrivalled skills resources and training opportunities.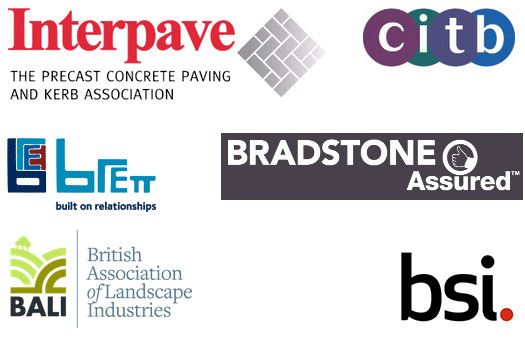 Financial benefits
Membership of Interlay brings important benefits. The increasing demand for skilled labour means that more and more developers, major contractors, government agencies, local authorities, and private individuals are insisting that their construction work be undertaken by accredited Interlay members.
Further, as the only recognised mark of a skilled paving workforce, Interlay membership allows contractors to attract higher rates for their work while also benefiting from advantageous insurance premiums.
Promoting your membership
Interlay members are entitled to use the distinctive logo on their vehicles, their stationery and their signboards, adding prestige and credibility to their image. Members are also listed on the popular Interlay website, providing free publicity and stimulating leads as well as providing the opportunity to link to their own websites. There's also a regular newsletter, email updates, and the chance to attend regional and national meetings to exchange views and information, and to have an influence on the future direction of our industry.
There's free and unlimited access to the "Members Only" section of the Interlay website, where you can access information about the latest trends, technical information, and changes to the standards, codes of practice and regulations that apply to our trade.
There's also the opportunity to enter the "Job of the Month" competition and from there, to be put up for the prestigious Interpave-sponsored "Job of the Year" award.
Continual business improvement
Through its links with CITB and the national manufacturers of both materials and machinery, Interlay provides opportunities to experience new pavings, tools and techniques throughout the year. Demonstrations and presentations are open to all members, and there are numerous opportunities to network with similarly-minded contractors and others from within the industry and farther afield.
As well as being able to call upon the services of some of the leading consultants and advisers within the paving industry, Interlay also maintains a comprehensive library of technical paving reference works from around the world, all of which is exclusively available to members, giving them a real advantage over their competitors.
Vetting - Keeping out the riff-raff
As you'd expect, all Interlay members are thoroughly vetted. Their work is inspected and assessed by experienced paving professionals; their insurances and business practices are checked; their references are followed-up to ensure that every member of the association is truly worthy of inclusion in what is the premier league of paving contractors.
Would you want to be part of an organisation where the only question asked is " Have you got the membership fee? "
Interlay represents the best of the industry – is that you? If so, download and complete the application form today and join the true professionals.
Further Information:


Interlay
The Old Rectory,
Main Street,
Glenfield,
Leicester,
LE3 8DG