New kit from Exac-One
I thought you might be interested to see a bit of basic info about one of the newest products from Worcestershire-based attachment specialist, Exac-One: The SBV Rotary Screening Bucket.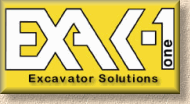 This piece of kit has been specially designed for processing material on site that would otherwise need to be carted away at vast expense. The manufacturer claims that it's economical and practical, and when used in conjunction with a crusher bucket offers a "Total Site Solution" Dig it – Screen it – Crush it – Re-use it
This, says sales manager, Andrew Harker, makes sense for the environment and for your pocket. He continues,
"Why use expensive, high maintenance self propelled equipment, which still requires an excavator to handle the material, when you can use the excavator itself."
The SBV Rotary Screening Bucket is available in six models to suit excavators from 3 tonnes to 32 tonnes. It has a Hardox steel construction combined with top quality hydraulic component protection which ensures reliability and durability. The Hardox screens are made up of four individual quadrants which are interchangeable to give different grades of screened material. The attachment requires only one hydraulic circuit, which is standard on most sub 10 tonne excavators. It also has bucket teeth with replaceable tips.
There is a short video clip of the Rotary Screening Bucket in operation on the Exac-One website .