London Stone Show 2004
The London Stone Show got off to a slowish start on Tuesday morning, but, by lunchtime, the hall was a good deal busier and there was more of a buzz about the place. The organisers reckon that over 1,500 visitors made it to the first day. The gentle hubbub of business was rudely interrupted at irregular intervals by a PA System that must have been audible outside London's encircling M25, as it was responsible for a number of burst eardrums and frayed tempers inside the cavernous hall of Earl's Court II.
The best part of a year on from last year's show, and it seems that this particular event is targetted more towards architectural uses, and features a larger proportion of polished granites, travertines, marbles and limestones for the flooring, tiling and worktop trades. There was a sprinkling of paving manufacturers and suppliers amongst the exotic cladding, intricate mosaics and oriental-style garden ornaments, but perhaps sprinkling is too generous a word. In fact, I have to question whether it's worth me trekking down 200+ miles to attend a show that seems to be drifting away from the world of hard-landscaping. As I mentioned while chatting with Tom Poole, MD of Stonemarket , who were not exhibiting at this particular show, there was a real danger of picking up a Mediterranean accent while here, such was the level of representation from Italian and Turkish marble companies, closely followed by Indian sandstone and Chinese Granite, and little chance of meeting many home-grown hard-landscapers.
British Stone, the trade body for the UK producers, was in attendance, with a small stand discreetly tucked away in a corner. It would have been good to see a stronger presence from British companies - a lot of the really big names in the native quarrying industry were conspicuous by their absence, but I've long believed that, like much of the other industries in these islands, we're not terribly good at blowing our own trumpet.
Paving and Surfacing Systems
Charcon - Tradition and Dedication
The largest stand featuring paving was, without any doubt, that of Charcon , part of the Aggregate Industries Massive, who were showing off products from their extensive range of natural stone paving, notably granite flags and kerbs, yorkstone/sandstone flags, and their range of better-than-average-quality Indian sandstone flags. Marketing Manager, Belinda Basson is relatively new to the paving industry, but she has some interesting ideas, and is very keen to see a more professional standard adopted by the contracting side of the trade, something very close to my own heart, and it's a subject we both intend to explore further in the weeks to come. Watch this space, as they say.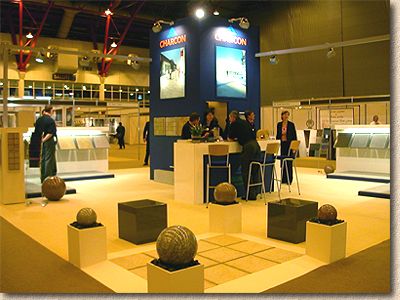 Charcon didn't have any stunningly new or revolutionary products on show, but unlike some of their competitors in the natural stone market, they made the effort to turn up and put on a display of the sort of thing many designers and specifiers wanted to see - traditional, honest, value-for-money, quality paving, with on-site technical advice, and their efforts were amply rewarded by the level of interest shown. I think it's fair to say that their stand was, by some way, the busiest I saw all day, which all serves to underline the elevated level of interest in the use of quality stone paving for commercial projects at this time.
Johnson Wellfield - Yorkshire Gold
Graham Goldthorpe from Johnson Wellfield travelled down from Huddersfield and was flying the flag for the more traditional Yorkshire Stone producers with his wonderful buttery-cream flags that are as Yorkshire as Theakston's Ales, Freddie Trueman and Betty's Tea Rooms all rolled into one! His nowt-fancy display featured the famed JW flagstone in honed and shot-sawn finishes, along with a few select items such as the simple but clever table and chair arrangement, and the chamfered edging kerb used to surround the display and remove the trip hazard that results from having a paved floor display.
Graham is a vociferous champion of British stone, and has been somewhat dismayed over recent years to see the country flooded with stone that is artificially cheap because it is subsidised by paying the quarryworkers a poverty-level wage with no health, safety or environmental considerations, and, in some cases, the stone itself is of dubious quality. Ever the optimist, he has a fervent belief in the unsurpassed quality of flagstone from the Pennines and is confident that the less fashion-driven commercial and specification markets will remain his biggest customers for many years to come.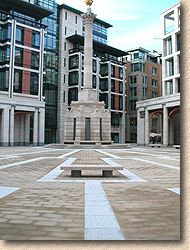 He's particularly proud of a recent project at Paternoster Square in London Village to which Johnson Wellfield supplied much of the paving - in fact, Graham enthused about it so much that I delayed my return home on Wednesday by a couple of hours in order to visit the site and see for myself. He's not wrong - it is gorgeous!!!

Johnson Wellfield stone paving at Paternoster Square, London
Forest of Dean Stone Firms - Back from the brink
Stone from the Forest of Dean (Gloucestershire, for those of you scratching your heads wondering!) has a long and illustrious pedigree, but it sort of petered out as stone became less fashionable in the last third of the 1900s. However, 3 years ago, Nicholas Horton and his partners decided to buy out the Bixslade Stoneworks, re-invigorate the Forest of Dean Stone Firms , and start supplying stone for paving and building. They had a fine-grained grey-buff sandstone with hints of blues, pinks and lilacs, available in sawn and bush-hammered finishes at around £50-£55 per square metre for 50mm thick random coursed lengths. Nicholas tells me the stone won't flame, but, having seen the standard textures, I don't think that's a great loss.
Pink's Hill - Another good show
Derek Earl-Bicknell of Pink's Hill Landscaping Centre has a more understated stand than last year's magnificent centrepiece, but was pleased with the level of interest being shown. It's been a busy year for Derek, with the opening of their new yard at Farnham, which I've still not managed to visit, but he tells me it's been a great move and they are seeing better sales than ever. This display featured the wide range of stone paving and flooring that they've been bringing into the country. There's the usual Indian sandstones, which has become the mainstay of the stone flag supply business, but there are some very interesting new products on show, including a lovely Peacock slate and a wide selection of Travertines.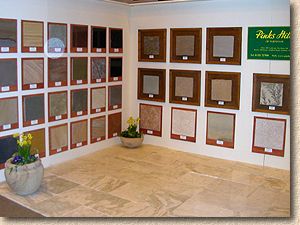 SureSet UK - Outdoor bound
After a few years of swapping emails, I finally got to meet the charming Victoria Lewis, SureSet UK's sales manager. There was the usual high level of interest in their range of resin-bound wearing courses that feature an ever-growing range of attractive aggregates.
This is a paving system that attracts a surprising amount of attention - it's one of those ideas that's elegantly simple and the ideal choice for those looking for a traditional gravel-like, natural surface with none of the drawbacks of scatter, migration and getting tread into the house that is normally associated with gravel.
Victoria is giving a full 7 year guarantee on their installations, and with their attractive selection of gravels, tumbled glass and other decorative aggregates, the future looks promising for this Wiltshire-based company, to say the least.
Tennant's Scottish Cobbles
Representing Scotland, Gavin Tennant was showing off their selection of quarried cobbles from Morayshire that have been supplied to schemes and projects throughout the UK over the past 30 years. The shapes are predominantly round, and the colours muted and subtle, but, as with many of these stones, their true beauty comes out when they're wet, making them an ideal choice for decorating water features and pools.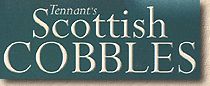 Stone Developments - The Wicklow Way
And from the auld sod of Ireland, Stone Developments of Wokingham by way of Co. Wicklow, had a nice collection of Irish limestones from Wicklow and Ballinasloe, amongst others, selling for around £60-£65 per square metre. Top man Pat Conlon pointed out that, as with many other exhibitors at this show, their stone can be used for walling and cladding, with paving as a lucrative sideline, but the flamed Ballinasloe was a real eye-catcher - subtle grey colouring with an intriguing texture that would bring a real touch of class to a prestige project without detracting from the main building, a point that obviously counted in its favour when it was selected to grace Ken's Big Gherkin by the side of that river in the middle of London.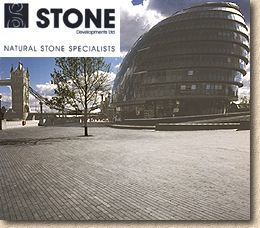 Pimar - Italian Masterpieces
In amongst all the travertines and marbles, one Italian company did have a superb looking tumbled limestone flag. Pimar stone, sourced from their own quarries in the heel of the boot that is Italy, has been used since Roman times, and they have some bloody impressive projects in their portfolio, but their paving is almost an afterthought, a by-product and not as profitable as their high added-value carved stone faience, but, at around 33 Euros per square metre ex. Italy, it's an interesting option for the right project.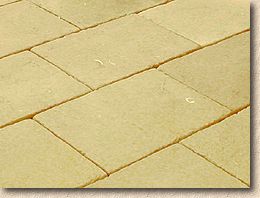 Sealants:
Stonecare by Delta
Stonecare by Delta Ltd. had a stand promoting their range of sealing, waxing and cleaning products. Although most of their products are designed for use with marbles and polished granites in internal settings, they have 3 products of interest to us in the flagging business.
"Seal" is a solvent-based anti-staining sealant for natural stone and agglomerates that doesn't alter the appearance of the stone. "Saf Seal" is a similar product that works to enhance contrast within textured or honed natural stone by lightly enhancing the colour. Both retail at around £20-£25 per litre and, on a fairly absorbent stone such as the imported Indian sandstones, coverage should be in the order of 4-6m² per litre. Finally, their "Wet Seal" product, 'does what it sez' and imparts a low-sheen wet look to natural stone. Coverage for this product is estimated at around 8-10m² per litre, and a litre will set you back £27-£33 quid per litre.
The sales bod, whose name I didn't catch, reckons these sealants should give a good 12-18 months service before needing to be re-applied.
Meanwhile, Richard Rogers, once of Burlington Slate, has branched out and along with a nice collection of imported slates, basalts and a particularly nice quartzite stone, his company, Richard Rogers Stone , is now supplying his own specially-formulated sealant which comes in 3 grades for standard, porous and granite-type stone.
Richard tells me that his product has been developed over a number of years and once applied, it forms a hard, resinous protective barrier over the stone, and this will last for many years. In fact, one of his driving criteria when developing this sealant was to create a product that worked and didn't lock-in the client to costly re-applications every year or two. He has a portfolio of projects stretching back a number of years showing how successful this sealant has been in enhancing colour while protecting surfaces from stains, oils and worse.
Cost is around 30 quid for a litre, with coverage ranging from 8-10 m² per litre for porous stone up to 25-30 m² per litre for slates and other impermeable stones. To help combat the potential high cost for a typical imported sandstone or yorkstone, he offers SIO Seal which is around 30% cheaper and can be used as an undercoat for the Stoneseal or as a high-quality invisible sealer in its own right.