Introduction:
After over 50 years of providing the construction industry and the general public with our renowned paving services, we are now using our wealth of experience and our extensive library of landscaping materials to offer a design and consultancy service to the trade, to industrial and commercial clients, and to the property owner.
Working with the client on site, by telephone and over the internet, we develop design solutions for any hard-landscaping project, from a simple driveway or patio to terracing, courtyards and car parks.
We'll draught plans, recommend materials, track down those hard-to-find items that add the finishing touch to a quality project or check out your contractor. Whether you just want to chat through your ideas to ensure they are viable or if you need a comprehensive hard-landscape plan, we'll put our unrivalled breadth and depth of knowledge at your disposal.
Designs:
We've been professionally designing pavements and other hard landscapes on our specially developed CAD system since the mid 1980's, continually upgrading our equipment and adding to our library of designs and stock symbols. Now, using the speed and ease of contact that the internet provides, we can have a complete design ready for you to implement in a matter of days. Each design comes with a fully detailed, scaled plan, a comprehensive bill of quantities and a strict specification, all of which can be used by any good contractor to turn your dreams into reality.
And not just the paving, we also design any other structures required, such as walls, fences, decking, gates, pergolas, drainage, childrens' play areas, ponds and just about anything else you can think of. We work in conjunction with professional garden designers on projects where a complete landscape is needed, and bring in structural engineers for more complex construction problems.
Our designs conform to construction industry standards and can be used by builders, architects, designers as well as landscapers and paving companies.
We can turn your rough sketches into properly detailed construction drawings, and, with certain types of paving, provide a 3D rendered visualisation of the completed works.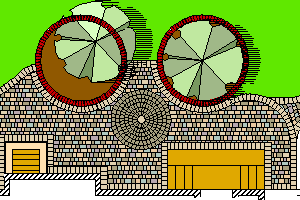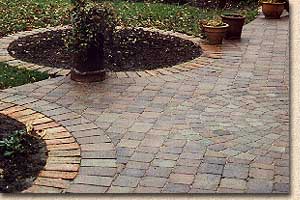 All our designs are supplied as full-colour print outs and/or as electronic media in the form of graphic, text and CAD files which can be imported into most of the most popular equivalent programs. Along with the main plan, we supply all necessary detail drawings and specification.
Our designs start at £50, but are individually priced according to the size of the project and whether a site visit is required. Fill in the form below to give us a few details of what you have in mind, and we'll get back to you with a no-obligation price for a design by return.
Take a look at some of our recent designs
Interested in random layout designs? See this page
Bill of Quantities:
All our designs come supplied with a full bill of quantities which allows you to see what materials are required for each part of the project, and also list other quantities such as excavation, specialist plant or preparatory works. The BoQ can be used by the DIY-er or Contractor to order materials and keep an eye on costs. They are supplied as print-outs or as Excel spreadsheets that enable you to manipulate quantities and rates to perform your own 'what if' calculations.
We can also prepare BoQs from existing drawings and documentation, known in the trade as "Taking Off". A BoQ prepared by us will give you a full 'shopping list' of required materials, along with other essential quantities, such as excavation volumes, wastage allowances, plant schedules and everything else needed to put a keen and accurate costing on a project.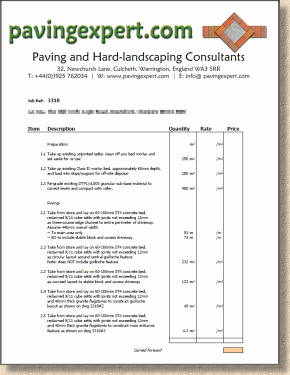 Specifying:
During our long involvement in the paving trade, we have worked with most of the top paving products available in Britain and Ireland and maintain one of the most comprehensive paving and groundworks product libraries in the world. Using this experience, we'll recommend the best and most suitable products for your project and your pocket.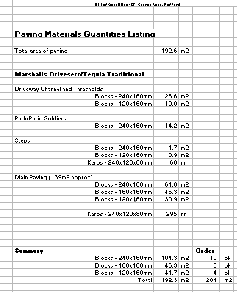 If you know the look and finish you're trying to achieve, we can suggest the products that are most likely to match your ideas. Why trawl through countless catalogues and brochures, when we can provide a shortlist for you in a fraction of the time? We'll even email product photographs direct to your computer, and arrange for samples to be delivered to your door, if required.
All our custom designs come with a complete written specification stipulating exactly the types of materials, pavers and products to be used, along with contact details for the manufacturers, so there's less chance of the client being lumbered with shoddy or sub-standard goods.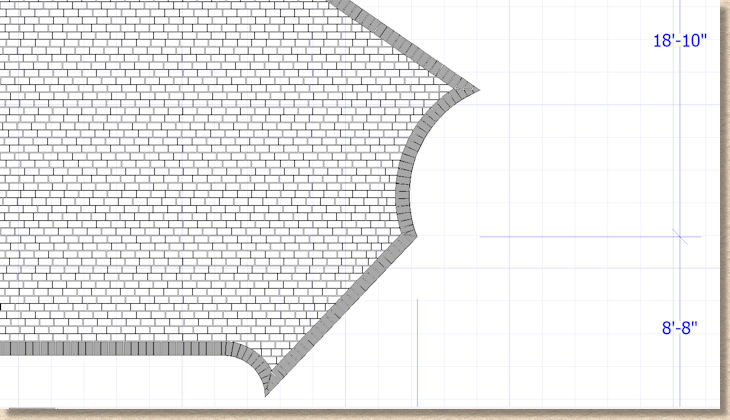 Sourcing:
If you're looking for pavers of a certain shape or shade, hunting for pink granite setts, or trying to locate diamond sawn chocolate-coloured stone paving, we can help. Our vast experience in sourcing paving materials from not just Britain and Ireland, but all over the world, can save you endless hours of fruitless searching for the right paving at the right price.
With the revival of interest in reclaimed paving materials, demand for quality products from bygone years has never been so high. With our extensive network of contacts, we can help track down the perfect pavers, the ideal stone, or even the more decorative items such as lamp standards and chimney pots.
New or reclaimed, natural or man-made, use the form below to tell us what you're looking for, and we'll tell you if we can help.
Consultancy:
We act as an independent and impartial consultancy service on a wide range of subjects linked to the paving industry, but specialising in the use and installation of paving materials.
Much of this consultancy work involves commenting on workmanship, which is covered elsewhere on this website , but we also undertake a significant number of commissions to advise on suitable installation methods and techniques prior to construction and so (hopefully) avoid any such problems.
We also specialise in advising on how heritage or pre-war pavements can be reconstructed or repaired to return them to their former glory.
Other consultancy services:
Advising on suitability and potential for new paving products
Preparing screenplays and scripts for installation and 'How To' videos
Writing explanatory and descriptive text for publications
Planning installation guides for non-standard projects
Creating training programs and courses to develop particular streetmasonry skills
Drafting layout, detail and installation drawings
Developing layout plans for bogens and fan-pattern sett pavements
Guidance on marketing strategies for manufacturers and contractors
Direction on re-creation and reconstruction of heritage pavements
When an answer is essential or urgent:
I need an answer NOW!
There are instances when advice or an answer is desperately needed, or needed as quickly as possible. I do try to help whenever I can, but I have to be realistic and so I cannot simply drop whatever it is I'm working on at that moment (which is most likely work that pays for the running of this website).
When an answer is essential or urgent, the only way to guarantee more-or-less immediate attention is to pay for consultancy time.