New look for Marshalls
Eight of the Marshalls' distinctive maroon-coloured articulated delivery wagons based at its Ramsbottom site in Lancashire will be sporting a new branded livery from now on. Each of the wagons features a total of 16 "lifestyle images" (pronounced 'pictures') of Marshalls' domestic products and is seen as a creative way to further promote their products and services. Each panel will feature the Marshalls' website address and brochure hotline number to help generate additional customer enquiries.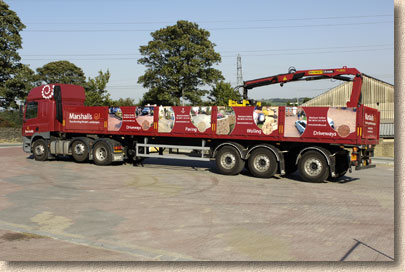 Commenting on the introduction of the new design, Chris Harrop, Group Marketing Director for Marshalls, said:
"As the UK's no.1 hard landscape transformation company, we continually look at new and innovative ways to market our products and services. Customer enquiries generated by the wagons are being monitored and if successful, more branded wagons will be introduced across the UK."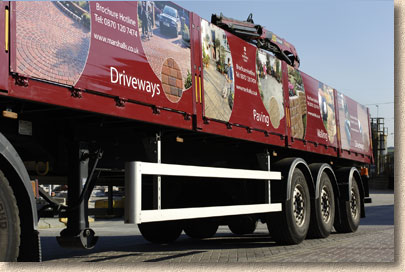 These eight wagons cover nearly 6,000 miles a week each on average and their visibility on the roads and highways of the nation are seen as offering a great opportunity for Marshalls to show off their latest products to potential customers and to generate additional traffic to builders' merchants.
Marshalls currently own and operate a fleet of 110 articulated vehicles, which distribute products around the UK to builders' merchants and direct-to-site.