Introduction:
On a previous page , the range of options for sourcing paving and hard-landscaping products was considered and one of the suggestions was that a good independent paving specialist can often be a good choice for a whole host of reasons.
On this page, one such independent specialist paving and hard-landscaping supplier is looked at in greater detail to see what it is that such a supplier can offer that isn't available from a more general Builder's Merchant or DIY Shed.
Landscape World in Widnes on Merseyside is just such a supplier: a large, open, single site which is staffed by experienced people with an unrivalled local knowledge, an impressive awareness of the wider hard-landscaping market and a real passion for paving.
Landscape World are NOT a run-of-the-mill Builder's Merchant. They don't sell plasterboard, radiators or roof trusses. They only sell hard-landscaping materials, and so the staff have a comprehensive understanding of this highly specialised sector of the building trade.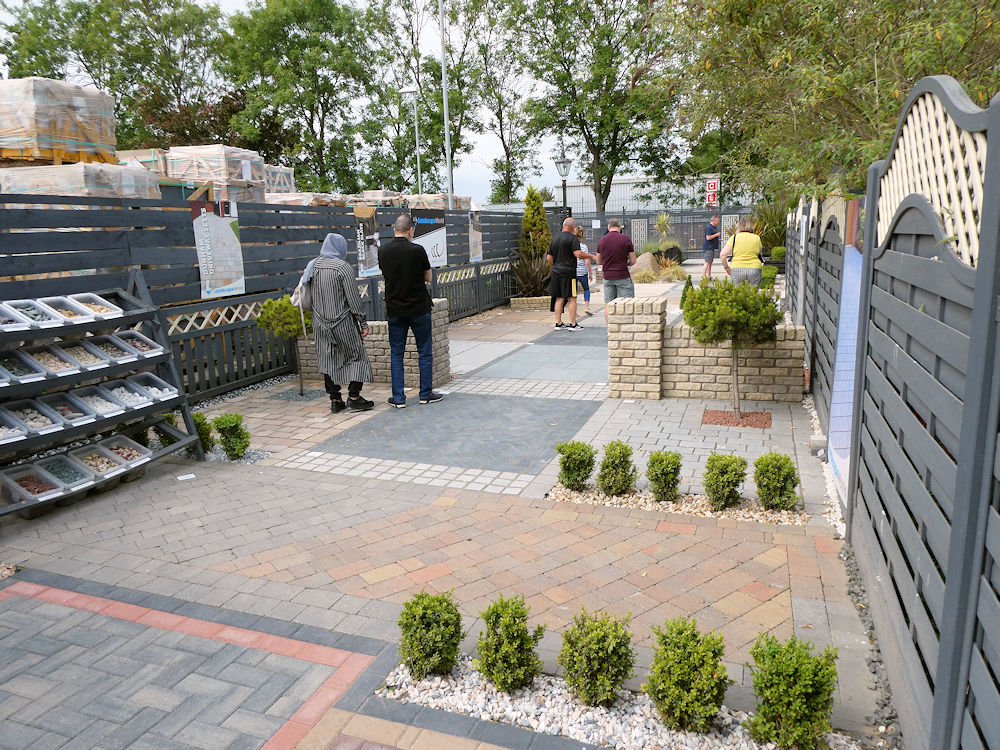 By offering a wide and eclectic range of paving materials, they can provide you with the products that are best suited to your project and your budget rather than the limited range which Head Office has told them to flog. More than that; because they are not trying to sell doors or wall ties, they have a fuller understanding of the pros and cons of the various options, and so can offer a better standard of advice.
Product range:
So: just what do they stock? Well, they obviously offer flagstones of every type, so there are the best-selling decorative concrete flags from Bradstone , as well as plain 'council' flags (3x2's, 2x2's or whatever you want to call them) and a highly impressive range of natural stones flags from all over the world.
Landscape World directly import their range of porcelain paving from a state-of-the-art factory in Spain which uses all new machinery to produce outdoor grade porcelains of the highest possible standard.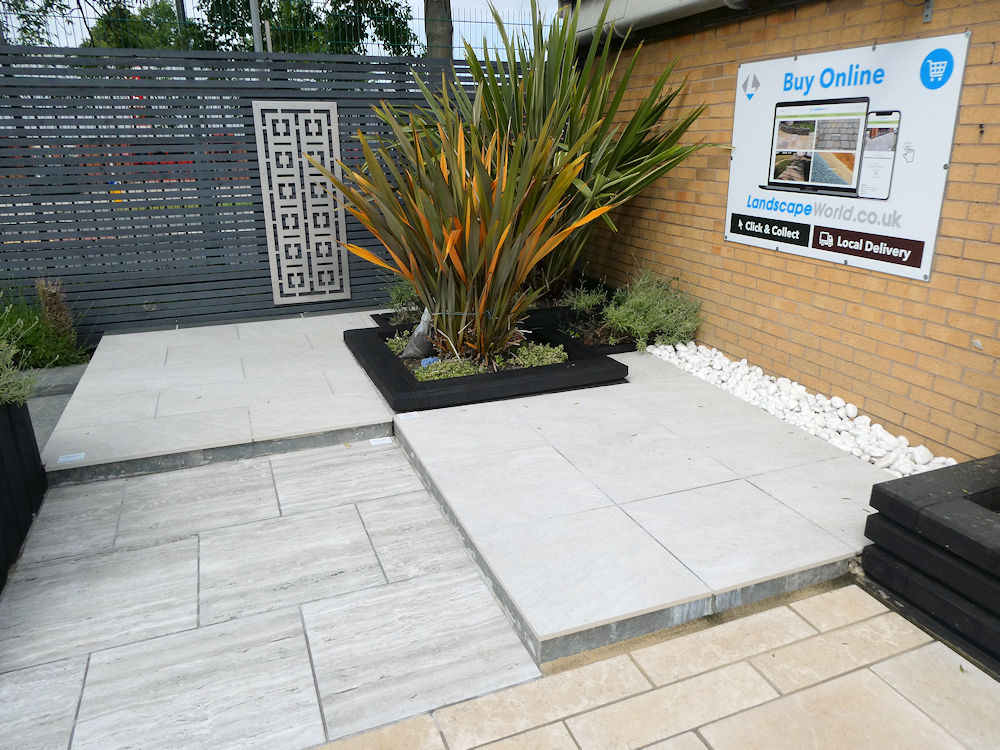 And of course there is block paving : standard blocks, tumbled blocks, permeable blocks, decorative blocks, and even natural stone blocks, from the top brands. There are single colours, multi-colours, textured and decorative. There is also a full supporting range of small unit kerbs and edgings specifically chosen to complement any of the wide range of pavior blocks.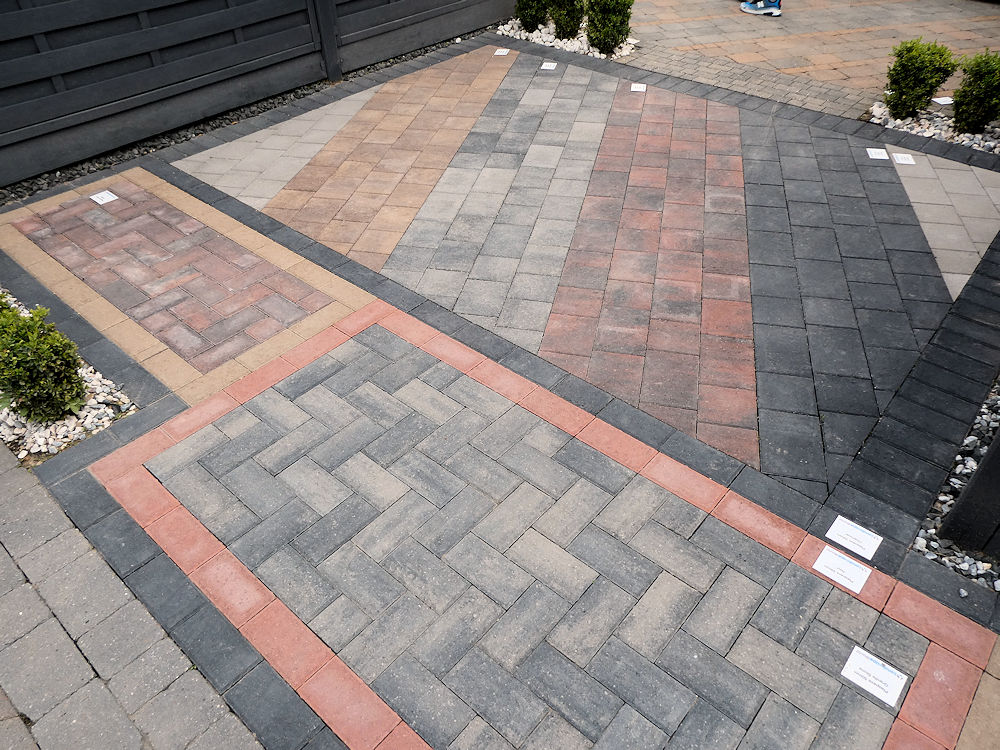 Then there's the accessories , as we might call them. The edging kerbs, the stepping stones, the landscape features such as chuffing great boulders, rockery stone, monoliths, walling, copings and pier caps, and a fairly exhaustive range of decorative aggregates and gravels.
As well as all that lovely paving, every project needs its basic construction materials ; the grit sand, the jointing sand, the cement, the sub-base. And when it's all laid, the topsoil for finishing-off. All of this is readily available in any quantity that's needed, from easy-to-handle 25kg bags to bulk bags of a tonne or so right up to full wagon loads, all supplied direct from stock.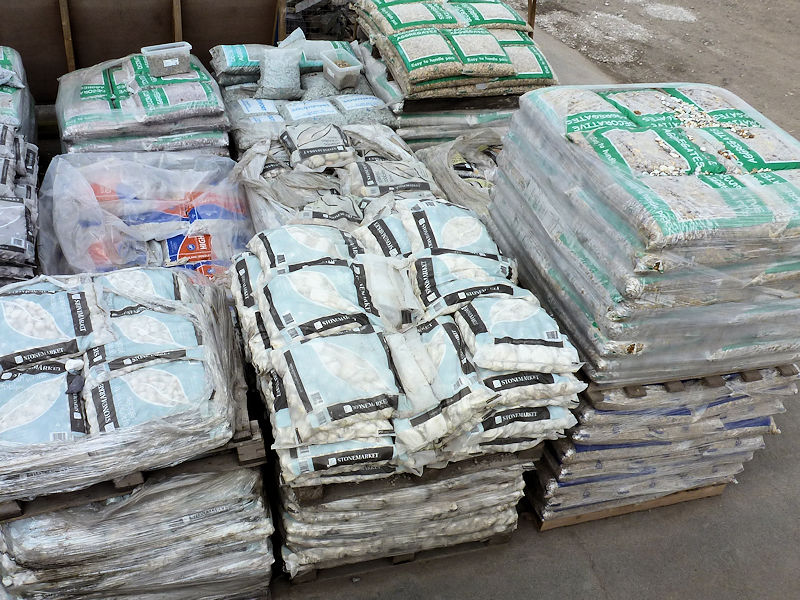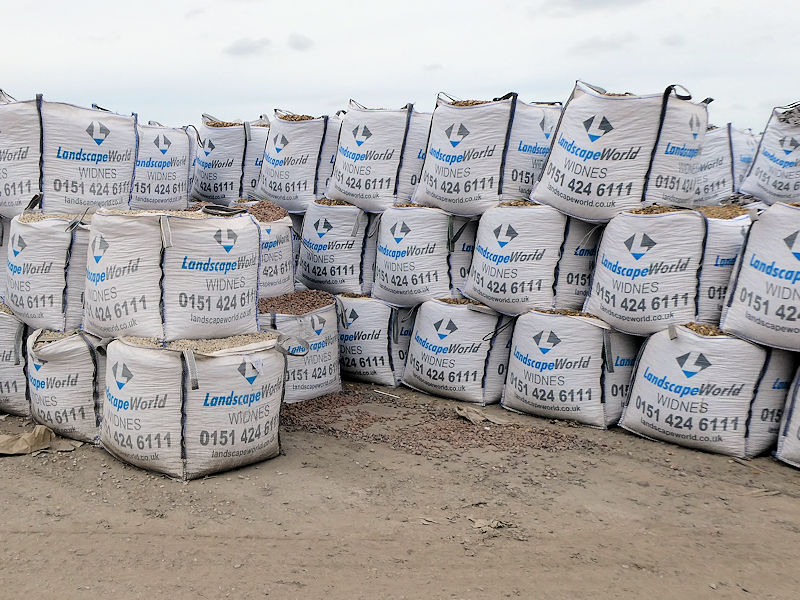 The advantages:
Why should anyone buy from an independent supplier such as Landscape World ? We've already seen that the range of products is far more comprehensive than any national Builder's Merchant or DIY Shed, but is that enough?
One great advantage is the ability to mix and match products from various manufacturers. By holding stock from most of the major British brands, customers can have flagstones from Bradstone with a kerb edging by Plasmor and walling from Pavestone, and all sourced from just one supplier. The possible combinations are almost limitless.

Contractors can benefit by dealing with a business that speaks the same language. Landscape World only sell hard-landscaping products, so if you need a resin jointing mortar, a bond bridge, a recess tray cover or a corner kerb, they know precisely what you mean and probably have it in stock!
But all customers benefit because the team running Landscape World have personally selected the products they sell. They don't follow orders from some central office miles away; each and every product has been selected because it offers superb quality, innovation, exclusivity and genuine value for money. If the team spot something they like at a trade show, they are free to add it to their stock list because they *are* independent, and the success of the business relies on their knowledge and empathy with the paving trade.
Display Area:
However, the real advantage is the huge display area they've carefully crafted at their Widnes base. Almost 150m² of purpose-built showground, with even more paving presented vertically on racks taking the total area to well over 200m². Now there's no need to rely on tricksy photies in a brochure, or trawl around the local area looking for patios or driveways to view, it's all here in one location, open six days a week.
And because the displays are out in the open, customers get to see the products in natural daylight, in the wet and in the dry, and see how they've held up to the challenges presented by the British weather. DIYers can visit as often as they wish to be sure they're happy with their choice of paving and Contractors can use the massive resource as a sales aid for their own clients by encouraging them to visit and see the paving they've selected 'in the flesh', as it were.
Unlike a merchant's yard where display areas tend to get buried beneath a pile of pallets within a couple of weeks, or the DIY Sheds where no-ne has responsibility and so the whole lot becomes neglected, the Landscape World Display Area is the key sales tool for the business, so it's meticulously maintained. Panels are cleaned as nescessary and new products are introduced to keep it all fresh and exciting. It's the perfect way to buy paving.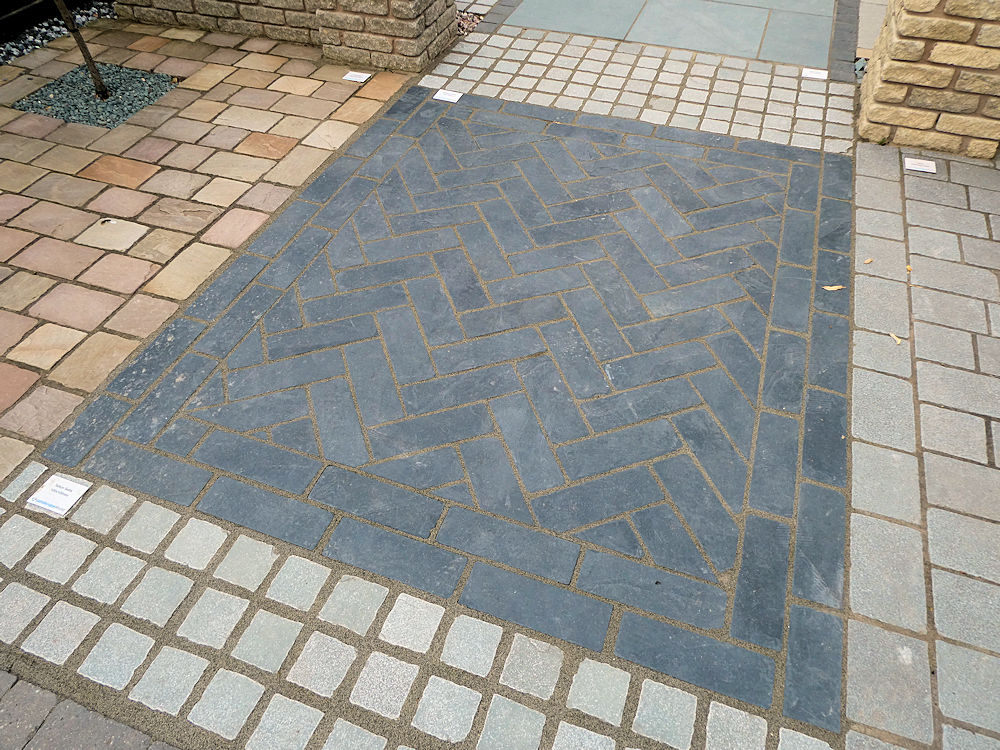 Anyone wanting to buy a car will visit a dealer's premises, have a good nosey around, look at all the options, take it out for a test drive, maybe call in two or three times to be sure they are happy with their choice before parting with their money. So why would anyone buy paving sight unseen? Display areas such as this at Landscape World is the logical and sensible way to buy paving and hard-landscaping. Don't rely on guessing what that patio or driveway might look like when it's finished: go and see it for real at the Landscape World Display Area .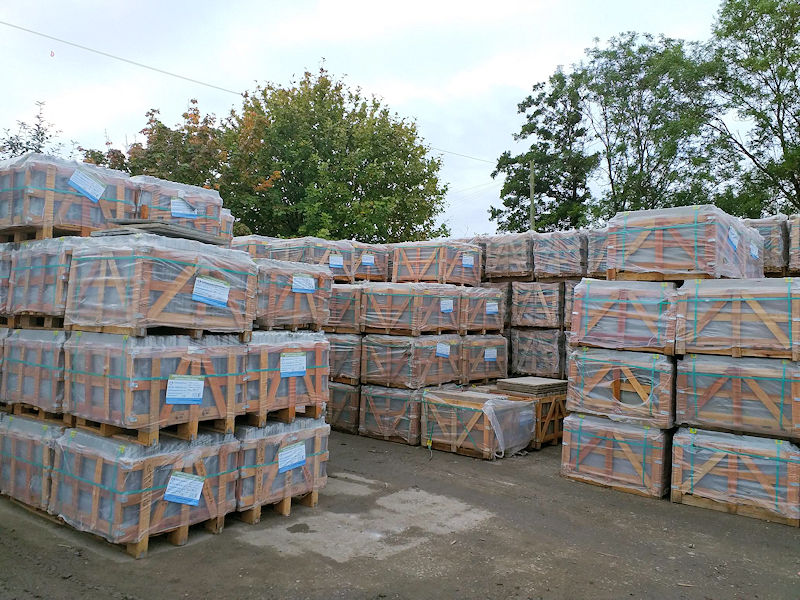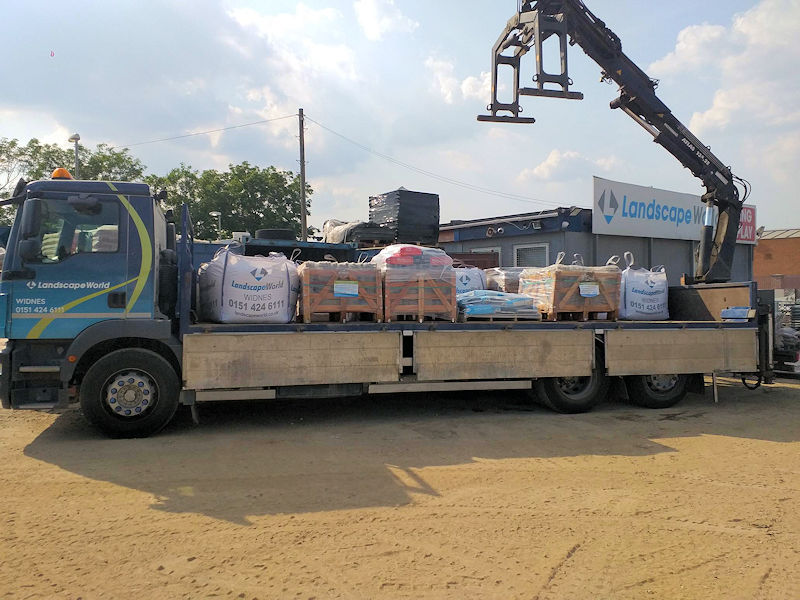 Product Portfolio:
Natural Stone Paving:
Sandstone, limestone and granite flags, granite and porphyry setts & cubes, travertine, slate
Concrete Patio Flags:
Riven-effect, contemporary, decorative, traditional, textured, wood-effect, utility, plain
Concrete Block Paving:
Standard blocks, tumbled blocks, textured blocks, permeable pavers, special shapes, fittings
Kerbs, Channels, Edgings and Stepping Stones:
Driveway kerbs, Patio edgings, rope-tops, round-tops, road kerbs, radius, channels, tobishi stones,
Aggregates, Gravels and Stone features:
Grit sand
Type 1 granular sub-base
Crusher Run
Decorative Gravels and Slate Mulches
Jointing Sand
Feature Boulders
Monoliths and Needles
Rockery Stone
Topsoil
Sundries:
Cement
Jointing mortars
Sealants
Cleaners
Bonding agents
Waterproofing
Tools
Showcase:
Directions and Contact Details:
The Landscape World Paving Centre is just 5 minutes from Junction 7 on the M62.
Located in the heart of the Widnes West Bank Trading Estate, in the shadow of the famous Runcorn Bridge, the centre is just 15 minutes from Warrington and St. Helens, and less than a half-hour from Liverpool and Manchester.


Landscape World Ltd.
Sankey Street
West Bank
Widnes
Cheshire
WA8 0PY
Open 6 days a week:
Mon-Fri: 8am-5pm - Sat: 8am-12 noon

Video: