Glitter and Gold for Tobermore
Northern Ireland based paving and walling manufacturer, Tobermore , has celebrated winning one of Europe's top business award by announcing a £10m expansion programme. The company picked up the European Foundation for Quality Management (EFQM) Business Award at a glittering ceremony held in Athens last week in the company of top global brands including Ricoh, TNT, Volkswagen and Siemens. The company also picked up a separate award for its business results.
As part of the adjudication process a team of business management experts from Germany, Belgium and GB spent a full week at the company's headquarters to conduct an in-depth assessment based on the internationally acclaimed management framework.
Managing Director, David Henderson, who attended the ceremony and collected the awards, says they are evidence Northern Ireland manufacturing companies can compete successfully against the best in Europe. Two years ago Tobermore picked up the UK Business Excellence Award and in accepting this latest accolade, he commented,
"These awards, organised by the European Foundation for Quality Management are the most prestigious of their kind in Europe and, for our company, this represents another milestone in our journey towards organisational excellence and many years of hard work by our staff."
The South Derry company, which has seen massive growth over the past seven years, also confirmed today it was to invest £10m in a two year programme that would increase capacity by 50%.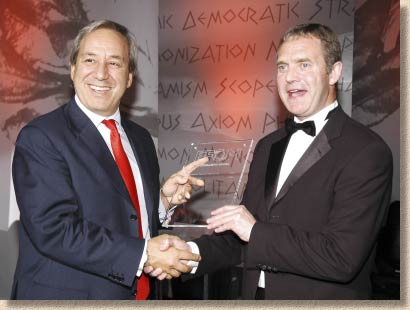 The first phase of the expansion will see the construction of a 3,500m² manufacturing facility to house a new state-of-the-art block paving machine, on land which it has purchased adjacent to its current site. Phase two, which will begin in Spring next year, will involve the purchase and installation of a new flag-making machine which will provide opportunities to extend the company's already wide and successful product range.
David Henderson, says the investment programme is aimed at keeping abreast with Tobermore's phenomenal sales of walling and paving products throughout Ireland and Britain.
"Our sales have doubled in the past three years alone and the proposed addition of two new state of the art processing units is about ensuring we have the capability not only to meet with today's demands, but will also give us the ability to meet the requirements of our aggressive growth strategy'"
Mr Henderson also predicted further employment by the company.
"In the past two years we have added around 100 jobs and we anticipate increasing by a further 100 in the next two years. We currently employ 265 directly and have about 80 indirect lorry drivers and fitters."
Tobermore has a turnover of around £40m and sells its walling and paving products to both commercial and domestic customers direct from the factory and through a number of sales' outlets in Ireland and Britain. Its products have been used in many high profile locations including The K Club; Hastings' Hotels; major retail parks; a range of housing schemes and one-off projects.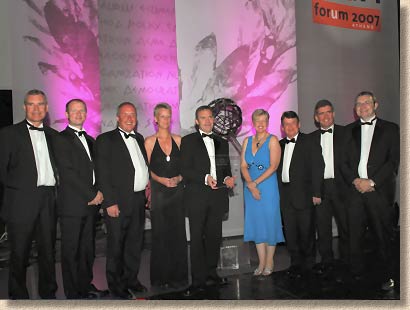 The company has won a string of high profile prizes in the recent years, including the Northern Ireland Quality Award in 2002 and the UK Business Excellence Award in 2005. Tobermore pioneered the concept of landscaped paving and walling centres which are now dotted across the country at Tobermore, Bangor, Dublin, Galway and more recently, in Cork. Its first GB centre opened last summer in Leyland.