Brett Approved Installer Awards 2011
The sort-of annual Brett Approved Installer awards were presented at a posh do at Luton Hoo Mansion House in Bedfordshire last Friday, March 4th. I say 'sort-of' because it's 15 months since the last event but there is a good reason for the 'sort-of' delay. The intervening period since the last sumptuous bash in November of 2009, has been spent re-crafting the whole Brett Approved Installer (BAI) scheme in the hope of providing an industry-leading approval scheme for patio, garden and driveway contractors.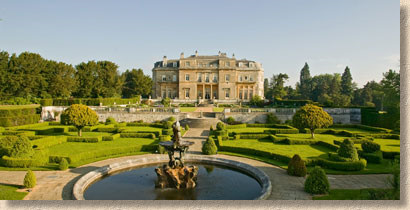 The new-look scheme was revealed to the specially invited audience at the awards dinner by Managing Director, Chris Droogan, prior to doling out the prizes. The scheme is to have a new logo, with a conspicuous tick and a strap line that reads "paving experts you can trust" …. I wonder where they robbed the first part of that catchy title from?

The scheme is to have a dedicated support structure which will involve named personnel tasked with providing, amongst others, technical assistance, training, and business development. There will be two levels of membership: standard membership will be open to any contractor using Brett Landscaping products who believe they have the requisite skills and experience to provide customers with a better-than-average level of service. Meanwhile, admission to the dizzy heights of ' Premier Installer ' is by invitation only, which is assumed to mean contractors will have to prove themselves to some Brett-appointed arbiter.
All members will receive so-called 'benefits', which are to include a points-based rewards scheme, access to training, technical and design support, a heap of marketing guff, a listing on the revamped Brett Landscaping website, and, probably of most value, leads to potential customers.
Premier Installers will receive 'enhanced benefits', such as access to a direct order line with a fixed pricing structure, access to an insurance-backed guarantee scheme, and the ability to offer customers a financing option via special arrangement between Brett and Hitachi Capital. There'll also be enhance 'points-make-products' promotions especially for the chosen few, and the option to have their own fully serviced website within the Brett portal.
Training will focus not only on technical skills, such as improved laying techniques, Understanding SUDS, and the like, but also business development skills, such as how to handle awkward sod customers, sales spiel and negotiating skills.
The scheme is due to be officially launched on April 2nd, but those earmarked for early inclusion in the Premier League will probably hear something before that. The new Membership Packs will be available shortly and there will be an all-stops-out launch via trade press (what bloody trade press? Do they mean her on page 3??)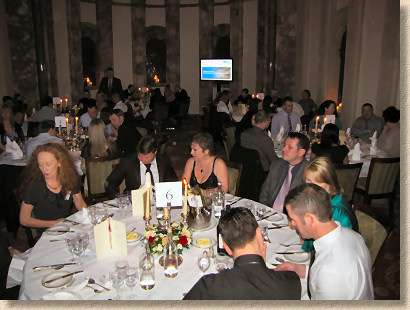 Approved schemes have their benefits, but they also have their problems. The most commonly aired concern amongst both members and outsiders is the vetting. Most contractors know who, locally, is a good 'un and who is a bleeding cowboy, and nothing irks more than seeing a known rogue and corner-cutter being admitted to the ranks. Low skill members devalue the whole scheme, but from an organisation point of view, there needs to be a critical mass of contractors involved to make the scheme financially viable. When you see Approved members from any scheme blithely showing off such nonsense as crossed joints in flag paving and no understanding of inboard cutting for block paving, it makes you wonder just how low has the bar been set?
There are three credible 'approved contractor' schemes now running, and at roughly 400 quid each per year, that's 1,200 quid just to proclaim your worth and act as an unpaid salesman. Meanwhile, several other national suppliers and manufacturers are looking at launching their own approval schemes. Could we be heading for a situation where the better contractor feels compelled to belong to five, six or even more such schemes, handing over a couple or three grand each year just for the privilege of laying paving?
I've said it before and I'll say it again: a single, industry-wide scheme with recognised independent accreditation and genuine credibility amongst both contractors and customers has to be a better option, but I doubt it will happen any time soon. Perhaps if we ever get a proper paving qualification up-and-running, that could act as all the credibility that is required.
Anyway, on to the awards part of the evening. It struck me that putting contractors in suits and feeding them non-fried food in the rarefied surroundings of a 5-star hotel is a bit like putting lipstick on a gorilla: we're still gorillas underneath all that finery. Some attendees thought it was fantastic to be asked to such a posh do, while others felt deeply out of their comfort zone (the tap room at their local, probably), but there can be no denying that Brett had spared no expense or effort in making it as sumptuous an evening as possible. Everyone suited and booted, a proper three course dinner (with wine but no chips), Brett personnel at every table, and a bit of a boogie afterwards, it is a fantastic night out, and the only way it can be topped is by being named as one of the esteemed winners of an award.
I'd helped in judging patio, driveway and project of the year awards, and I have to say the standard was pretty high. Indeed, it took me a whole two evenings to work through the submissions, jot down my comments and feedback, and decide on my top three for each category. But that's not all, there are several other categories, with the pinnacle being the highly prestigious "Installer of the Year".
And so, on to the winners…
Installer of the Year: Arun Driveways of Littlehampton in West Sussex.
The top prize of a fantastic trip to Iceland (the country, not the frozen food shop) was handed over to George Jenkins of Arun Driveways, who commented: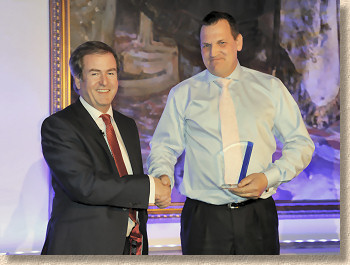 "We are very pleased to have our hard work recognised by one of the UK's leading landscaping manufacturers. Winning this award for 'Installer of the Year 2010' is particularly special given that we were up against such a high calibre of installers from across the country. It is great to see our team rewarded for their dedication to service."
Other awards, which were rewarded with a selection of top-spec laptops and digital cameras were as follows:-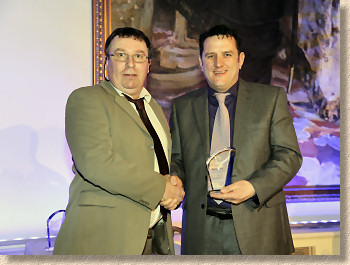 Chris Droogan, Managing Director of Brett Landscaping said:
"It has been great to celebrate some of the landscaping industry's most exceptional talents at this year's Brett Approved Installer Awards. The awards are a fitting way to acknowledge and reward companies that go the extra mile to deliver excellent customer service. We are very proud of all of the winners and the contribution they are making to the reputation of Brett Landscaping and the wider landscaping industry."
Congratulations to all the winners, as well as the runners-up and everyone else that took part in the competition. Nothing drives the pursuit of high quality work more than the recognition from ones peers, and the contractors featured in this award ceremony are at the top of their game and pushing the bar ever higher. Many of these contractors will be trying even harder for next year's awards. Will you be joining them?