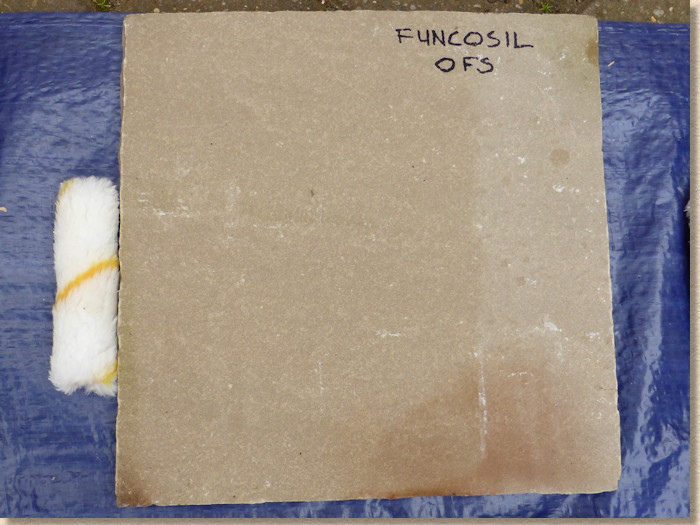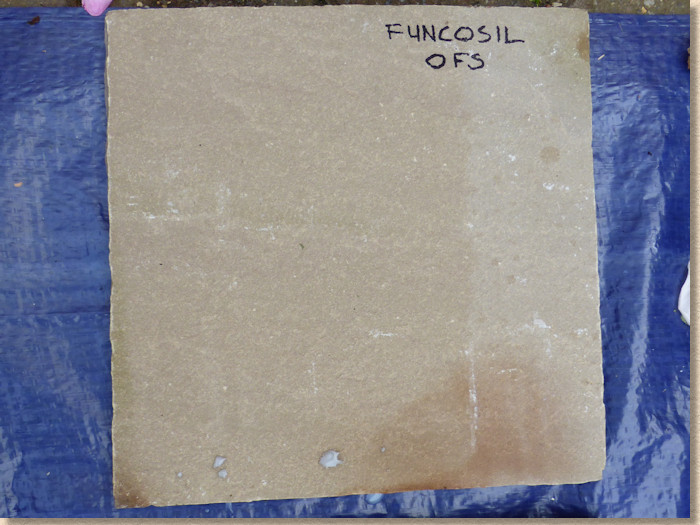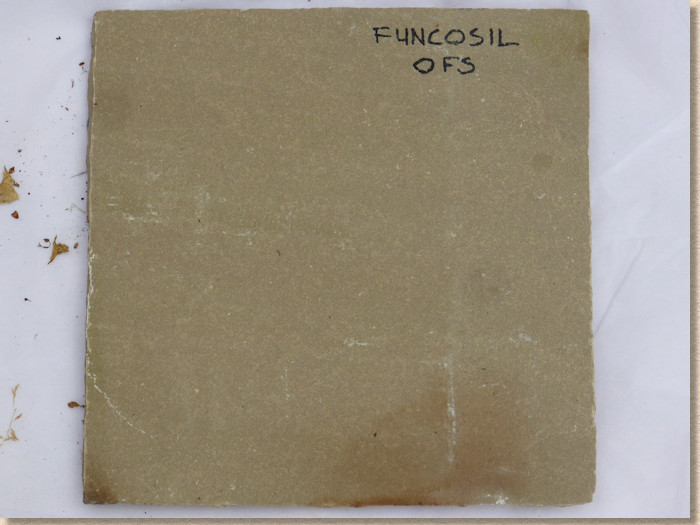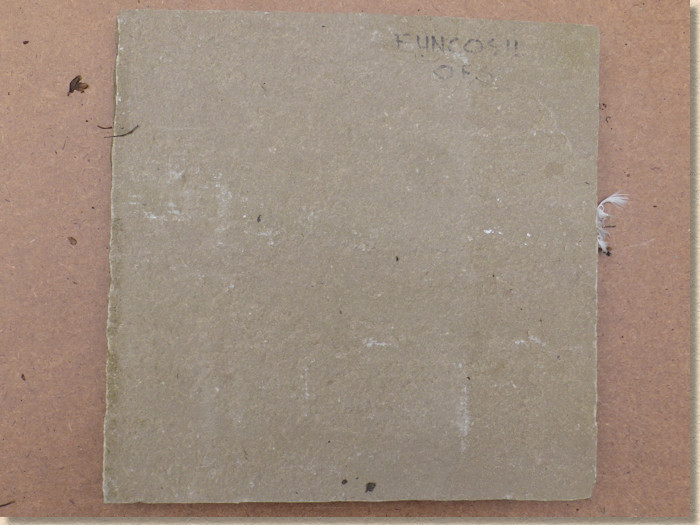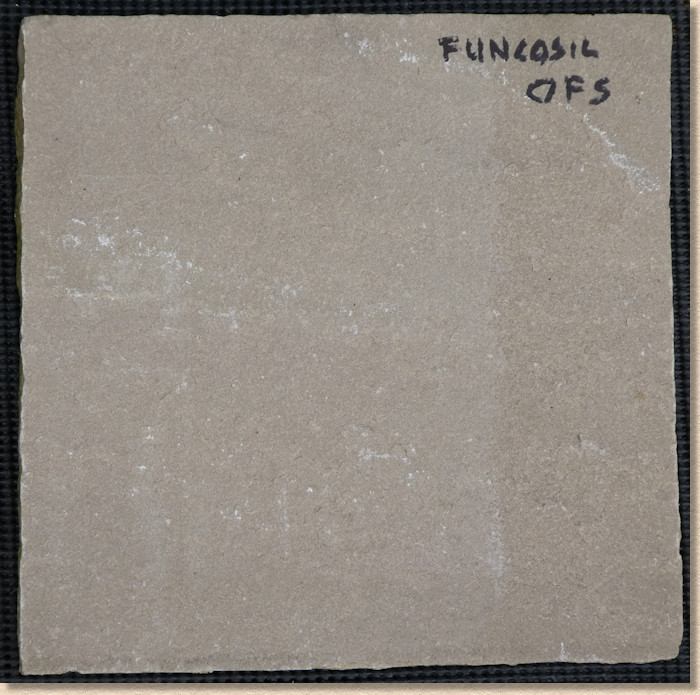 Summary:
1st coat: Thin, whitish, watery liquid, quite splashy. Dries very quickly
2nd coat: +1:22hrs WonÂ't take, just runs off without bonding
Maybe you couldn't really describe it as a colour enhancer, but Funcosil OFS is definitely noticeable, even after 14 months. The treated area is definitely cleaner and brighter than the untreated portion. Even so, it would still be described as 'invisible' because,m had the whol flagstone been treated, it'd be a job to tell the sealant was there at all!
Looks good as an undetectable sealant to help keep the stone clean and free from algae.
Stain Trials: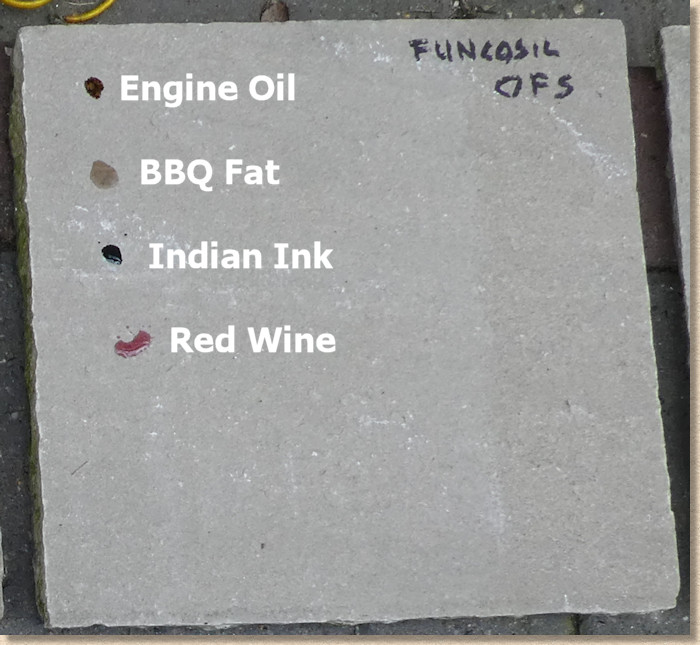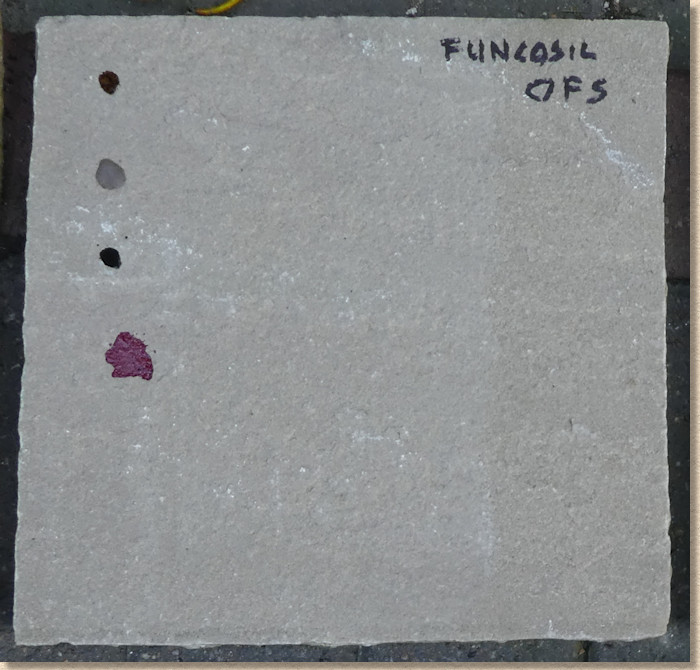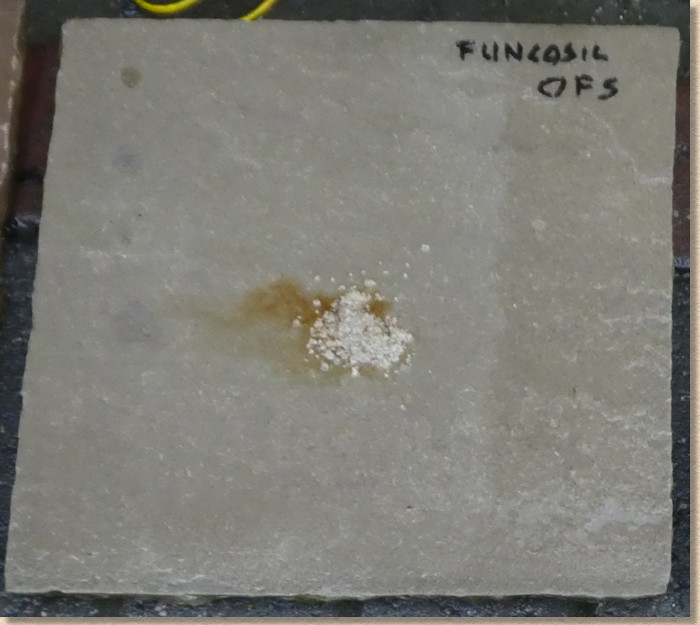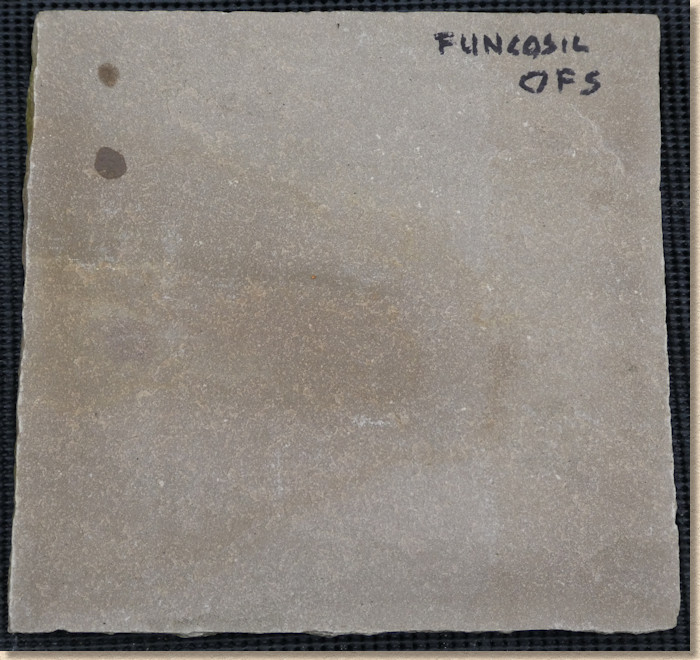 Comments:
Oh well: you can't have everything!
It may have fended off the algae and lichens but when it comes to stain protection, this leaves something to be desired.
The greases (Oil and Fat) have certainly left their mark, although the ink and wine are only just visible. Sadly, the mosskiller has made a bit of a mess.
If simply keeping greenery at bay is all that's required, then this could be a good choice for a stone patio, but if accidental staining is likely to occur, then either treat the contaminant immediately or look at one of the alternative products that are on trial.
Note: Any apparent variation in colour of the flagstone is due solely to changes in the condition of the natural daylight at the time the photograph was taken.
Other than cropping to exclude extraneous background and adding a drop shadow to the cropped image, there has been NO post-processing of the original photographs.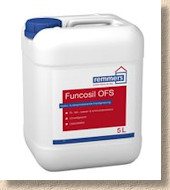 Advanced HD | Advanced Stone Seal | Dry Treat Intensifia | Dry Treat Metacreme Dry Treat Stain Proof | Dry Treat Stain Proof v2 | Easy Seal Col Enh | Easy Seal Ultimate Funcosil OFS | Hanafin Finisha | K-Seal | Larsen | Lithofin Col Int | Lithofin Stain Stop Eco Lithofin Stain Stop Plus | LTP Col Enh | LTP Nat Fin | LTP Matt | Pavetuf | Resiblock Indian Romex Col Enh | Vulcaseal 277 | Vulcaseal 286 | Weiss FT Plus | Weiss Stain Protect